2bleu's Pepperoni Pizza Burgers
2Bleu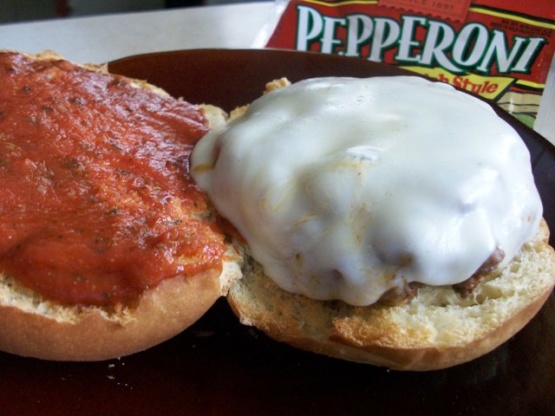 Pizza burgers lack many things, among them, pepperoni! Here is our version which we feel is totally 'Pizza'! Try it with our 2bleu's 2 Minute 2 Easy Pizza Sauce which is packed with pizza flavor and requires no cooking! Suggested from a friend: Instead of patting burgers with a spatula, on a TV cooking show the chef placed an indent in the middle of the raw patty with their thumb. As the burgers cook the indent recedes and the burger keeps its shape. Haven't tried it yet but will let you know if it works. Apparently a good way to check the doneness too.

Great super-flavorful burgers! We cooked these on the grill and did top them with the mushrooms before melting the provolone. I used shredded mozzarella as that's what I had on hand; I just put it on the bottom half of the bun and put the hot burger on top. Finished off with pizza sauce and really enjoyed these - thanks for sharing the recipe!
To a food processor, add the sliced pepperoni. Mix until most of the pepperoni is ground up, pulsing as you go. Add the ground beef and sausage. Form meat into 4 patties.
To a large skillet over medium/med-high heat, melt the butter and olive oil until butter is melted. If using mushrooms, saute them until done, 1-2 minutes. Remove with slotted spoon and set aside.
Add the patties to the pan and cook 4-5 minutes per side until cooked thru. Pat the burgers down with the spatula as needed to retain a wide burger (enough to cover the bun).
When burgers are just about done, place mushrooms on burgers (if using), then 1 slice each of the cheeses on top of each burger. Reduce heat to low (or turn burner off if electric oven), cover tightly and let steam until cheese is melted (1-2 minutes).
Place burgers on top of bottom bun then spread warmed pizza sauce over top of melted cheese. Close up buns and enjoy.