2 Way Baked Kumara (White Flesh or 'bush Bok' Sweet Potato)
robd16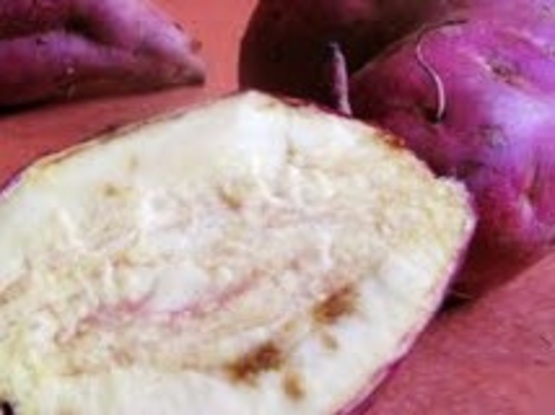 These are so good! Tesco's are selling these under the name 'bush bok sweet potatoes' in the exotic veg section. White fleshed sweet potatoes are not always easy to spot as they look so similar to the orange fleshed variety. They have a lovely sort of chestnutty flavour. I find the white ones have a more purpleish edge to the skin. You can always scrape a bit of skin from the corner of 1 to find out. They really are worth hunting out and are best eaten plain with butter salt and pepper (Don't bother with any fillings) and perhaps some salad, or as they do in Mexico for a sweet snack, with butter condensed milk and cinnamon. Gorgeous!
Set the oven to 200C/425°F.
Bake as you would a regular potato, Pierce the skin with a fork and bake for around 45mins to an hour. Wrap in foil if you don't like a crispy skin.
Split and slather in butter, salt and freshly ground black pepper.
OR -.
Split and slather in butter, condensed milk and cinnamon.
Wonderful!