2 Ingredient Pineapple Cake (With Pineapple Sauce)
gailanng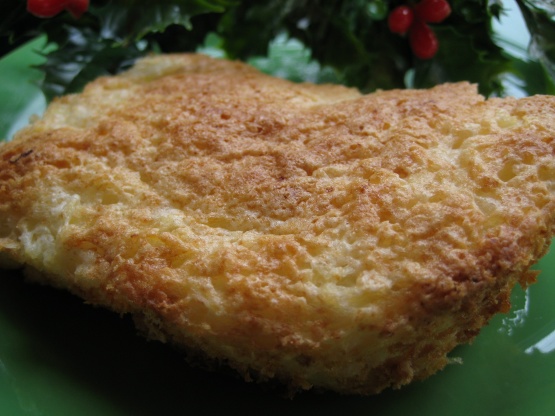 From American Heart Association Healthy Recipes booklet. A cake that smells like a pineapple upside down cake but without all the fat and calories. The sauce really adds a lot to the cake but is optional if you just want a low-key dessert.

Awesome cake (we didn't make the sauce- we might try that next time). Note to self- next time, use the LARGEST bowl I have to mix it because my "kind of large" bowl resulted in spillover. =D
Preheat oven to 350F and lightly spray a 13x9x2" baking pan with nonstick spray.
Put cake mix in a large bowl and stir in undrained pineapple until well combined.
Pour mixture into baking pan and smooth down the surface. Bake for 25-30 minutes or until golden brown.
Transfer to a wire rack and let cool for about 30 minutes then run a thin knife around the edges of the cooled cake before slicing and removing from pan. Serve alone or with the following pineapple sauce (which I highly recommend).
For Pineapple Sauce: While cake is cooling, in a small saucepan, gently stir together the sauce ingredients until the cornstarch is dissolved.
Bring to a boil over medium high heat and boil for 1 1/2 to 2 minutes or until thickened, stirring frequently.
Remove pan from heat and let cool slightly.
Serve the warm sauce over the cake slices.
Store leftover sauce in a container with a tight fitting lid. You can serve additional sauce either cold or reheat in the microwave till just warm.