Yukon Gold Potatoes: Jacques Pepin Style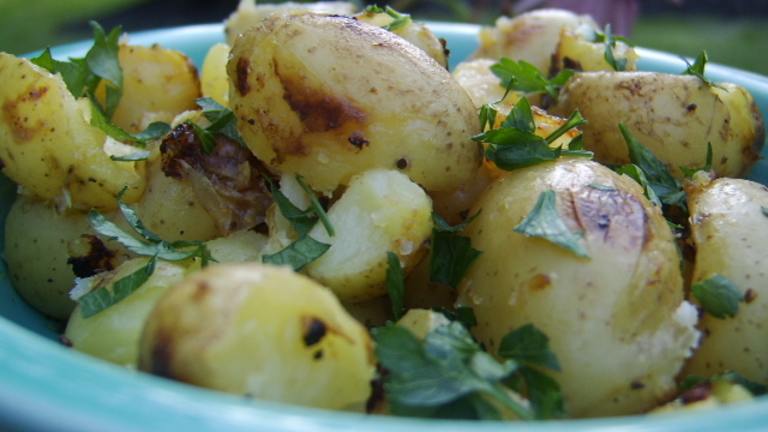 Ready In:

20mins

Serves:

Units:
directions
Place the potatoes in a deep skillet and add salt and pepper, to taste. Cover potatoes halfway with chicken stock, about 3 cups, add the butter and cover skillet with a lid. Cook the potatoes in the stock until almost tender, about 5 to 8 minutes, depending upon the size of the potatoes. Remove the lid and allow the stock to evaporate, about another 5 minutes. Once the stock has evaporated pop each potato using a ladle or large spoon, creating a small crack in each, but do not smash. Allow the potatoes to brown on each side, another 5 minutes, and re-season with salt and pepper, if necessary or desired. Remove the browned potatoes from the skillet and place onto a serving platter, garnished with the parsley.
Submit a Recipe Correction
Made for your Wk 9 *Football Pool* win, potatoes are a must w/an Icelandic dinner meal. I get bored w/the simple boiled variety they like so well & often try to vary the flavor. I admit to a cpl of pers pref chgs just b4 serving. Using sml red potatoes, I added fresh chives vs parsley + a bit of garlic just b4 serving. Thx for sharing this recipe & Congrats on your FP win. :-)

The only thing holding me back from rating these potatoes a perfect 5 star rating is because there is no direction for the cooking heat level. I think I cooked mine too high/too fast. The stock evaporated quickly and the potatoes were still too hard to crack without applying a lot of pressure and breaking them completely open. I did use the time guidelines, but for some reason it didn't work for me. That said, the taste was still FABULOUS. You can really taste the chicken stock and it makes a lovely difference. I will definitely make these again and experiment with cooking temperatures and time. I think if I cooked it at a lower temp./for a longer time, it would work better.? Thank you for posting this wonderful method!