Wendy Richard's Chili Recipe - the Best Chili Ever!!!!!!!!!!!!!!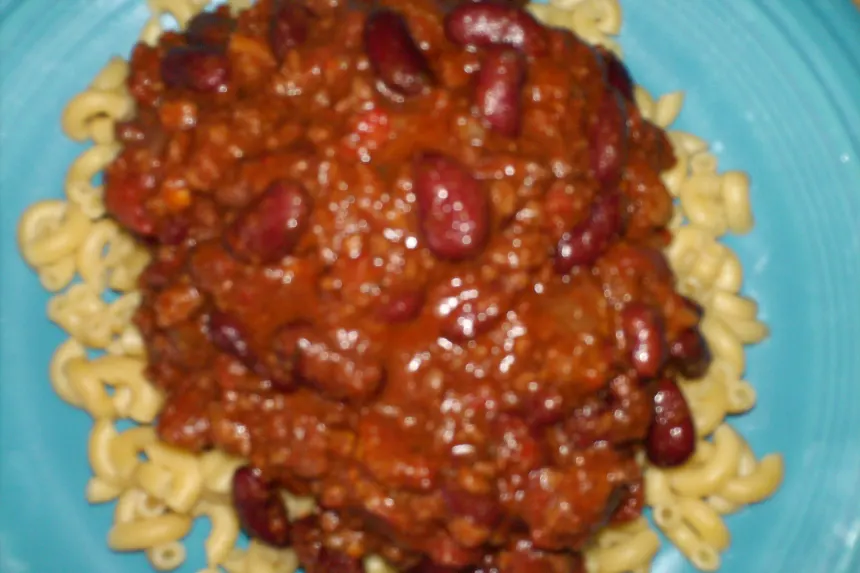 photo by BBCFan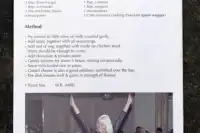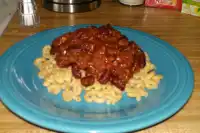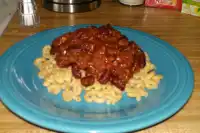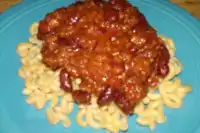 Ready In:

1hr 10mins

Ingredients:

16
directions
From Wendy Richard herself:

Fry onions in little olive oil with crushed garlic.
Add meat together with all seasonings.
Add rest of veg, together with made-up chicken stock. (there should be enough to cover).
Add chocolate and tomato paste.
Gently simmer for about three hours, stirring occasionally.
Serve with boiled rice or pasta.
Grated cheese is also a good addition, sprinkled over the top.
The dish freezes well & gains in strength of flavour.
I Thank You W.R. (MBE).
Here is the link to the touching tribute to Wendy in the "Guardian" along with a copy of this recipe: http://www.guardian.co.uk/culture/tvandradioblog/2009/mar/10/wendy-richards-chilli-recipe.
Questions & Replies

Got a question?
Share it with the community!
Reviews
I would love to try this recipe if I can get Schwartz chili mix here in the good old USA. Maybe a specialty store carries it? <br/>I also noticed you said to add 3 cubes of chicken bouillon but in the instructions said add chicken broth. I'm sure you meant to add the required amt. of water to each cube to make broth. <br/>Just wondering if some people may not realize that. Sounds delish!!!!

 

This sounds sooo good. But, as much as I want to try it, It cost a fortune to get the Schwartz chili mix! I checked on it, and to order from the United States, it is in the area of 35 dollars to ship 10 packs. I wish I knew the ingredients. I might be able to make it myself. It sounds like a 5 star to me!

 
RECIPE SUBMITTED BY
From my name you can tell I am C-R-A-Z-Y for British telly and films. I'm not British, I just wish I was :-( My 4 passions are: British Film & Telly, Traveling, Cooking/new recipes and DRINKING!!!! (I quit smoking recently otherwise that would have been my 5th passion) I tend to go through extreme food and product "Phases" for example: for 2 months I'll be in an "India" phase where I ONLY eat food and use products from India . The month after that might be my "Dutch" phases, where EVERYTHING has to come from the Netherlands, etc.... Sometimes I even DRESS the part - Like when I was in my "German Phase" I actually bought a few dirndls (and WORE them - in public!!! In all honesty, they are cery cute dirndles, not the hard-core grandma style) - the German phase what my longest - it lasted and entire year and made me broke buying all my groceries and milk from Germany (from www.lila.de --just in case you're interested) The shipping cost MORE than the actual food sometimes. But I HAD to have my SonnenBasserman Schlemmergulasch! LOL! Another time, I would only by my groceries at any of the 4 Polish grocery stores in my city, that was my least favorite phase because Polish food isn't that tasty, and it SMELLS! . I think that was my shortest phase, lasted 2 weeks, but I still by this yummy apple & mint juice drink there and Paprika flavored chips/crisps. I feel so embarressed admitting that here - and hope I'm not the only one who does that. Gawd, I hope my mother does read this and see what I'm spending all my money on! So, no matter what "phase" I might be in Friday night is ALWAYS "British Night" - no matter what!
View Full Profile