V's Marinara-Sauce Start to Finish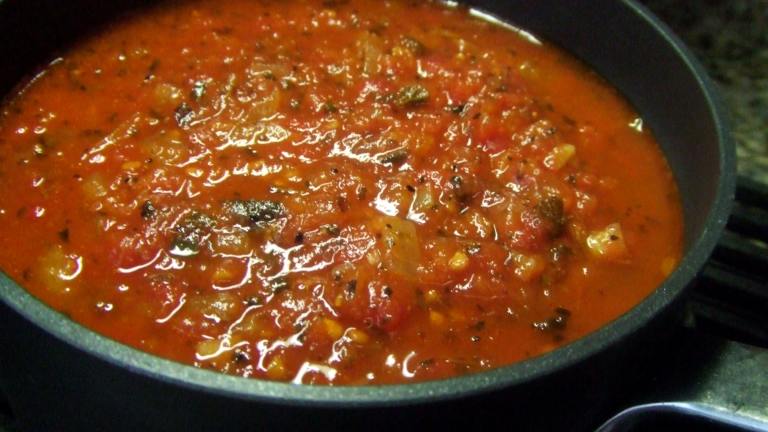 The sautéed garlic and onion added to the blender for a quick puree adds a much more aggressive taste in this sauce ;) Even though buying a jar of marinara is cheaper, you can't compare the taste of homemade sauce! After receiving a bushel full of garden tomatoes, I got adventurous and made this Homemade Sauce. It's so easy a beginner cook would impress guests! After my family raved about this, I may never buy jar sauce again. This sauce can be made and used as a spaghetti or marinara.... I used it as part of my Recipe #185861 -- This recipe can easily be doubled or tripled and frozen! I used dried herbs, you can substitute fresh - just be sure to triple the amount ;)
Ready In:

2hrs 45mins

Yields:

Units:
directions
*BLANCHING TOMATOES: While stock pot or large dutch oven water is boiling, cut a large "X" with a paring knife on the bottom of tomatos. Carefully drop tomatoes in boiling water for 30 seconds. Once removed from water, place in a bowl of ice water this stops the cooking. The skin will peel right off tomatoes.
Blanch and peel tomatoes; set aside.
In a large skillet, add olive oil and Add the onion, garlic and bay leaves, sauté until limp and fragrant Add salt and pepper.
In a blender, (in batches) add tomatoes, and sautéed onion and garlic mixture.
Puree until desired consistency.
Transfer puree to stock pot add basil, oregano, sugar, and pepper (red pepper flakes if using) and bring to a slow boil over medium heat .
Reduce heat to simmer and continue to cook 2.5 hours. (Sauce will turn bright red to a dark red/orange and thicken up) Stir occasionally. Taste! If the sauce is too sweet for you, add white wine vinegar by the teaspoon (this will cut the sweet).
Serve over pasta, or your favorite recipes that include marinara sauce.
ENJOY with loved ones!
Any leftovers can be frozen.
Submit a Recipe Correction
RECIPE MADE WITH LOVE BY
"The sautéed garlic and onion added to the blender for a quick puree adds a much more aggressive taste in this sauce ;) Even though buying a jar of marinara is cheaper, you can't compare the taste of homemade sauce! After receiving a bushel full of garden tomatoes, I got adventurous and made this Homemade Sauce. It's so easy a beginner cook would impress guests! After my family raved about this, I may never buy jar sauce again. This sauce can be made and used as a spaghetti or marinara.... I used it as part of my Recipe #185861 -- This recipe can easily be doubled or tripled and frozen! I used dried herbs, you can substitute fresh - just be sure to triple the amount ;)"
The sautéed garlic and onion added to the blender for a quick puree adds a much more aggressive taste in this sauce ;) Even though buying a jar of marinara is cheaper, you can't compare the taste of homemade sauce! After receiving a bushel full of garden tomatoes, I got adventurous and made this Homemade Sauce. It's so easy a beginner cook would impress guests! After my family raved about this, I may never buy jar sauce again. This sauce can be made and used as a spaghetti or marinara.... I used it as part of my Recipe #185861 -- This recipe can easily be doubled or tripled and frozen! I used dried herbs, you can substitute fresh - just be sure to triple the amount ;)