Tropical Carrot Layer Cake With Island Icing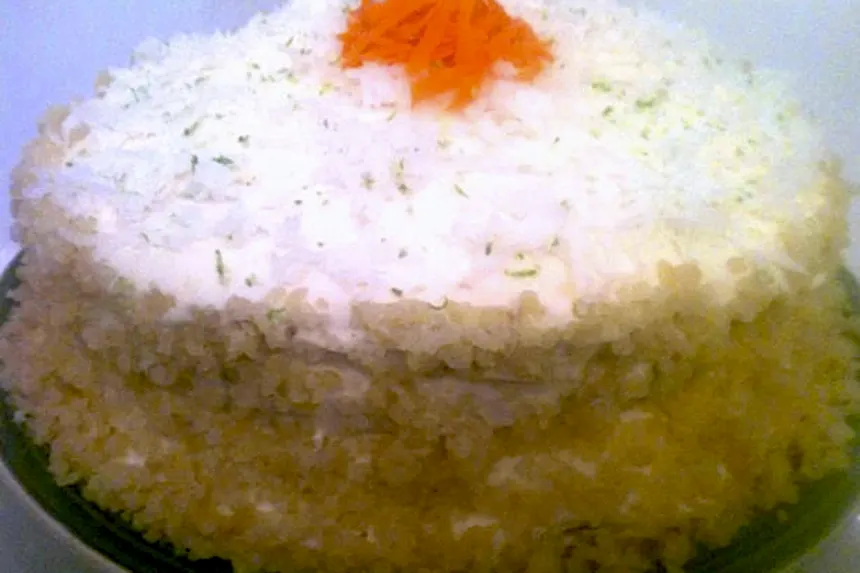 photo by The Spice Guru

Ready In:

2hrs 15mins

Ingredients:

30

Serves:

12-16
directions
(BAKING NOTES: AVOID 9-INCH CAKE PANS WHICH HAVE LEFT AND RIGHT SIDE HANDLE TABS, MAKING IT IMPOSSIBLE TO FIT THREE 9-INCH PANS ON ONE BAKING RACK, WHICH IS RECOMMENDED FOR PROPER RISING AND EVEN BAKING. HERE IS A GUIDE FOR VARIATION BAKING TIMES AT 350°F: Two 8 x 1-1/2-inch round baking pans -- 35 to 40 minutes Two 9 x 1-1/2-inch round baking pans -- 30 to 35 minutes Two 8 x 8 x 2-inch baking pans -- 25 to 35 minutes Two 9 x 9 x 2-inch baking pans -- 25 to 35 minutes -- One 13 x 9 x 2-inch baking pan -- 30 to 35 minutes One 15 x 10 x 1-inch baking pan -- 25 to 30 minutes Cupcakes (half full of batter) -- 18 to 23 minutes). (STEP ONE): PLACE oven rack in center position; PREHEAT oven to 350°F; OIL three (9-inch) cake pans lightly; PRESS a sheet of parchment paper into the bottom of both cake pans: SCORE parchment paper around bottom perimeter of cake pan; CUT a circle from scored sheet; LINE the bottoms of cake pans with parchment paper cut-out; BUTTER top of parchment paper insert well; DUST the greased inserts lightly with flour; TAP out excess flour; SET prepared pans aside.
PULSE 1 cup pre-roasted macadamia nuts in a food processor and save 2/3 cup for the cake and set aside; COARSELY grind remaining 1/3 cup macadamia nuts in processor for the garnish, transfer to separate small bowl and set aside; PEEL enough fresh carrots to yield 2 1/4 cups grated; SHAVE a few 3-4 inch strips from carrots using a vegetable peeler and place into ice water for the garnish; FINELY grate the remaining carrots using a food processor grate to yield 2 1/4 cups (remove any large chunks that may get in), transfer grated carrots to a large bowl; ADD 1 cup Baker's Angel Flake coconut to carrots in bowl; PUREE one medium very ripe banana in food processor; ADD all but 2 tablespoons of banana puree to carrot mixture (reserving 2 tablespoons banana puree for the icing); RESERVE juice from one (8 ounce) can crushed pineapple; ADD well-drained crushed pineapple to carrot mixture in bowl; BLEND the carrot/coconut/banana/pineapple mixture well and set aside until needed; FOLLOW the link if candied carrot curls are desired, courtesy of The Cupcake Project (with thanks): http://www.cupcakeproject.com/2010/04/candied-carrot-curls-unique-carrot.html.
MIX the following dry ingredients together in a separate medium bowl: 2 1/2 cups all-purpose flour, 2 1/2 teaspoons baking powder, 1 1/4 teaspoons baking soda, 1 teaspoon salt (omit if using salted butter), 1 teaspoon ground allspice (or 1/3 tsp each cinnamon, cloves, nutmeg), and 1/2 teaspoon ginger powder; SET aside.
CREAM 1 1/2 cups (3 sticks) unsalted butter in a large mixing bowl using an electric stand mixer until light and fluffy; ADD 2 cups Coconut Secret brand Raw Coconut Crystals gradually to the creamed butter and beat well; CRACK 4 eggs into a separate container and remove any shell fragments; LIGHTLY beat eggs without adding to mixture.
ALTERNATELY beat in the dry flour mixture and pour beaten egg mixture in one fourth increments on medium-low speed, until all of the flour mixture is used and all egg has been beaten into mixture; STOP mixer; ADD one 6 ounce container Yoplait pina colada yogurt, 1/4 cup natural coconut rum and 1 teaspoon pure vanilla extract; MIX on lowest speed; SLOWLY add the carrot/coconut/banana/pineapple mixture while beating on medium speed (without over-mixing); RAISE standing mixer top and scrape attachment and bowl sides; REMOVE bowl from stand; FOLD in 2/3 cup coarsely chopped roasted macadamia nuts.
DIVIDE batter equally into the 3 prepared pans; DROP each cake pan levelly onto countertop 3 times to disperse air pockets; PLACE cakes into oven; SET timer for 30 minutes; BAKE until timer sounds; TEST center(s) of cake(s) with a wooden toothpick or cake tester until it comes out clean (bake for an additional 5 minutes and test again); REMOVE baked cakes from oven; LEAVE the cakes in pans to rest and cool for 10 minutes; CAREFULLY invert and transfer cakes from pans onto cooling racks, peeling away parchment paper; ALLOW cakes to cool completely; ZEST one fresh lime to yield 1/4 teaspoon and set aside; SQUEEZE juice from lime to yield 2 teaspoons for the icing.
INTO a small cup using a fork to blend, mix 2 tablespoons banana puree, 1 tablespoon lime juice, 2 teaspoons reserved pineapple juice, 1 1/2 teaspoons natural coconut rum, and 1/2 teaspoon pure vanilla extract; SET mixture aside; INTO a large mixing bowl add 12 ounces softened real cream cheese and 1 stick softened butter over; BEAT until creamy; SCRAPE the mixture of banana, juices, rum and extract into the mixing bowl; BEGIN beating; SIFT in the powdered sugar while beating constantly until smooth; SLOWLY pour in the reserved blend the ISLAND ICING until smooth and creamy.
PLACE one cake layer top-side up on cake plate or cake stand; SPREAD about 2/3 cup of the ISLAND ICING on the first layer of cake; PLACE the second cake layer top-side down evenly over first; REPEAT procedures to the third layer top-side up again; FROST the sides of the cake first with the ISLAND ICING; COVER the top layer of cake loosely with plastic wrap; TOSS 1/3 cup ground macadamia nuts along the sides of the cake; REMOVE wrap from unfrosted top cake layer.
FROST the top of the cake with the remaining ISLAND ICING, decorating in swirls (Note: Any leftover icing freezes well if stored in an airtight container then defrosted in refrigerator); SPRINKLE the top of the cake with 1/3 cup flaked coconut; GARNISH top with 1 tablespoon finely grated fresh carrot and a few flecks of fresh lime zest; REFRIGERATE for an hour to set icing before serving.
CUT servings and place onto plates; TEMPER cake servings to room temperature, covered loosely with plastic wrap (OR) WARM cake uncovered in a microwave defrost setting just long enough to soften cake and temper frosting; SERVE and enjoy!
Questions & Replies

Got a question?
Share it with the community!
Reviews
Have any thoughts about this recipe?
Share it with the community!