Tim Tam Cake
photo by Greggy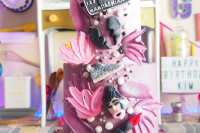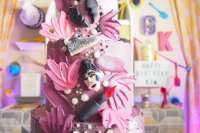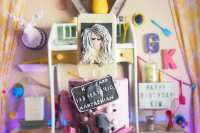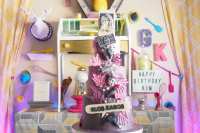 Ready In:

2hrs

Ingredients:

23
directions
For the Vanilla Cake:

Mix flour, sugar, baking powder, powdered milk, and salt with a paddle attachment on stand mixer on low.
Add water, vegetable oil, eggs and vanilla. Mix on medium speed until combined. Scrape in between mixing.
Bake at 350F until cake bounces in the middle to touch and toothpick comes out clean.

For the Swiss Buttercream:

Place sterilized stand-up mixing bowl (just make sure it's super clean and dry) with whites on top of a saucepan with water, barely simmering (a.ka. double boiler).
Heat to 160 F, constantly stirring. Be sure to watch it and keep stirring or else it'll turn into an omelette.
Add Cream of Tartar and whip in stand mixer until cool. Place in refrigerator or freezer if necessary, after reaching a medium peak. You can also place the cooked egg whites on an ice bath ahead of time and place it in the refrigerator, then whip it up.
Place back on whip and gradually add butter, one stick at a time. Make sure the meringue is cold prior to adding it to the mixture or else it will be a soupy mess. The mixture should separate at first (don't be alarmed and freak out). Be patient and keep mixing; it'll come back together. Mix until smooth and well incorporated.

For the Caramel Spread:

In a saucepan, combine water, sugar, and salt over medium heat. Bring mixture to a simmer without stirring until syrup is lightly golden. Continue to cook for about 1 minute more until it is a medium golden color. Immediately add cream and turn the heat on low.
Stir caramel with a heat-resistant spatula until it reaches 225°F (107°C) Stir in vanilla extract and cool to room temperature. Store in an airtight container. The sauce thickens as it cools.

For the Ganache:

Place chocolate in a bowl.
Place heavy cream in a microwave safe bowl and heat in microwave until scalding hot. Avoid overboiling.
Stir lightly until mixture thickens. Set aside to room temperature, ready for spreading on cake.

For the Assembly:

Start with a base of vanilla cake. Make a barrier of buttercream with a piping bag. Fill and spread with a thin layer of ganache. Fill a piping bag with caramel and drizzle on top. Sprinkle crushed shortbread cookies on top.
Place another layer of cake and repeat the process.
Crumbcoat, chill and final coat your cake. Serve and enjoy.
Questions & Replies

Got a question?
Share it with the community!
Reviews
Have any thoughts about this recipe?
Share it with the community!