Tender, Easy Ribs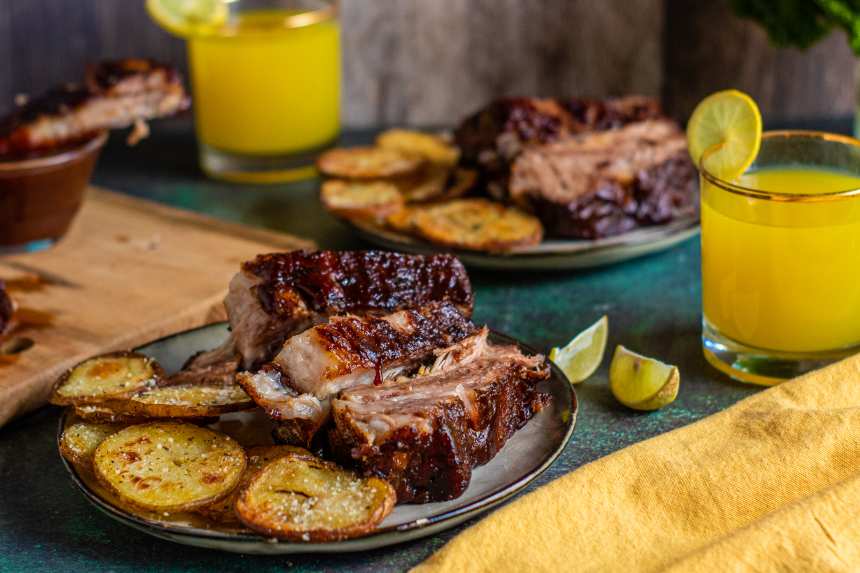 photo by LimeandSpoon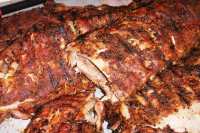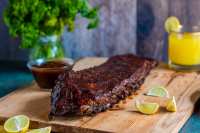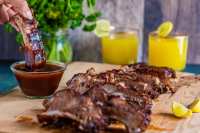 Ready In:

3hrs 10mins

Ingredients:

14
directions
Lay each rack out on a heavy duty foil sheet.
Mix Rib Rub into a thick paste and use your hands to rub it into the meat. You want to rub a thin layer all over without leaving any gritty deposits. It will stain the meat a rich red color. Work the rub into the meat for at least a minute (I hate doing this but it must be done!). Store extra rub in the refrigerator.
Wrap tightly in foil. I lay the racks vertically on long vertical sheets. I fold over the top and bottom, then bring the sides up so they are even and fold over and crease, then roll down until the seam is flush against the meat. Be careful not to allow the bones to puncture the foil (I usually use two sheets to prevent this) all your good juices will leak out!
Refrigerate until ready to start cooking (the longer they sit the stronger the flavors will be, however you can cook straight away if desired), you can do this the day before if desired or at home if taking to a picnic or campsite.
When ready to start cooking place all foil wrapped racks on a rimmed baking sheet or large roasting pan, the packets will leak and your oven will be a big mess otherwise. You can pile them all on, they don't have to be arranged.
Bake at 300°F for 2 1/2 hours, I have cooked as many as 8 racks for that same time without any difference, although if your ribs are very thick you may want to increase the cook time a bit or if you just want to delay you can cook them at 250°F for four hours.
At this point, remove a rack and careful unroll the foil to check if they are done, the bones should be loose in the meat (you should be able to remove a bone just by pulling it with your fingers). If they are still tight, put it back in for another half an hour or so, keep checking.
Transfer finished racks (carefully!) to the grill. Baste each side of each rack with barbecue sauce (this rub works will with a slightly-sweet mesquite) and finish them over a high flame for about 10 minutes, get a good crust, be careful not to let it stick.
If you don't have access to a grill you can use your broiler to crisp them up.
Tweaks
This recipe was awsome! I have a smoker and this is by far better than any ribs I have ever made before! They were so tender and juicy. We had to eat them with a fork. Followed the recipe just as directed except I didn't have lime juice or tabasco sauce. I used lemon juice instead and skipped the tabasco sauce. They stuck to the grill a little. Next time I will oil it better. My husband wants me to make these again tonight! The nice thing about this recipe is that when we have a lot of people over, we can leave some in their pouches until we need them. They hold very well. I think the next time I make these I will experiment by substituting liquid smoke for the Worcestershire sauce. Very easy. Bravo to the chef of this recipe!