Swedish Cardamom Braid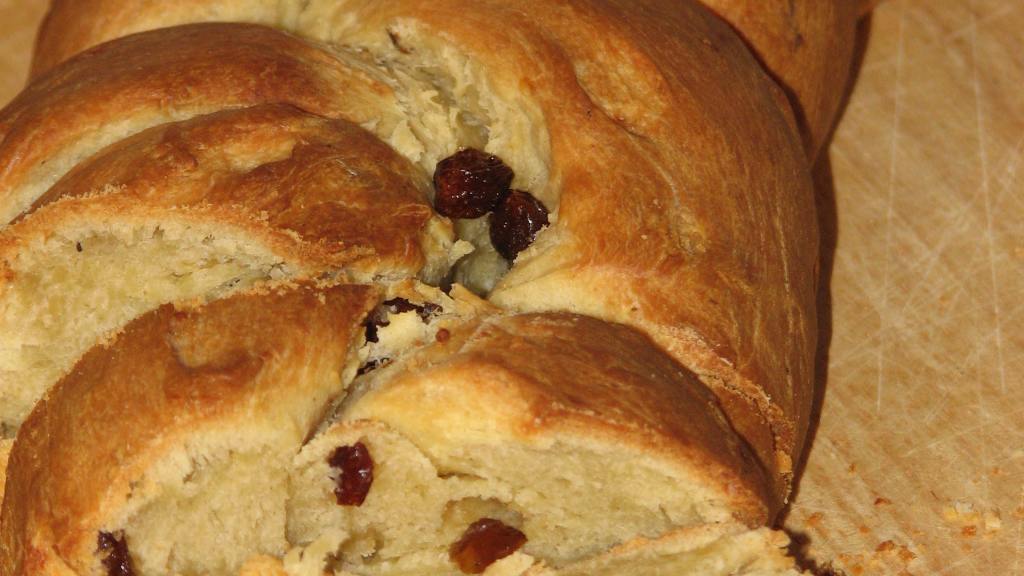 Ready In:

3hrs 5mins

Ingredients:

12
directions
In a mixing bowl, measure 1 cup flour and add the dry ingredients.
Blend with a wooden spoon. pour in the hot water and stir with 25 strong strokes, or for 2 minutes with the mixer flat beater.
Cut the soft butter into several pieces and drop into the batterlike dough.
Add the egg, cardamom and raisins.
Stir in additional flour, 1/4 cup at a time, first with the spoon and then by hand, or with the beater and then the dough hook.
The dough will form a rough mass and clean the sides of the bowl.
Because of the large amount of butter, the dough will not be sticky. It should be firm, but not stiff.
Turn the dough out onto a floured work surface. With a strong push turn fold action, knead till the dough is smooth and elastic, about 8 minutes, or knead with the mixer under the dough hook for the same length of time.
Return the dough to the bowl; cover with plastic wrap and put aside at room temperature till the dough has doubled in volume, about 1 hour.
Punch down the dough and turn it onto a floured surface; knead briefly to work out air bubbles.
Divide the dough into 3 equal parts. Roll each part under your palms into a strand 14 inches long.
Beginning in the middle of the strands, braid loosely to one end. Reverse the loaf and again braid from middle to end.
Pinch the ends closed and place on a baking sheet.
Cover the dough with wax paper and leave till doubled in bulk and puffy to the touch, about 1 hour.
Preheat oven to 350°F 20 minutes before baking.
Before baking, brush the braid with the egg white glaze.
Bake till the crust is rich brown, about 45 minutes.
A wooden toothpick inserted in the center should come out clean.
Remove braid from the oven. Use a metal spatula to lift it off the baking sheet, because the hot loaf will be fragile and might break.
Cool on a wire rack.
This bread keeps well and toasts beautifully and also freezes well.
Join The Conversation
I noticed that the amount of butter for 1 loaf and 2 loaves are exactly the same and I'm wondering if anyone could comment on that. I had inherited this exact same recipe from my ex-husband's grandmother. I just made 1 loaf last weekend with 1.5 sticks of butter. The loaf had a really hard time getting baked all the way on the inside (center, especially). I kept baking it but then the crust got over-cooked. Should the amount of butter for 1 loaf be just 3/4 stick instead?