Italian Sunday Gravy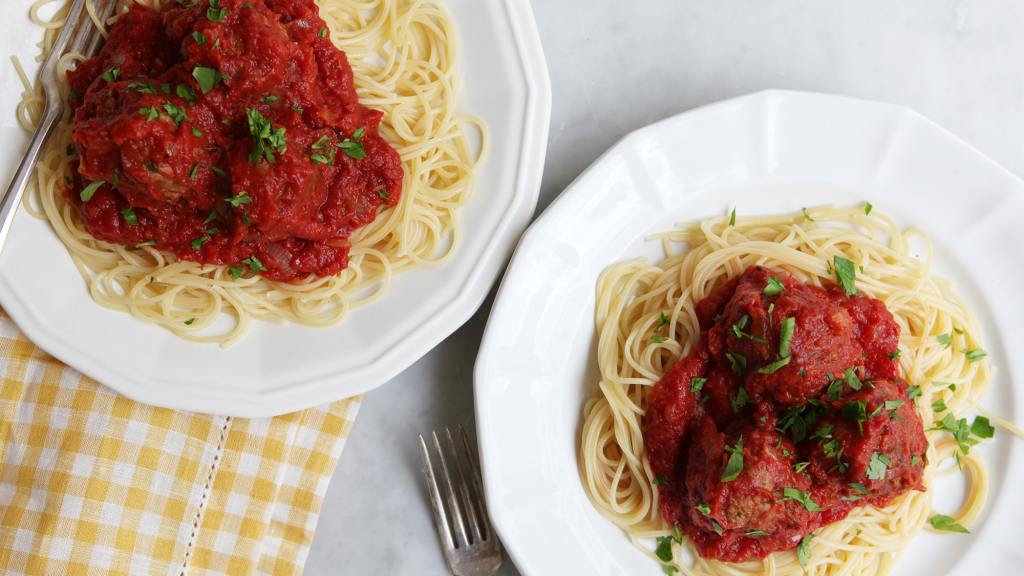 Ready In:

3hrs 45mins

Ingredients:

19
directions
Heat oil in very large Dutch oven.
Add garlic and onions and saute until soft.
Add tomato paste and stir to combine.
Add crushed tomatoes and spices.
Stir bring to boil, lower heat to low--cover and simmer.
Meanwhile combine all meatball ingredients (except for flour and oil).
Form into balls about 2-1/2 inches in diameter.
Dredge meatballs in flour.
Fry meatballs in oil in skillet a few at a time until browned on all sides (not necessary to cook through they will cook in the sauce) Add fried meatballs from skillet directly to simmering sauce.
Stir and bring sauce back to a simmer.
Cover.
Place sausage in pot and cover with water.
Bring to a boil and boil about 5 minutes to remove some of the fat.
Brown boiled sausage in skillet.
Place browned sausage in simmering sauce.
Bring sauce back to simmer---cover and continue simmering for 2 hours over low heat---stir occassioanlly.
Remove meatballs and sausage from pot and place on serving dish.
Toss sauce with cooked pasta--You will have enough sauce to coat two pounds of cooked pasta.
This freezes very well!
Join The Conversation
I'm sorry, but I guess I am in the minority. It was extremely bland. I wasn't impressed with the sauce and the meatballs were okay. Maybe I did something wrong. I followed the instructions to a T. I am hoping that after sitting overnight in the fridge, the flavors married better. I cooked it for 2 hrs. Even my hubby said it seemed like I left something out. Maybe I am used to more Italian seasonings or S/P. I don't know, but I even bought San Marzano canned tomatoes, which are supposed to be the best. It smelled wonderful while it was cooking. I used to make my own sauce from an old cookbook from the 60s and it was great. I think the meatballs were fine. I really don't care for grease floating on top of the sauce. I did fry the meatballs and drained off the grease but there was still some at the top. I would use hot Italian sausage the next time. The sweet just didn't cut if for me. Oh well.