Steve's Often Copied, Never Duplicated, Furikake Chex Mix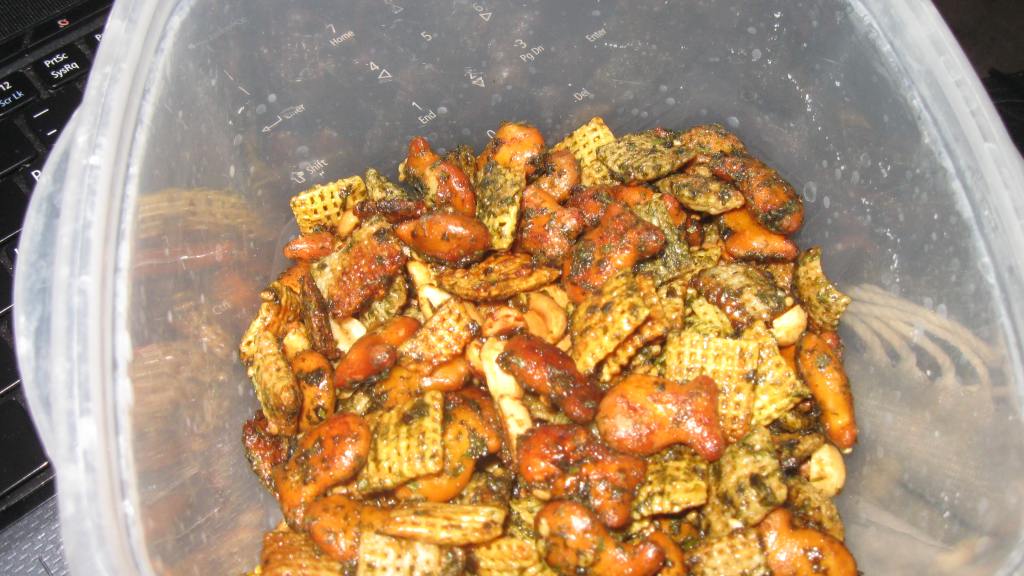 Ready In:

2hrs 5mins

Ingredients:

14

Serves:

12
ingredients
2

cups Rice Chex or 2 cups Crispix cereal

2

cups Wheat Chex or 2 cups Crispix cereal

2

cups Corn Chex or 2 cups Crispix cereal

2

cups honeycomb cereal (optional)

2

cups pretzel sticks (I use Rold Gold brand)

2

cups dry roasted peanuts

1

cup butter
3⁄4 cup sugar
3⁄4 cup light corn syrup

3

tablespoons soy sauce (I use Kikkoman. Hawaii people, DO NOT USE Aloha Brand for this!!!)
1⁄2

cup oil

2

tablespoons Worcestershire sauce

1

teaspoon Tabasco sauce

1

(2 ounce) bottle Nori Goma Furikake (I prefer Nori Komi Furikake, but it wouldn't let me input Nori Komi Furikake, Mishima brand)
directions
Preheat the oven to 250 degrees F.
Mix together all the cereals, pretzels, and peanuts in a large baking pan (The tin foil ones that you can buy from the store to roast turkey works really well!).
Divide the mixture between two pans.
In a medium-sized sauce pan over medium to medium-high heat, melt butter.
Add sugar and dissolve well.
Add corn syrup, soy sauce, oil, Worcestershire sauce, and Tabasco Sauce. Stir until blended well. It works best if you heat till it reaches the hard ball stage (about 250 degrees).
Pour over cereal mixture, one pan at a time, and mix well.
Put into the oven.
After 15 minutes, remove from oven, and add one bottle of furikake to each pan. Mix around to evenly distribute furikake and sauce from the bottom.
Continue baking for about 1-2 hours, stirring every 15 minutes.
The cooking time fluauates depending on how crispy you want it, and how humid it is (making this in 90% humidity is a nightmare!).
Store in an air-tight container or ziplock bags.
Join The Conversation
Had a great sugary flavor, not enough of a salty presence except from the Arare (Rice Crackers that I added). I did cook it for 2 hours at 250 and stirred every 15 minutes but found butter at the bottom of the trays. Felt mixture was too wet and clumped because of the sugary/oily coating. I used a rice paddle to break it up before I packaged it. Three hours after packaging, it remained separated and was much drier and super glossy. I would also add more tabasco next time, didn't have enough of a hot kick. All in all, great recipe. I stuck with the total of 12 cups but used Arare, Green Pea Snack Crisps, Mixed nuts, honey roasted nuts, Crispix cereal and Mixed Rice Cracker Furikake Mix. Thank you for a local Hawaiian favorite. I will be making this a lot for snacking and parties.

This was quite tasty, but a little too sweet for me. I would omit the Honeycomb cereal next time and use another salty element. Pretzel goldfish is a good suggestion. I'd also add more hot sauce for more kick. But that's just me. The recipe is a good starting point, and the guests at the Hawaiian party I took it to enjoyed it a lot. Thanks for the inspiration!

Thanks for this tasty and savory recipe! I've been meaning to make this ever since my cousin who lives in Hawaii gave me some when she came home to visit last year.<br/>I modified the recipe a little bit by using 3 cups of Rice Chex and 3 cups of Honey Wheat Chex instead of having the 2 cups of Honeycomb . I'm not a huge fan of pretzels so I used a bag of pretzel Goldfish which are smaller and easier to eat with this grab-by-the-handful snack. Not to mention they are cute swimming among the seaweed! I also used only one 2 oz. jar of the furikake for preference of taste.<br/>The recipe didn't indicate at what temperature to melt the butter at so I went with med heat and whisked the sugar until it was no longer grainy. And after the remaining liquid ingredients were added I whisked it all until it boiled a little bit and had a glossy thickness to it. I also checked on the trays every 15 minutes instead of 10 mins to toss the mix.<br/>I definitely will make another batch after getting more furikake and Goldfish. I will also try it with wasabi paste instead of Tabasco as the flavor wasn't prominent with 10 drops. <br/>For those who make this, definitely cover your baking sheets with foil!! As it bakes, it gets stickier. I'm really glad I decided to use foil as clean up was super easy and no pan soaking to do.