Spice-Rubbed Smoked Turkey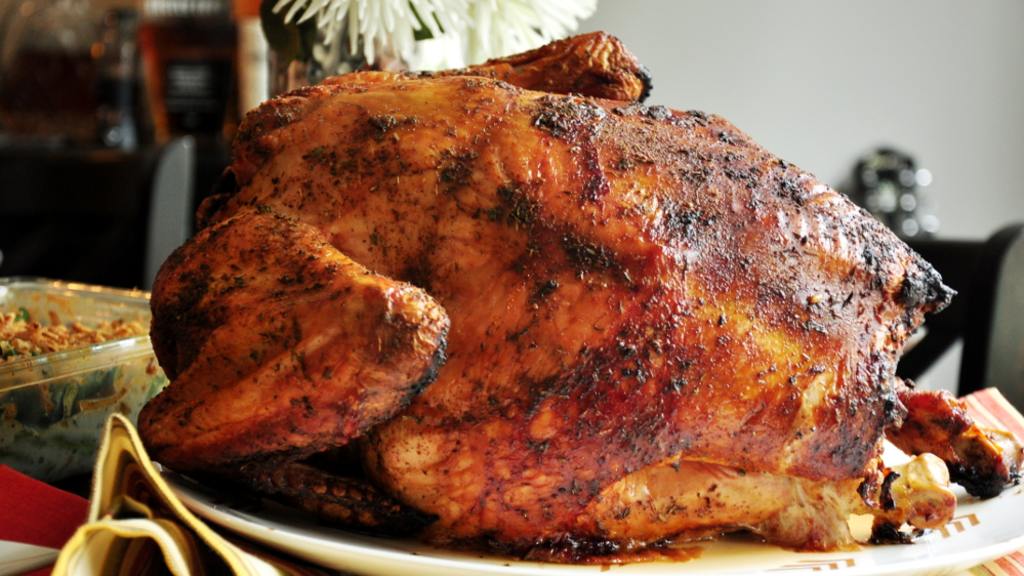 Ready In:

10hrs 40mins

Ingredients:

10
directions
Remove and discard giblets and neck from turkey. Trim excess fat, then rinse turkey with cold water and pat dry. Loosen skin from breast and drumsticks by inserting fingers, gently pushing between skin and meat. Lift wing tips up and over back, and tuck under turkey. Place turkey on a jelly-roll pan. Combine the brown sugar and the next 7 ingredients (brown sugar through coriander). Rub seasoning mixture over and under skin. Cover turkey with plastic wrap; refrigerate 8 hours.
Soak wood chunks in water 1 hour, and drain well. Place a large, disposable aluminum-foil pan in center of bottom grill rack. Place 25 charcoal briquettes on each side of the pan; ignite briquettes. Place wood chunks over hot coals. Coat top grill rack with cooking spray; place over foil pan and hot coals. Uncover the turkey; remove from jelly-roll pan. Place on top rack over aluminum-foil pan. Insert a meat thermometer into meaty part of thigh, making sure not to touch bone. Cover and smoke turkey 2 1/2 hours or until meat thermometer registers 180°, adding 8 additional briquettes to each side of drip pan every hour.
(Cover the turkey loosely with foil if it becomes too brown. Turkey should be a deep mahogany brown when done. Closely monitor the grill to make sure the coals burn steadily, with continuous smoke, although don't check too often as lifting the grill lid decreases the inside temperature significantly).
Serve with Roasted-Pear Stuffing (Recipe #194583) and Cranberry Syrup (Recipe #194648).
Join The Conversation
I think I found the go-to recipe for Thanksgiving now! This recipe doesn't require basting which is great. I put a 15 lb. marinated turkey onto a gas grill and grilled it at 375 degrees for 2 1/2 hours. The bird turned out fantastic! All I had to do was to maintain the temperature of the grill during cooking. Flavorwise, I mixed 2 tablespoons smoked paprika with all the spices and herbs stated in this recipe. That's the only change I made. Great recipe! Thanks for posting!