Smoked Pork Chops With Sweet Potato Hash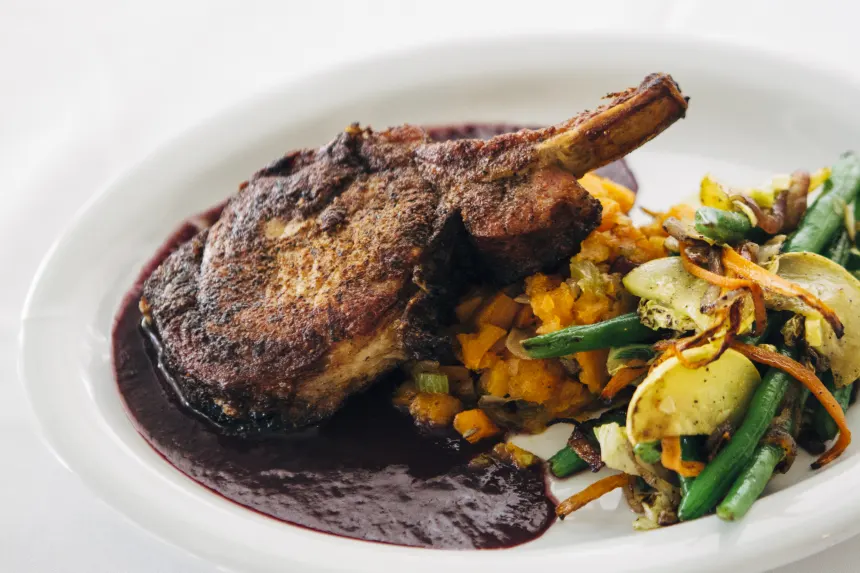 Ready In:

4hrs 30mins

Ingredients:

37
ingredients
For the smoked pork chops

water, and ice cubes as needed to make 1 gallon

1

cup kosher salt
1⁄2 cup light brown sugar

1

whole pork loin, Frenched

3 -4

cups hickory chips, for smoking

about 1 tablespoon ground black pepper

For the sweet potato hash

2

tablespoons unsalted butter

4

cups diced sweet potatoes

seasoning (Chef Frank's Veggie Mojo seasoning, see recipe)

2

tablespoons unsalted butter

1

cup diced andouille sausages (quarter lengthwise, slice into 1/4 inch pieces) or 1 cup smoked sausage (quarter lengthwise, slice into 1/4 inch pieces)

1

cup diced celery

1

cup diced yellow onion
1⁄2 teaspoon salt

1

pinch white pepper

1

pinch black pepper

1

pinch cayenne
1⁄8 teaspoon savory, leaves (or 1 pinch ground savory)
1⁄8 teaspoon dried whole-leaf thyme

For the Mojo Seasoning

2

tablespoons salt

1

tablespoon granulated garlic

1

tablespoon granulated onion

1

tablespoon ground black pepper

1

teaspoon white pepper
1⁄2 teaspoon ground cayenne pepper

For the blueberry cane vinegar glaze

4

cups fresh blueberries, washed
1⁄2 teaspoon lemon juice
1⁄4 cup granulated sugar
1⁄4 teaspoon vanilla extract
1⁄2 cup finely diced yellow onion

1

cup reduced unsalted pork, duck (start with 2 cups) or 1 cup chicken stock (start with 2 cups)
1⁄2 zest and an orange, juice of

3

cups blueberry jam

1⁄2 teaspoon salt

1

pinch white pepper
4 1⁄2 teaspoons cane vinegar (or malt vinegar)
directions
For the Pork Chops:

In a gallon container, add 1 quart warm water. Add the Kosher salt and light brown sugar. Whisk until dissolved. Add ice cubes and cold water to make 1 gallon brine.
Place the pork rack in a large container and cover with the cold brine. Refrigerate for 15 hours.
Soak the wood chips in water for at least 2 hours before smoking the pork.
Remove the pork rack from the brine, rinse with cold water, and pat dry. Season lightly with ground black pepper.
Fire up the smoker and "cold-smoke" the pork rack at about 125° for 3-4 hours, turning once. Refrigerate the smoked pork rack until thoroughly chilled. The pork should have good smoke flavor on the outside, but be nearly raw on the inside.
Cut the pork rack into 8 pork chops.

For the andouille sweet potato hash:

Cook the sweet potatoes: Preheat oven to 350°. Heat 2 Tablespoons of butter in a large pan over medium-high heat. Add the diced sweet potatoes and cook, stirring constantly for 4-5 minutes.
Season to taste with Veggie Mojo. Cook, stirring constantly, for 2-3 minutes.
Place the sweet potatoes in the oven and cook, stirring occasionally, until they are tender, but firm (al dente), 15-20 minutes. Remove from oven and set aside.
In a separate pan, melt 2 Tablespoons of butter over high heat. Add the diced andouille sausage and cook, stirring occasionally, until the andouille is well browned.
Add the celery and onions. Cook, stirring occasionally, until the onions are soft and clear.
Reduce heat to low. Add the salt, white pepper, black pepper, cayenne, savory, and thyme. Cook, stirring occasionally for 1-2 minutes.
Add the roasted sweet potatoes and mix well. Cook until warmed through, remove from heat.

For Chef Frank's Veggie Mojo seasoning:

Combine all ingredients.

For the blueberry cane vinegar glaze:

Make blueberry compote: In a pot, add the blueberries, lemon juice, sugar, and vanilla.
Cook over low heat, stirring occasionally, just until the blueberries begin to break up and form a thick, syrup-like consistency. Remove from heat and set aside to cool.
Heat the duck fat or olive oil in a pot over high heat. Add the onions and cook, stirring occasionally, until the onions are well browned (caramelized).
Add the reduced stock, orange zest, orange juice, 3 cups of blueberry compote, salt, and white pepper. Bring the mixture to a boil. Reduce heat to medium-low and simmer for 15 minutes.
Add the cane vinegar and purée the sauce with a hand mixer. Strain through a large-holed strainer (China cap).

To serve:

About 1/2 cup mild olive oil.
8 cold-smoked pork chops.
about 8 teaspoons Chef Paul Prudhomme's Meat Magic® seasoning.
Andouille sweet potato hash.
Blueberry cane vinegar glaze.
Preheat oven to 500°. Season the pork chops lightly on all sides with the meat seasoning. Heat a large pan, or large skillets, over medium-high heat. Sear the pork chops on both sides, place in oven, and cook just until done, 8-10 minutes.
Serve each pork chop with 1/2 cup of the hash and 1/4 cup of the sauce.
Questions & Replies

Got a question?
Share it with the community!
Reviews
Have any thoughts about this recipe?
Share it with the community!
RECIPE SUBMITTED BY
Hungry for good food AND great conversation? Food.com boasts a smorgasbord of over 500,000 recipes and a community-inspired activity feed that allows our users to add reviews, tweaks, questions and photos to their favorite recipes. Grab a plate and join the fun!
View Full Profile