Shakey's Famous Chicken & Mojos (Copycat)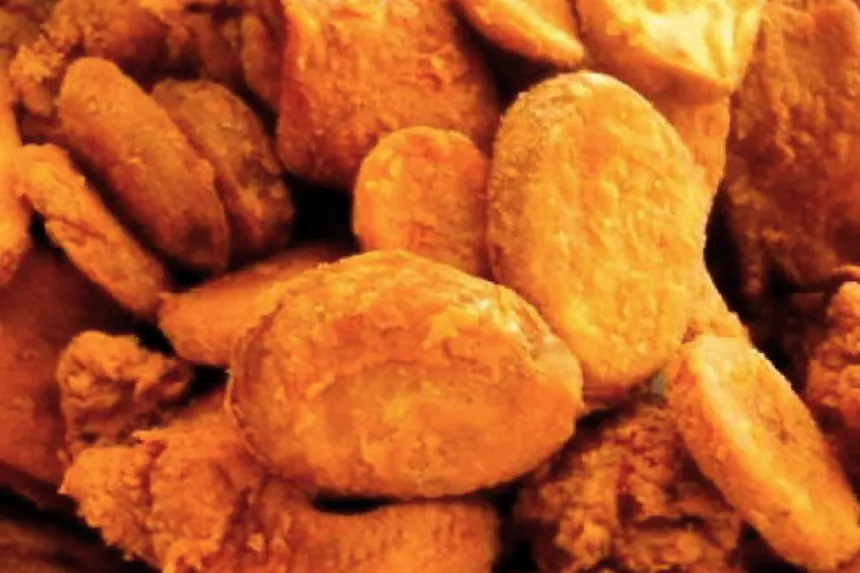 photo by The Spice Guru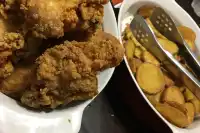 Ready In:

4hrs

Ingredients:

16
directions
NOTE: THIS RECIPE REQUIRES A TOTAL OF 7 TABLESPOONS LAWRY'S SEASONED SALT (MAKE SURE YOU HAVE ENOUGH ON HAND BEFORE PREPARING RECIPE, OR HALVE RECIPE TO ACCOMMODATE). (STEP ONE): RINSE and blot chicken; WASH and scrub potatoes; CUT potatoes between 1/4-inch to 1/3-inch rounds (about the width of a McDonald's french fry; DISCARD potato ends.
MIX the CHICKEN AND POTATO BRINE ingredients in a 3 quart saucepan (with an accompanying lid) until dissolved; PLACE potato slices in a smaller saucepan with an accompanying lid; POUR enough prepared brine to just cover potatoes, then cover; PLACE chicken pieces into 3 quart saucepan with remaining brine and cover; TRANSFER marination saucepans into refrigerator; MARINATE chicken and potatoes between 2-4 hours; MEANWHILE, combine the BREADING ingredients well, in a large sealable container, such as a GLAD food storage container or a Ziploc bag; BREAK up clumps with a wire whisk; SEAL the container with mixture; SHAKE well until thoroughly combined.
REMOVE a handful of potatoes from brine; PLACE potatoes into the breading mixture container; SEAL container firmly; SHAKE gently in all motions to thoroughly coat until evenly and generously breaded; TRANSFER breaded potatoes onto a platter; REPEAT procedure with remaining potatoes (don't bread chicken yet).
ADD the manufacturer's recommended amount frying oil for deep-frying (use canola oil); PLACE deep-fryer basket into place in deep-fryer; PREHEAT fryer to 350°F (or preheat enough fat to immerse chicken completely in deep heavy stovetop pot to 350°F, using a standard deep-fryer thermometer to gauge).
ELEVATE and secure the deep-fryer basket; PLACE breaded potatoes into basket; LOWER basket; FRY potatoes for 2 minutes; RAISE basket to drain; USING tongs, remove hot potatoes; ADD potatoes in increments into the BREADING once again; SEAL and shake until potatoes are evenly/thoroughly coated; TRANSFER re-dredged potatoes onto previous platter to absorb breading again, until all chicken is fried.
REMOVE 1-3 pieces chicken from brine; PLACE chicken into breading container; SEAL container firmly; SHAKE container gently in all motions to thoroughly coat chicken until evenly and generously breaded; REPEAT wit remaining chicken; TRANSFER onto another platter; ALLOW breaded chicken to absorb the breading for a few minutes.
CAREFULLY drop each piece breaded chicken one at a time, gently into the deep-fryer with basket immersed, without crowding (if a standard size home fryer is used, add no more than 2-3 pieces at a time), turning once halfway through frying duration).
FRY chicken about 13-15 minutes, until golden brown and fully cooked, depending on chicken portions/sizes (juices should run clear when chicken is done); DRAIN chicken on paper towels; MAINTAIN frying fat temperature for each new batch until all chicken is fried; KEEP chicken warm in preheated 170°F oven.
RAISE and secure deep-fryer basket; ADD the potatoes once again into basket; LOWER basket slowly into hot oil; FRY potatoes until golden brown and crispy, about 3 minutes.
SERVE chicken and potatoes with desired condiments and enjoy!
Questions & Replies

Looking forward to giving this a try. I cooked the chicken at two Shakeys and one KFC as a kid, and Shakeys made the best chicken ever. Pressure frying it would be awesome. I think I've seen recipes to pressure cook the chicken before frying, which sounded interesting. Might try pressure cooking in the brine then frying.

 
Reviews
Haven't yet tried this but, having worked at shakeys and being in charge of doing the chicken for a while, I know that the brine mix had a LOT of celery salt in it. The recipe would do much better adding some. We also would marinate the chicken at LEAST 24 hours before frying. Not sure 2-4 hours is enough.

 

Still haven't tried the recipe, but recently bought an immersion heater, and I've been thinking of using sous vide at 155°F for two hours (one hour for white meat) in the marinade then flash frying in peanut oil at 400°F for a few minutes. I'll try to remember to report back. The benefit of sous vide is the chicken inside is cooked before it hits the oil. You're really just looking at crisping the skin and breading, which I believe can be done at higher temp for much shorter time.