Sesame Chicken and Asparagus Pasta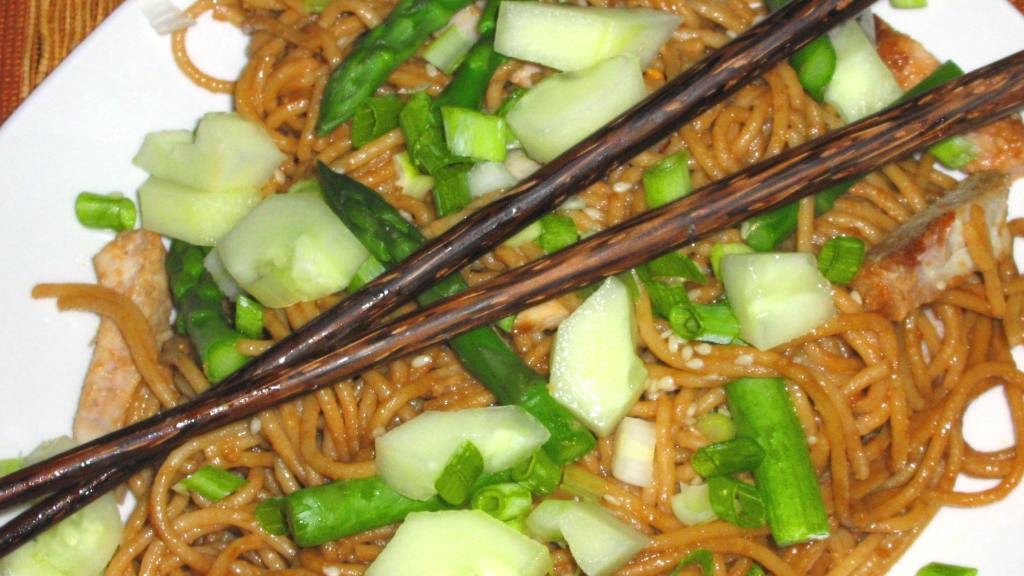 Ready In:

50mins

Ingredients:

13
directions
Bring a large pot of water to boil. Add the linguine and cook until just tender. Drain and rinse under cold water. Drain again, and set aside in a large mixing bowl.
Place the garlic, vinegar, brown sugar, peanut butter and soy sauce in a food processor. Process for one minute. With motor running, slowly add the sesame and chile oils through the feed tube, and process until well blended.
Shred the chicken into 2 inc julienne and toss with linguine. Add the sauce and 4 T of the sesame seeds and toss to coat well.
Cut the asaragus on a diagonal into 1 inch lengths. Blanch in a saucepan of boiling water for 1 minutes. Drain, rinse under cold water and pat dry.
Place the linguine and chicken in a large flat serving bowl and arrange the asaragus on top. Sprinkle with scallions, cucumber and remaining sesame seeds.
Serve at room temperature.
Join The Conversation
Just to give credit where credit is due; Candy TX writes in her review that a friend passed on the recipe for Sesame Chicken and Asparagus Pasta to her, but I know exactly where this recipe originated and that is in The New Basics Cook Book, (1989 Workman Publishing) authored by Julee Rosso and Sheila Lukins of "Silver Palate" Fame.<br/>I concur that this recipe is fantastic and can easily be doubled or even tripled to serve a crowd. Rave reviews guaranteed!

 

Your good friend was SO right-this IS fabulous! In fact, I'm taking a minute off from stuffing my face with it to review it; it's that good! I love forgiving recipes, and this definitely was. I used what I had on hand; so, I subbed fajita-marinated chicken thighs, which I have an abundance of, in my deep freeze, thanks to our local grocery store's "meal deals," Tom and Candy, I know you'll understand, living in Austin. I also subbed spaghetti, creamy peanut butter, and I added shredded carrots, cause I felt like it! I threw the asparagus and carrots in the pasta pot for the last minute of the pasta's time, as it saved me from dirtying another pot. If my cilantro hadn't been old, I would have sprinkled that on the top, too. I LOVE peanut sauce, and this was a GREAT Asian meal! Thank you so much, I'm gonna make this over and over again! (I'll try to wait a day or two, though!) LOL

 

This was a 5 star recipe all the way. Totally delicious. There was lots of mmmmmmmm's around the table tonight. I used spaghettini noodles because I prefer them to the linguine. Added a few red chili flakes too, but just because we like extra spice. The cucmber gave this dish the cooling taste to offset the heat from the hot chili oil. It came together very quickly too, I would say it took me only about 30 minutes from start to finish to make!! Thanks for a terrific recipe Tom and Candy, we just loved it and will be making it again!