School Girl Pickle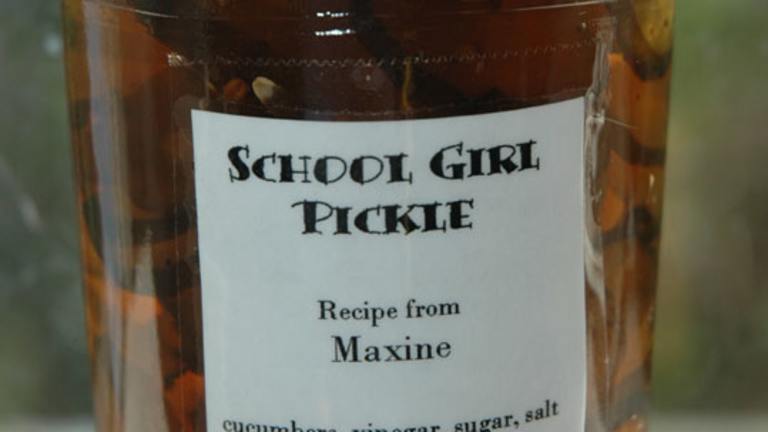 This is a very old recipe given to me by one of the finest cooks in our church. It is a very sweet pickle, and takes a long time... about 3 weeks. It is also highly prized and a favorite of all my sweet pickle loving relatives and friends. I make sure I have at least 3 jars, when I get low, I know it is time to make more. This and the curry pickle are a staple in my pantry. The amounts for Nutrition Facts will be hard to figure. I grow cucumbers, and I use a 2 gallon crock in this particular adventure, so let's assume it is 6 pounds of cucumber. The amounts are approximate... how much is one serving of a jar of pickles, anyway! This recipe taught me to understand pickles. It would be considered a long brine pickle. Good luck, if you make it! It is well worth it. As I am writing the instructions, I wonder if anyone will try to make these wonderful pickles. (They do go for about $10 a jar at our church's annual "Lord's Acre Day" auction)
Ready In:

435hrs

Serves:

Yields:

Units:
directions
Make brine to float an egg. (this blew my mind! -- so I researched it. This would be a 10% brine solution - 1 1/2 cups of salt to 1 gallon of water. Needless to say, I did float the egg, and this is actually the easiest way, as your amounts of water will vary according to size of crock and amount of cucumbers). The brine needs to be kept at about this % during the 2-3 week period.
Let cucumbers soak in this 2-3 weeks, skimming and adding salt as needed. Making sure that the cukes stay submerged. (I use a plate with a glass paperweight to hold things down.).
Take out cucumbers and cut into slices (1/4-1/8" rounds).
Soak in fresh water overnight.
Drain.
Soak in alum water (7 tablespoons to each 6 pounds) for 6 hours. Pour off alum water.
Heat vinegar (enough to cover cukes) to scalding point and pour over cucumbers.
Let this stand for 24 hours.
Pour off vinegar and discard. (This makes Michael crazy!).
Pack in crock alternating layers of cucumbers, layers of sugar and spices until all cucumbers are used.
Let stand for 3 days and pickles are ready for use.
I pack into sterile jars, putting some in our pantry, and give some as gifts.
I don't process, as they are pickles -- brined, vinegared, and very sweet, but if you like you can process for 10 minutes.
Submit a Recipe Correction
RECIPE MADE WITH LOVE BY
"This is a very old recipe given to me by one of the finest cooks in our church. It is a very sweet pickle, and takes a long time... about 3 weeks. It is also highly prized and a favorite of all my sweet pickle loving relatives and friends. I make sure I have at least 3 jars, when I get low, I know it is time to make more. This and the curry pickle are a staple in my pantry. The amounts for Nutrition Facts will be hard to figure. I grow cucumbers, and I use a 2 gallon crock in this particular adventure, so let's assume it is 6 pounds of cucumber. The amounts are approximate... how much is one serving of a jar of pickles, anyway! This recipe taught me to understand pickles. It would be considered a long brine pickle. Good luck, if you make it! It is well worth it. As I am writing the instructions, I wonder if anyone will try to make these wonderful pickles. (They do go for about $10 a jar at our church's annual "Lord's Acre Day" auction)"