Savoury Muffins With Feta Cheese, Onion and Rosemary
photo by limeandspoontt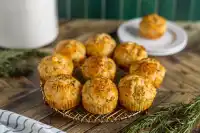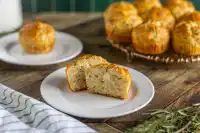 Ready In:

45mins

Ingredients:

11

Serves:

6-8
directions
You will need a 12 hole mini-muffin tin.
Melt the butter in a small saucepan, add in the chopped onion and cook for about 5 minutes till its softened and then remove from heat and leave it to cool.
Once cool, add in the chopped feta cheese and rosemary and season with freshly ground black pepper (there is no need for salt since feta cheese is quite salty by itself) and give it a good mix.
Pre-heat the oven to gas mark 6/400F/200°C.
Next for the muffin base, sift the flour, baking powder and salt into a large mixing bowl.
In another bowl beat the egg, then add in the milk and give it a good whisk again.
Next, pour the egg mixture into the flour, using minimum number of folding movements (you should finish folding in 15 seconds and ignore the lumps in the mixture - do not overmix).
Now gently add the onion mixture into the muffin mixture, folding in, as before, with as few strokes as possible.
Arrange the muffin cases into the muffin tins them spoon the mixture into them.
You may even spoon the mixture straight into the tins but they will have to be well-greased.
Beat the second egg and brush the muffin tops with it.
Bake them in the centre shelf of the oven for about 20 minutes, or until well risen and golden.
Remove the muffins from the tins and serve immediately.
Reviews
I made these muffins yesterday and found them very dry but tasty. When I have made muffins before, there has always been a good amount of oil in the mixture. Noticing this lack, I did put a small amount in but I think the oil has been accidentally omitted from this recipe and plan to try them again using the correct amount of oil. They turned out a bit like savoury scones but without the fat in the mixture. Also the recipe said 24 muffins, but I managed to make 16 but some were really too small. I would say the mixture would make 12 good sized ones. Rae Davies

 

Mmm, wonderfully rich savoury muffins! The sauteed onion adds a great flavour snd goes so well with the rosemary and feta! Mmmm! I made the full recipe and ended up with 8 medium sized muffins, that didnt last long around here. THANKS SO MUCH for sharing this wonderful recipe with us! I will certainly make it again! It would be great for a party buffet or potluck, too! Made and reviewed for the Tea Time Event in the Photo Forum February 2010.

 
RECIPE SUBMITTED BY
<p style=margin: 0.0px 0.0px 0.0px 0.0px; font: 12.0px Helvetica;><span style=font-family: Arial, Helvetica, sans-serif; font-size: 13px;><img src=file:///Users/aishayusaf/Library/Caches/TemporaryItems/moz-screenshot.png alt= /><img src=http://i166.photobucket.com/albums/u82/aaliyahsmum_album/bill3.jpg alt= width=402 height=507 /></span></p> <p><img src=http://i166.photobucket.com/albums/u82/aaliyahsmum_album/Untitled-11.jpg alt= /><br />Today, give a stranger one of your smiles. <br />It might be the only sunshine he sees all day. <br />- H. Jackson Brown, Jr. <img src=http://i166.photobucket.com/albums/u82/aaliyahsmum_album/images.jpg alt= /> <br /> <img src=http://i166.photobucket.com/albums/u82/aaliyahsmum_album/Untitled-11.jpg alt= /> <br /> <br />For a hobby, I'm into photography. I thoroughly enjoy baking, but have to admit, I have two left hands when it comes to decorating cakes! I also do a bit of knitting (beginner's stage) and reading. Stephen King and Dean Koontz are my all time favourite authors, and, of course, LOVE Calvin and Hobbes (does it show??!!) <br /> <br /> <img src=http://i166.photobucket.com/albums/u82/aaliyahsmum_album/chch-atheist.gif alt= /> <br /> <br /> <img src=http://i166.photobucket.com/albums/u82/aaliyahsmum_album/Untitled-1-1.jpg alt= /></p> <p>I search for recipes that carry ingredients I can get hold of locally (or I have stocked in my cupboard!). Recipes I have posted are ALL tried and tested and have been enjoyed by all! So, I hope you and your family will enjoy as well! <br /> <br />My rating system is fairly simple. Since I only pick recipes that I know my family will enjoy (looking at the list of ingredients), it's either 5 or 4 stars, I do not go any lower. I may sometimes do a bit of tweaking but that is only due to my family's tastes. If I do have problems with a recipe or if it didn't turn out the way it should have done, then I just leave a comment without any rating. <br /> <br /><img src=http://i166.photobucket.com/albums/u82/aaliyahsmum_album/Untitled-12.jpg alt= /></p>
View Full Profile