Savoury Muffins With Feta Cheese, Onion and Rosemary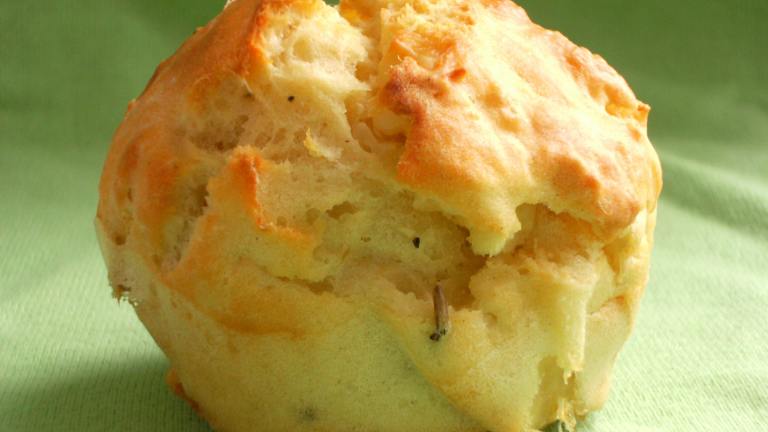 Ready In:

45mins

Serves:

Yields:

Units:
directions
You will need a 12 hole mini-muffin tin.
Melt the butter in a small saucepan, add in the chopped onion and cook for about 5 minutes till its softened and then remove from heat and leave it to cool.
Once cool, add in the chopped feta cheese and rosemary and season with freshly ground black pepper (there is no need for salt since feta cheese is quite salty by itself) and give it a good mix.
Pre-heat the oven to gas mark 6/400F/200°C.
Next for the muffin base, sift the flour, baking powder and salt into a large mixing bowl.
In another bowl beat the egg, then add in the milk and give it a good whisk again.
Next, pour the egg mixture into the flour, using minimum number of folding movements (you should finish folding in 15 seconds and ignore the lumps in the mixture - do not overmix).
Now gently add the onion mixture into the muffin mixture, folding in, as before, with as few strokes as possible.
Arrange the muffin cases into the muffin tins them spoon the mixture into them.
You may even spoon the mixture straight into the tins but they will have to be well-greased.
Beat the second egg and brush the muffin tops with it.
Bake them in the centre shelf of the oven for about 20 minutes, or until well risen and golden.
Remove the muffins from the tins and serve immediately.
Submit a Recipe Correction
I have been on the hunt for a good savoury muffin recipe and this is a lovely one that I will keep on tweaking to try out different flavours. I sautéed the onion as noted and added some shredded carrot. Once that had cooled I added some grated cheddar cheese, spring onion, some leftover plain pasta from the night before (I chopped it up a bit) and some leftover baked ham (diced). I also added some dried tarragon and fresh basil. The texture turned out very well. Previous reviewers are correct, they do stick to the cases so you might want to grease them beforehand. Oh, I also added 1/2 tsp of baking soda/bicarbonate of soda to aid in the rising. Next time I want to ramp up the flavour a bit and will probably try a bit of Dijon mustard and maybe a tart flavour of either sun dried tomatoes or tomatoe purée as well as add more herbs. Sage would be wonderful in this muffin. It's a great recipe. The rise was wonderful, much better than previous recipes I have tried. Many thanks :)

I made these muffins yesterday and found them very dry but tasty. When I have made muffins before, there has always been a good amount of oil in the mixture. Noticing this lack, I did put a small amount in but I think the oil has been accidentally omitted from this recipe and plan to try them again using the correct amount of oil. They turned out a bit like savoury scones but without the fat in the mixture. Also the recipe said 24 muffins, but I managed to make 16 but some were really too small. I would say the mixture would make 12 good sized ones. Rae Davies