Salt-Rubbed Roast Chicken with Lemon & Thyme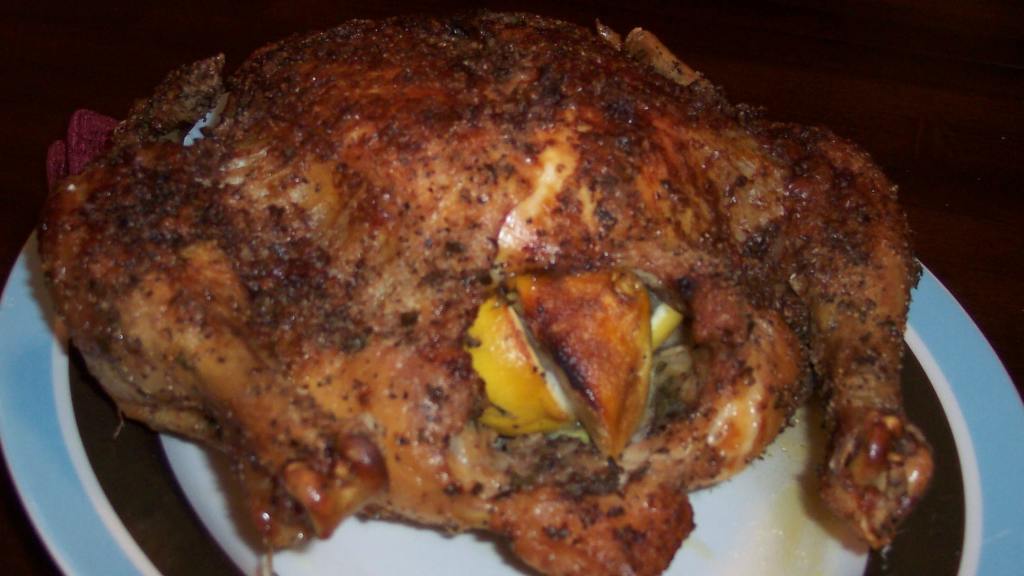 Ready In:

9hrs

Ingredients:

7
directions
Mix the salt, pepper and thyme.
Lay the chicken on a rack in a roasting pan and rub the mixture all over the skin on both sides.
Refrigerate uncovered overnight or for at least 8 hours.
Oven to 400 degrees F.
Put the lemon quarters, garlic and thyme stems inside the cavity of the chicken.
Brush the chicken with some of the melted butter.
Roast, basting every 20 minutes or so (first with melted butter, then with any fat and juices accumulating in the pan).
The chicken should be done in about an hour, but make sure by testing the thigh for a temperature of 170 degrees F.
Let the chicken rest for at least 10 minutes before carving.
Join The Conversation
This was a great chicken. I only used 1 tbsp salt and used it for the skin as well as inside the bird. I greased my roasting pan, cut an onion into 8 pieces and put the chicken on top of that (I don't have a small rack for chicken). I also placed some cut up potatoes and about 10 garlic cloves around the chicken. During the last 20 min, I added some baby carrots. What a beautiful dish! After 1 hour, the chicken wasn't quite cooked through or browned enough (maybe an additional 20-30 minutes would be necessary?) but there were lots of delicious juices. I didn't taste much lemon, so I think I would place some lemon slices on top of the chicken next time. I look forward to making this again! The bones are now in the slow cooker, on their way to making chicken stock!

This was really good. I followed the directions using a 6.7 lb chick so I 2x the ingred. I used lemon thyme b/c it's growing like a weed. I also cooked at 350 for 2hrs. I did baste every 20 minutes. There was a nice salt crust. The crust brushed right off so if someone didn't want the crust on it's not a big deal. The chicken itself wasn't salty at all. Actually, it was so moist it was practically dripping as I cut it. Delicious. The only down side is that the juices might be too salty to make gravy. I didn't make it this time but I usually use the juice for gravy then add it to the leftover chicken casserole the next day. I did reserve a small amount of juice for a casserole so I'll try it. The chicken is so moist I can't wait to have a sandwich. I will make this again but next time using the same 6.7 lb. chicken I'd change the salt to 3 tbls and the thyme to 5 tbls for personal pref.