Rustic French Bread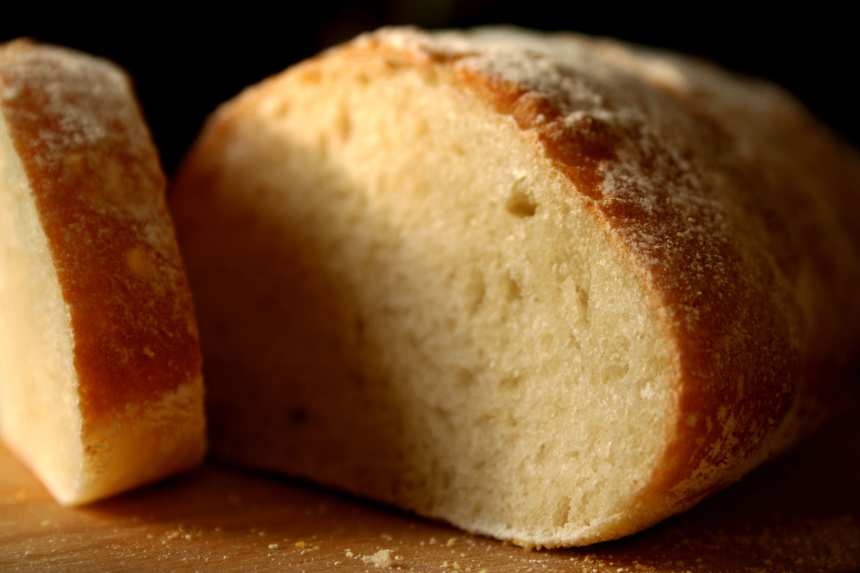 photo by GaylaJ

Ready In:

1hr 5mins

Ingredients:

6
directions
Plan on making sponge first.
I use active yeast and mix with water first to proof it. After 5 minutes, mix in flour with plastic or wood utensil until starter leaves side of bowl. I like to use a glass mason jar with lid. Let sit at least 6 hours in warm place until it triples, refrigerate if not using right away(take out and leave at room temperature for an hour before use).
Mix in 4 1/2 cups of flour (I used 2 cups whole wheat and the rest white), water, sponge starter, salt. Knead for about 10 minutes. Dough should be sticky, but not stick to your hands. Place in lightly oiled bowl and turn over once to coat.
Let rise until double in bulk (about 2-3 hours).
Punch down and shape into 2 loaves on 2 cookies sheets dusted with flour.
Place in warm place (I heat oven alittle and place in it .)Let rise until double.
Preheat oven to 450. Place a small pan on lower shelf to hold 2 cups of boiling water. Score top of loaves with and x.
Place boiling water in pan on lower shelf, place loaves on center shelf and bake for 40 minutes. I baked mine for 30. Bottom of bread should sound hollow. I agree as stated by reviewer, 450 degree was too high a temperature for full 40 minutes. I baked until golden brown all over for 30 minutes, turned off oven with bread inside for last 10 minutes directly on rack.
Turn off oven and let sit for 10 minutes to develop crust. Take out and let cool off on cooling rack. I served with my recipe for roasted garlic.
Questions & Replies

Got a question?
Share it with the community!
Reviews
This bread was wonderful. I found lots of other bread recipes that accomplish the same thing but are inordinately complicated. Seriously, I love baking bread, but there are limited hours in the day and if the recipe is overly involved I'm likely never to use it. I found that I needed more flour (not sure how much since I just added until the feel was correct). Instead of loaves, I formed the dough into smaller round loaves. I'm excited to try this again and feel like the recipe will be an excellent base for herbed breads -- next version will be a cracked pepper bread ... mmmm!

 

I thought this was excellent bread. I love working with preferments, as the resulting flavor of the bread is so much better developed. I held the sponge overnight in the fridge, used part all-purpose and part bread flour, and lazily let the KitchenAid do the kneading. I do not usually mention adding extra flour when reviewing yeast bread recipes, as anyone who has experience with bread dough is quite aware that, for several reasons, adjustments are inevitable. (To be honest, I usually don't even pay attention to exactly how much flour I add as I'm concentrating on getting the dough to the consistency I think appropriate.) Anyway, I did leave the dough on the wet side (I think a wetter dough makes better rustic-type bread), so I dusted the formed loaves pretty heavily with flour before covering them for proofing. Rather than round loaves scored with an X, I made oblong loaves and scored diagonally. I did reduce the temp to 425F, but only because I was baking in a convection oven. I forgot to notice the baking time, but they were done pretty quickly. Great recipe--thanks for posting!

 

This bread turned out very good with a couple of modifications. I ended up having to use 5 1/4 cups of flour instead of the 4 1/2 to get the dough to come together enough to get it out of the bowl. Also, I'm not sure if it's my oven or not but 450 degrees was too high a temp and the 1st loaf I had to turn off the oven after 20 minutes because it was already dark and crusty. The 2nd loaf I baked at 425 and baked it for 25 mins, then took it right out of the oven because it also was already dark and crusty. I found no reason to leave it in the oven any longer. All in all though the bread is very good! Next time I'll go down to 400 degrees and maybe make individual crusty loaves with this dough.

 
RECIPE SUBMITTED BY
<p>I love Recipezaar! The recipes and people have helped me create dishes I would never have done by myself. I finally have gotten the knack of bread (which I love) because of this site. I am on the go workaholic who loves cooking and serving good fresh food to my family. Brought up with Italian food. Inspired by my grandmother who I should have paid more attention to while she was cooking and baking. Mother is a very good cook and a little sneaky. Liver, rabbit, duck, tripe, lamb and meat family would get on hunting trips was served often. Can't really do that with my family as they don't like these different dishes as I do and have protested. Family from Chieti &amp; Naples Italy. My pet peeve is overcooking pasta. I like it al dente everytime and never add sugar to my tomato sauce. My motto is I would rather have a little of a good , natural thing than a lot of no-fat low-fat stuff.</p>
View Full Profile