Romano's Macaroni Grill Gemberetti Noci E De Pino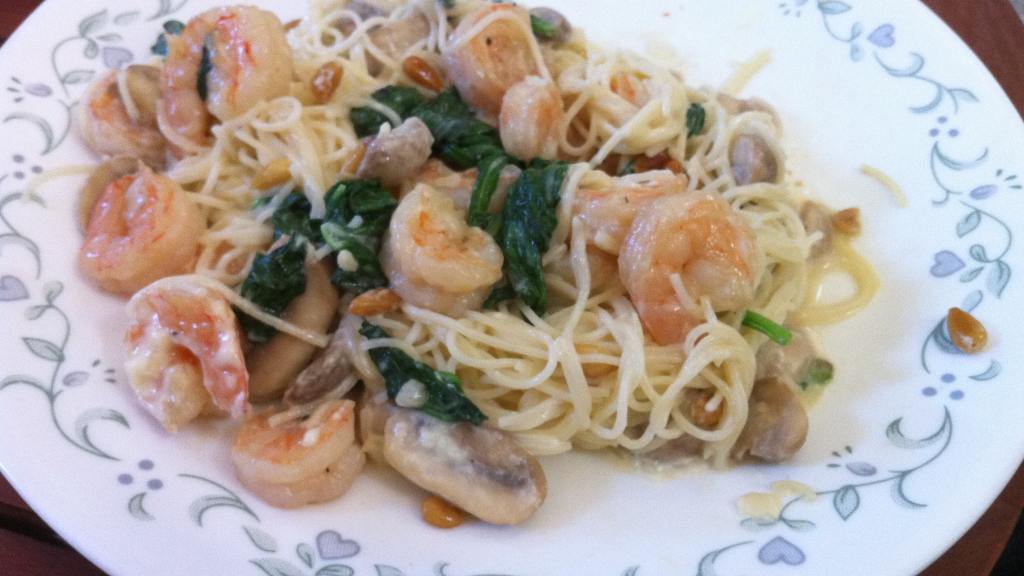 Ready In:

30mins

Ingredients:

15
directions
Preheat oven to 350 degrees. Wash spinach and remove stems before drying leaves between paper towels. Set aside. Spread pine nuts over bottom of sheet pan and place pan in oven on top rack. Roast until golden brown, approximately 2 to 4 minutes. Remove from oven and set aside.
Peel and devein shrimp. Set aside. Wash and slice fresh mushrooms. Set aside. Boil pasta in large pot of water to al dente stage according to directions on package. Set Aside.
Prepare lemon butter sauce: Melt 1 tablespoon butter in large skillet over medium-high heat. Sauté shallots and garlic until translucent. Add white wine and reduce slightly more than 1/2, whisking occasionally. Add cream and reduce by 1/2. Add lemon juice and reduce by 1/2. Add white pepper. Reduce heat to low. Add remaining butter 2 tablespoons at a time, whisking continuously after each addition to completely incorporate butter. Continue to simmer, whisking until sauce just coats spoon.
In large skillet over medium-high heat melt the 4 tablespoons of butter. Add garlic and sauté until garlic is translucent. Stir in mushrooms, shrimp, and pine nuts. Sauté several minutes or until shrimp are done and show color. Remove skillet from heat and gently stir in spinach. Place warm pasta on plate with shrimp mixture to the side. Pour lemon sauce over pasta, permitting a bit of sauce onto shrimp.
Join The Conversation
This was delicious! It's been many years since I had it at the restaurant, but was as good as I remembered. I made the recipe exactly as specified. My only note is that it made way more sauce than needed. The sauce recipe could have been cut in half and would still be plenty. I ended up saving it and using it for another batch! Saved half the work! I personally like a few more pine nuts too, but not necessary. So good!!!

An incredible, decadent dish ... so like the one served at MG. I doubled my recipe, but was gagging at the thought of using even 1 pound of butter, let alone 2 # for the doubled recipe, (and I love butter), so used 3 sticks for the doubled recipe. I think it could have used much less and still had the same great taste. Save the butter, save the calories, and enjoy this delicious pasta dish!
RECIPE SUBMITTED BY
I currently live in Stuart, Florida which is a great place to live. I moved here from Orlando many years ago to live the life of a beach bum and have gotten quite good at it. I am actually a Yankee, but becoming more Southern by the day. During the past several years I found an absolute love for cooking. The man in my life loves to eat so we make a good match. I absolutely love Recipezaar and can no longer live without it. I think it is great that I can see what other people think of the recipes before I try them. I have some favorite chefs and reviewers on this site and I know when I try their recipes I can never lose ! My passions are my family, my fiance', my cat (Tasha), the beach, and now cooking. My pet peeve is anyone that abuses animals. AND THIS IS A BIG PET PEEVE ! I am currently a Paralegal but can't see myself doing this forever. If I did not work, I would probably spend my time cooking and taking care of the 50-animals that I would most likely adopt.
View Full Profile