Roasted Brussels Sprouts and Potato Gratin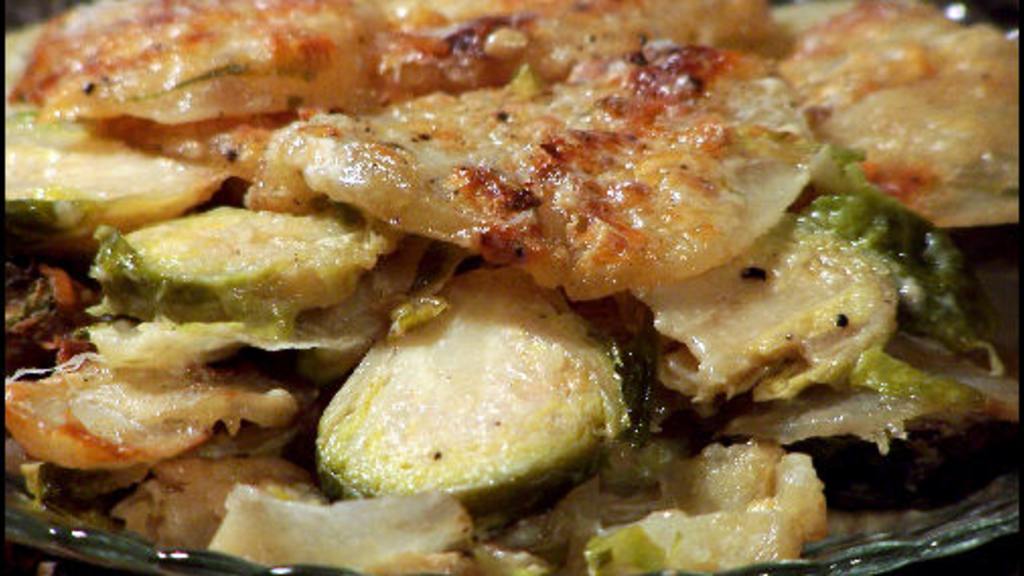 Ready In:

1hr 45mins

Ingredients:

9
directions
Preheat oven to 325 degrees.
Melt butter and oil in a large deep skillet. Add brussels sprouts and minced shallot and saute until soft, about 8 minutes. Add white wine and continue to cook for 1 minute until evaporated. Season with salt and pepper. Add cream and bring to a simmer. Cool to room temperature.
Smear a 1 1/2-quart shallow casserole dish with butter. Reserve 2 tablespoons of Parmesan for the topping. Arrange the potato slices evenly over the bottom of the dish and season with salt and pepper. Using a slotted spoon, spread a layer of brussels sprouts over the sliced potatoes and sprinkle with Parmesan cheese. Continue layering until all of the potatoes and brussels sprouts and all but the reserved 2 tablespoons of Parmesan have been used. The last layer should be potatoes. Pour the cream over the potatoes and top with the remaining Parmesan. Cover with buttered foil and bake for 45 minutes.
Uncover the gratin and bake for 30 minutes longer, or until the potatoes are tender and the top is golden brown. Let sit for 15 minutes before serving.
Join The Conversation
Wonderful combination! I just love brussels sprouts so I knew this would be good. I pretty much followed the recipe except for maybe adding extra cheese and I baked it at 350. This is also pretty easy to make. I don't even think it took me a half hour to prep this, I cut the potatoes up while the sprouts were cooking. Made for the Spring 2008 PAC.

Oh, this was a lovely potato bake, and all the better for the Brussels Sprouts, one of my favourite vegetables and so unloved by the rest of the family! they ate this with gusto, though! We adore potato bakes, and this one is a winner, easy to prepare, and then looks after itself while you get on with other things. I made it as part of a family dinner with DSs "inlaws', and served it to accompany "Recipe#218371", a great marriage! Found during PAC Spring 2008, thanks MysteryShopper!