Rhubarb-Pineapple Pie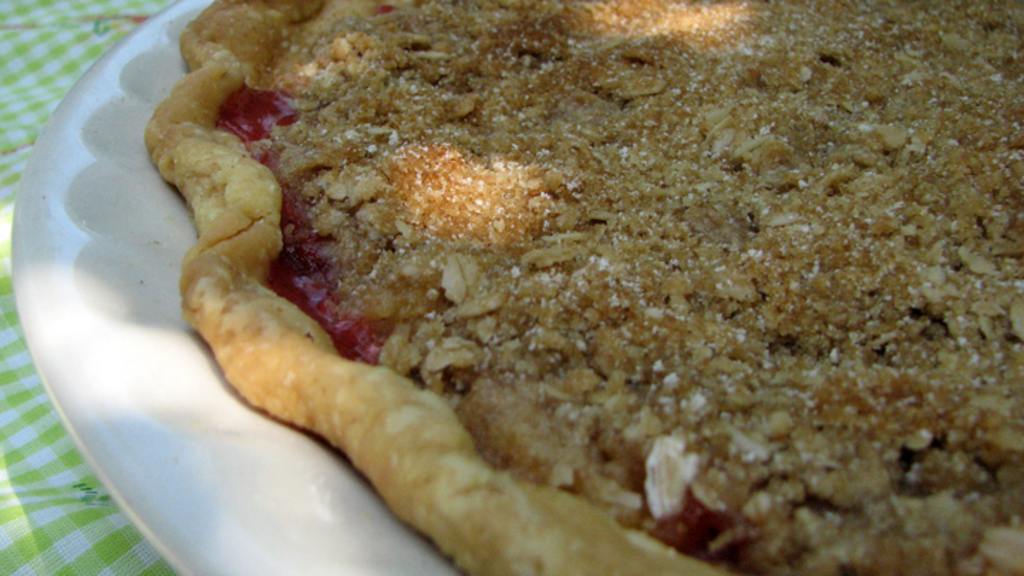 Ready In:

1hr 20mins

Ingredients:

8

Serves:

6-8
directions
Makes one 9" pie.
Preheat oven to 350 degrees.
Mix pie crust, roll it out and place in pie pan.
Slice rhubarb and place in the pie crust.
Sprinkle sugar over the rhubarb and pour spread the pineapple over the sugar.
Roll out the top crust and cover the pie.
Bake at 350 degrees until the top is golden brown in color, approx.
50 min.
Let cool and serve with whip cream if desired.
Join The Conversation
This was the hit of our weekend BBQ! Used recipe#45268 for the crust like I usually do. I didn't think 4 stalks of rhubarb would be anywhere near enough for this pie - I used quite a few more stalks (didn't bother to count) until I had about 3 cups worth of chopped rhubarb, then I combined it with a bit of cornstarch to address the runny-ness that Cindy Lynn mentioned. I only had one crust, so I put a crumble on top made of brown sugar, oats, flour and butter. The end taste was surprisingly tropical and every crumb was gobbled up.

Personally I didn't prepare this pie, but Chef sheerkerry here at Zaar did, and shared it with me. I really liked it, it was different. sheerkerry didn't have crushed pineapple, so she used canned pineapple chunks, which still tasted good . I think even canned pineapple tidbits, would be a great substitute for the crushed pineapple also. By the way, I'm sure Chuck said once, ( in 'Everything Else ) that he used 1-(16 oz.) can of the crushed pineapple, ( drained ) for this recipe. "Thanks for the recipe, Chuck"!

The following review was recorded "live" during a game we are playing on the boards: ummm, this is delicious! I thought with a cup of sugar, it would be too sweet, but it's not at all. It is runny; a little flour would thicken it up a little. The crust was difficult to work with, but tastes delicious too. I will certainly make this again. I may try my favorite pie crust recipe next time and see which I prefer. I've got to get another piece of this...I sure hope the girls decide to be too persnickety to try this one tomorrow...it'll leave that much more for me... :-)) ummmm ummmm yummmmmy! update...DH just woke up...and he's in to "My Pie"! Oh no...and he gave it 5 *s! I'm going to have to share...and he says that he's sure I didn't freeze enough rhubarb for this winter. Thanks for posting this recipe Chuck!!!!