" Ant" Kelly's London Broil Marinade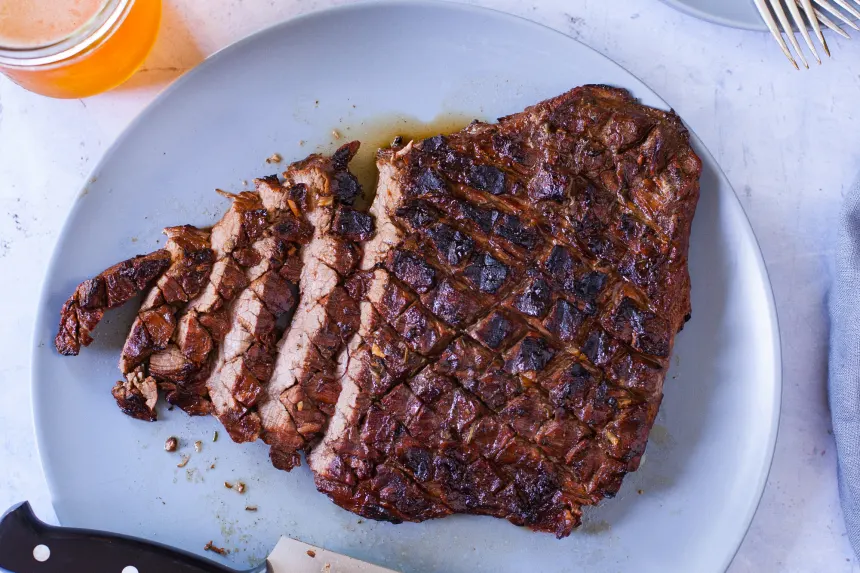 photo by DianaEatingRichly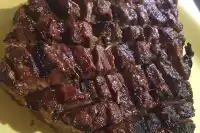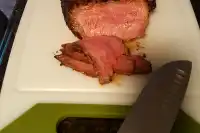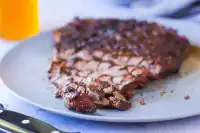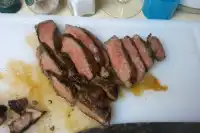 Ready In:

3hrs 20mins

Ingredients:

8
directions
Mix all marinade ingredients together.
Lightly score meat in a diamond pattern on each side.
Place meat in a resealable bag. Pour in marinade. Squish meat and marinade around to get all the nooks and crannies.
Marinate in refrigerator 2-3 hours or up to 24 hours, rotating occasionally. Can be frozen in the marinade too (see "For Camping" for how I do this).
20-30 minutes before cooking take meat out of the refrigerator to come up in temperature.
Cook in the broiler or on the grill on high heat for 5-7 minutes per side depending on thickness and desired doneness. I have been asked about roasting temperatures, I have never done this, always grill or broil.
**For camping - Place the fresh London broil and marinade in a zipperbag, squeeze out as much air as possible, seal, place inside a vacuum pack bag. Vacuum pack and freeze (I like to vacuum pack the zipper back to guard against leaks in the cooler). Put frozen in the camping cooler, after a day or two it is defrosted and can be cooked on the grill with minimal preparation and mess.**.
Questions & Replies

Reviews
This marinade makes the most delicious tasting meat my hubby or I have ever had. Far better than any we've had at any restaurant and so easy to make! We like our meat cooked med-rare and it was so juicy and bursting with flavor! I took the little bit of left over meat, sliced it up, heated it in the microwave for about 35 seconds and added it to a romaine salad with tomatoes, cucumber a little mont. jack cheese and balsamic vinaigrette. It was still just as delicious. Thanks so much for the great recipe. I have been serching frantically for this recipe today because I couldn't find my print out. Everyone viewing this recipe, make sure you save this to your cookbook! *UPDATE* I made this again with a 4.5 lb piece of London Broil 3 weeks ago when my hubby had a "guy night" at our home. He told me yesterday they are still talking about it, saying it was the most tender and flavorful meat they've ever had (I marinated it for 3 days in a 13x9 dish, flipping every 12 hours spooning the marinade into the scores on top each time). They were asking when they can come over for it again. Served with garlic parmesean mashed potatoes and grilled corn on the cob. Perfect "Man Meal". Thanks again.

 

I am being sarcastic here as I also believe if one changes a recipe they should refrain from rating the original recipie. My Sarcasm: Great recipe. I did make a few changes for the better! My entire family is VEGAN, so I substituted as follows: Eggplant for the meat. Malt vinegar for the balsamic. No fat organic sour cream for the olive oil. Habanero sauce for the worstershire. Nutmeg for rosemary. I cooked all in my pressure cooker for 30 minutes on high. We all loved it!! It's just that we thought it was kind of mushy, too spicy. None of my dogs would go near it?? THIS IS MY NEW GO TO MEAL! IF I ever make it again.

 

I tried this recipe as written and reversing the quantities of the soy sauce and worcestershire sauce, because I thought it sounded odd to have it the way it was written. But surprisingly enough we all LOVED it as is, and although the reversed way worked, just wasn't as overwhelmingly yummy. So, recipe is tested and approved as is! Thanks for sharing... a new family favorite for us!

 
Tweaks
I made this yesterday and marinated it for 9 hours and it was wonderful! The only thing I changed was to use 1/4 cup of worchershire sauce instead of soy sauce and added McCormicks Montreal Steak Seasoning. We cooked it on the charcoal grill and it was the most tender london broil we've ever had. The flavor was unbelieveable delicious, and I will be using this recipe from now on for beef marinade!

 
RECIPE SUBMITTED BY
Update 6/10: I like to cook more than bake. I like to do a lot of cooking on weekends making dishes that work well as left-overs for lunches. My favorite things to make are Mexican type dishes (enchiladas), soups and different kinds of chili. I love to hang out and swap recipes with my sister Kathy (Chef #: Kasia#3). She has taught me so much about cooking and is a great joy to be with. I work full time as an office manager for a packaging company. I have no children - I am VERY happy just to be an aunt. Even to all the friends of my neices & nephews have adopted me! I enjoy gardening, cooking (of course), reading, playing on the computer and going on weekend trips in either a hotel or a tent. I love going to summer festivals, my favorite being Summerfest in Milwaukee. I a little bit of a rock music geek I spent way too much time playing with my iPod. This hobby has earned me the right of people calling me at odd hours to name that tune or lyric. My favorite cookbook is the cookbook from my mom's church & my Betty Crocker cookbooks (one old & one new).</p>
View Full Profile