Purple Cow Cupcakes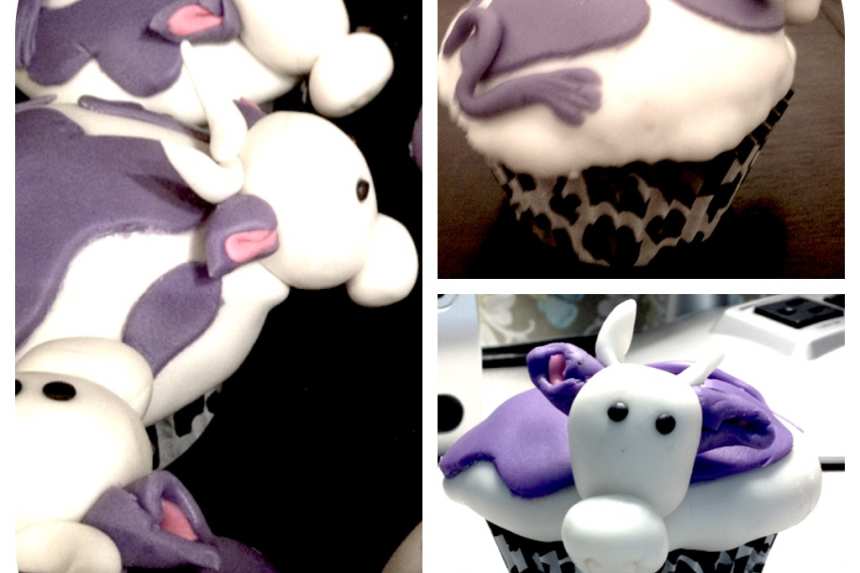 photo by Katie D.

Ready In:

24hrs 25mins

Ingredients:

27

Serves:

12-15
directions
For the cake, sift dry ingredients (flour, cocoa, baking powder & soda, and salt) into a bowl and set aside.
In separate bowl, combine buttermilk, vinegar, and food colouring. Mix thoroughly.
In a stand mixer using the paddle attachment, or with a hand mixer on medium, beat butter and sugar. Once fluffy, add eggs, one at a time.
Add the buttermilk mixture and beat well.
Finally, on low, add the sifted dry ingredients and mix until just blended.
Spoon into muffin cups until they are 2/3 full.
Bake at 350 for 20 minutes, then let cool.
To make the fondant, put 8 oz marshmallows in microwave safe dish with 1 tsp water and 1 tsp vanilla.
Microwave on high for 30 seconds, stir, and continue until marshmallows are melted.
Sift 1/2 lb confectioners sugar into mixing stand bowl. Make a well and pour marshmallow mixture into middle. Using paddle attachment, mix until combined. Sift additional 1/2 lb (or less if necessary) confectioners sugar into bowl, add 1 tbsp shortening and change to dough hook when mixture is no longer sticky.
Repeat this process for a second batch, adding the purple food colouring to the marshmallow mix *before* adding into the sugar well.
Knead both sets of fondant with hands until the right consistency, cover with a thin layer of shortening, wrap in plastic wrap and put in airtight container. Let sit for 30 minutes or more to rest.
After fondant has rested, shape cow heads from white fondant.
Shape 12 noses into a small ball and use a gum paste modeling tool to create the nostrils.
Shape horns and attach to the head using a teaspoon of cornstarch to two teaspoons water. Let set for about 30 minutes.
Using a small clump of white (about 1/4 cup), add a few drops of the pink food colour and knead with hands until pink is formed.
Roll and cut wide and short obtuse triangles and lay the pink over the purple, then roll to create ears.
Using the cornstarch mixture, attach the ears and let set for 30 - 60 minutes.
Create small eyes using white fondant and black gum paste and attach with cornstarch mixture.
Attach the noses to the heads, and let them rest on a pencil or the modeling tool until set (60 - 90 minutes).
At this point, cupcakes should be cool and need to be iced. Mix cream cheese ingredients together with hand mixer. Spread over the top of each cupcake, one at a time.
Separate the rest of the white fondant into twelve balls and roll thin, using a pizza cutter to make circular. Lay on top of cream cheese icing and tuck underneath. Repeat for remaining cupcakes.
Roll purple fondant and cut cow-spot shapes. Attach with cornstarch mixture.
With remaining purple fondant, create cow tails. Roll up small "snakes" and then using the modeling tool, tassel the tails.
Attach heads to cow bodies using the cornstarch mixture. Let each cow's head rest on the others' backs for 2-3 hours or until set.
Serve with pure, creamy milk. :).
Questions & Replies

Got a question?
Share it with the community!