Popeye's Fried Chicken Copycat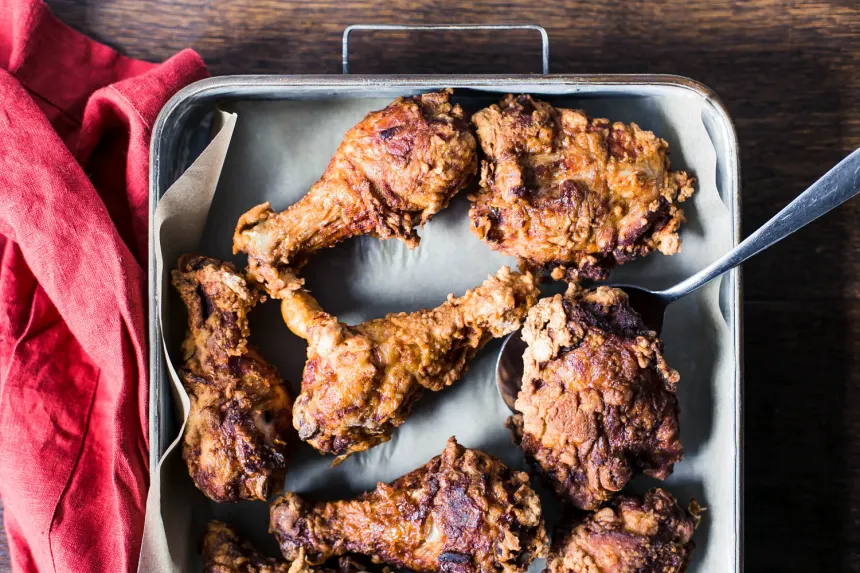 photo by Ashley Cuoco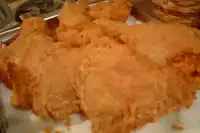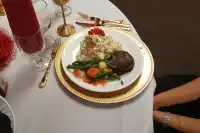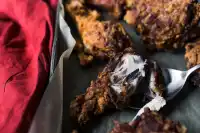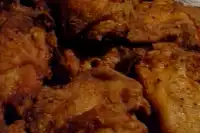 Ready In:

40mins

Ingredients:

10
directions
Mix all ingredients except the oil, flour, paprika, and eggs & milk, marinate overnight in an airtight container.
In a large bowl, combine flour, salt, peppers, and paprika.
Break the eggs into a separate bowl and beat until blended slowly adding the milk.
Dip each piece of chicken into the egg and milk mixture, then coat generously with the flour.
Once the chicken is coated, place on a rack to allow the pieces to dry, 20 to 30 minutes. Allowing the pieces to dry will provide for more even browning of the chicken.
To fry, heat oil in dutch oven or deep fryer to medium. Place the chicken pieces in the oil, skin side down, one piece at a time. Leave enough space between pieces so that they are not crowded. This allows the pieces to cook and brown more evenly.
Continue to cook over a medium heat, turning until all sides are golden brown and the meat is cooked thoroughly.
When the pieces finish cooking, they should be removed and placed on a paper towel to allow grease to drain.
Questions & Replies

the process for making fried chicken, is dipping the chicken into the liquid mixture, then the dry-ingredient mixture. Sometimes you can double dip it (for extra coating). Most recipes instruct you to marinate the chicken overnight (to make the meat more tender). I soak mine overnight in a mixture of buttermilk and pickle juice. I know the rumor was that Chic-Filet soaked their chicken in pickle juice. I guess they don't, but it does tenderize the meat, and I love the flavor. Drain all of the buttermilk off of the chicken before you start the dipping process (wet to dry, and possibly back to wet and dry, again). Other ingredients that are great to coat your chicken in, are ground Durkee onions/ground-dried peanuts/cornflake crumbs...just mix it with your flour/salt/pepper mixture. I like to put Thyme, poultry seasoning, garlic and onion powder in with the above spices. If you use boneless/skinless breasts, put them in a plastic bag and pound them out....makes the meat very tender, and they are great for fried chicken sandwiches...put more pickles on your sandwich.

 
Reviews
For everyone saying that this doesn't taste like real Popeye's chicken, I can tell you all why. I used to work at Popeye's many years ago when I was high school. There are 2 main discrepancies in this recipe which are: (1) How to Season and (2) How to Fry the chicken. I personally seasoned the chicken on may occasions, and although it was prepackaged from the main New Orleans warehouse, it had a LOT of cayenne pepper. We used long rubber gloves to mix the seasoning with the chicken. I'd still end up with seasoning on my upper arms and they would burn for hours afterwards. My eyes would burn as well from the fumes. This recipe calls for a teaspoon of cayenne, but you'll need to, at the very least, double that. I'd say you'd want to triple it to 3 teaspoons. I also remember a faint vinegar smell to the chicken as well while seasoning, so it was either Tabasco sauce or just plain vinegar. I'd wager it was Tabasco, though. How much Tabasco to use? You'd have to experiment. We also would let the chicken sit overnight in the cooler in storage bins to marinate the seasoning, and that is key as well. Not sure if it makes any difference, but we always used Tyson brand chicken, which many grocery stores carry. As for frying, the batter was actually a light milky color, not straight eggs and seasoning. I'm not sure what made it milky, but I'd guess it was (surprise!) milk. It may have been cream, also. Again, you'd have to play with it to get it right. I do know the batter and the flour was seasoned as well. I'd bet you could use the same seasoning on the chicken, minus the Tabasco, for the flour and then add the seasoning and Tabasco to the batter. I do know for sure that we double-battered the chicken. This gives it the really thick, crispy crust we all love! For those who aren't familiar with a double-batter, it's simply dipping the chicken in the batter and flour, shake and then repeat your batter dip again. Remember to shake the chicken after each dip! We used round wire baskets with a wire handle to put the chicken in for battering. This allowed for quick dipping, shaking, dipping and then a final shake in just a few seconds. We never waited to put the chicken in the grease after battering. I'll also add that since the chicken is double-battered, you may want to increase the heat somewhat, or you may end up with soggy, undercooked chicken. Hope this unveils a bit more of the mystery of how to make Popeye's fried chicken! P.S. I know everyone loves Popeye's biscuits, and I do too, but if you knew what was in it, you may think twice. The recipe is about 1/2 shortening for the mix :). I think each biscuit is around 500 calories, so tread lightly (pun intended!).

 

Like Nervo I worked @ Popeye's. I worked my way up to District Manager. They also left out the cumin, (secret ingredent). Yes, Nervo, there is milk in the batter mixture. Plus, if anyone wants the chicken to be crunchy remember it has to be cold chicken, cold batter, & sifted flour. Also, cooking the chicken in a skillet won't do. You need to use a good Dutch oven or a deep fryer to make it crunchy.

 

We like spicy foods and I've never had Popeye's so I personally can't comment on its similarity to that (My husband did say that it wasn't similar at all to Popeye's) . However, instead of having a well rounded spicy taste, the flavor was dominated by the white pepper, making it one dimensional and lacking in interest. <br/><br/>Overall the taste wasn't bad, but it's not a recipe I would try again.

 
Tweaks
My first job as a teen was at Popeye's..I've been making my own ever since...Tony Chacherie's Creole Seasoning, (Old Bay is good too..less salt) Cayenne, and Louisiana Hot Sauce are the only seasonings I use. Mix abt 2 Tablespoons Tony's & 1/2 - 1 teaspoon cayenne, (this is your seasoning for everything) sprinkle on chicken pieces, (any leftover spice mix can be used in batter) place in bowl or bag, add couple dashes LA hot sauce & stir chicken with hands to coat, refrigerate overnight (or not) , For the batter and flour, . Mix about 2 teaspoons into flour for dredging, then. In a bowl, mix 1 tablespoon of your seasoning mix, 1 cup milk, 2 dashes LA Hot Sauce, plus enough flour to make milkshake consistency. Coat each piece in batter, then flour, & repeat. DEEP fry at about 375, (Popeyes used lard..but I can't go that far) & while your there, slice a large onion into rings. Same batter, same flour, & you have Popeyes Onion Rings. You can tweak spiciness by more or less cayenne, but don't add more Tony's...the salt content will be too high.

 

Recipe came out really good, not Popeye's but closer, and much better tasting than any fried chicken I've ever made. I especially loved how crispy the crust was. I did modify using Nevaro's suggestions, added 1/2 and 1/2, cayenne, paprika and white pepper to the batter, used 3 teaspoons of cayenne instead of one in the flour and double battered. My only suggestion would be cutting back on amount of salt used. 1 tablespoon is too much! Even with triple the amount of Cayenne the salt taste was overpowering, I think a teaspoon or so would've been perfect. Everyone really liked it so thanks, I will definitely be making this one again.

 

Luvvv me some Popeye's Chicken... so I HAD to try this recipe. I wasn't disappointed! It was extremely easy. I used peanut oil instead of vegetable oil, but otherwise I followed the recipe exactly. It definitely did have that Popeye's flavor, although it wasn't as intense a flavor as Popeye's. Perhaps this is attributed to their fryers getting hotter? I dunno. What I DO know is this: I'm not easily impressed with fried chicken recipes, but this one is gonna be MY new recipe! The chicken came out beautiful, juicy, and had a great tasting crust that was comparable to Popeye's. Fantastic!

 
RECIPE SUBMITTED BY
100% food experimenting amateur chef... I use this site to keep my online cook book and recipes I want to try.
View Full Profile