Papas Rellenas (Fried Stuffed Potatoes)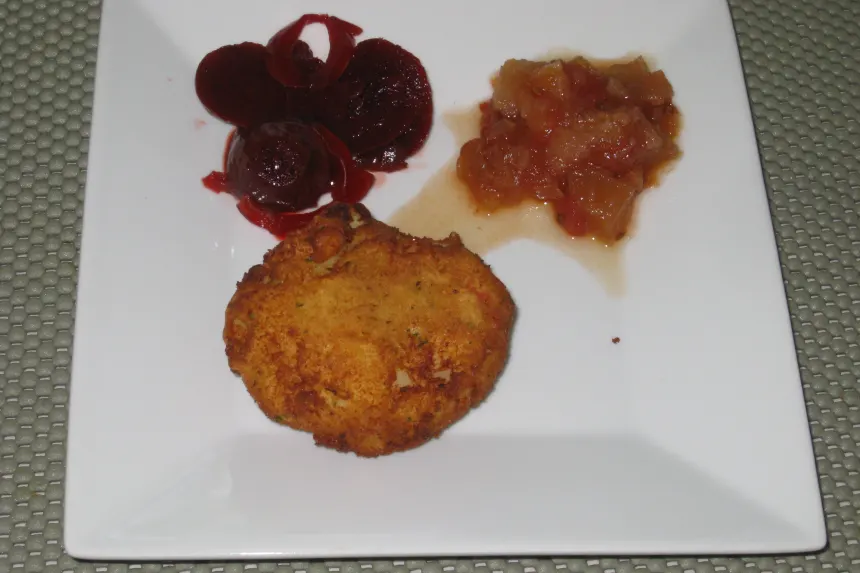 photo by FrenchBunny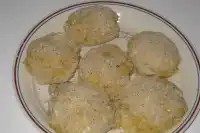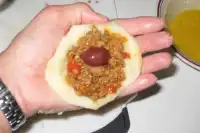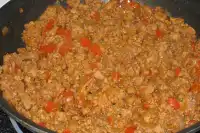 Ready In:

35mins

Ingredients:

19
directions
POTATOES::

Boil potatoes until fully cooked.
Drain potatoes and mash with salt.
DO NOT ADD BUTTER, OIL, OR LIQUID.
Let cool.

PICADILLO (meat mixture)::

Saute onions and green pepper until onions are limp.
Add the garlic, beef, salt, cumin, black pepper, tomato paste and vinegar.
Continue to cook until meat is completely cooked.
Drain off excess fat and allow to cool.
Now, grab a handful of mashed potatoes, split handful in 1/2 and make each one into a bowl pressing with fingers.
Stuff the indentation in each 1/2 with ground beef or picadillo.
Bring the two 1/2's together and smooth to make a round ball, the size of an overstuffed golf bowl. (This is the size used for a snack/lunch).
If your going to use these for appetizers make them a lot smaller, the size of sauerkraut or rum balls.
Dip ball into beaten egg and the flour until lightly covered.
Dip the ball again into the eggs, and roll in breadcrumbs to coat thoroughly.
Refrigerate for 2-4 hours or you may freeze these for later use.
Use frying pan with enough oil to cover half the ball at a time.
Heat oil to frying time (375°F) and drop each potato ball into oil.
BE CAREFUL!
Cook 2 minutes or until golden brown on one side and then turn over & cook the same.
If you have deep-fryer heat oil to 375°F.
Place the potatoes in a single layer in the basket and drop into oil for 3 minutes or until golden brown.
DON'T OVERCOOK.
Deep frying is best when they are frozen.
Questions & Replies

Got a question?
Share it with the community!
Reviews
Oh my Manami !!!! These were exactly what I was looking for. Thank you so much for sharing when I asked you for a recipe like this. I had made these the night before so I could have them for lunch. I did cut the recipe in half since we were only two. I did have leftover meat mixture and just froze that in a container for the next time. I really found these were not hard at all to make. It was kinda fun. I had made 6 good size ones. I did add a Kalamata olive in each one because that is how I had them in a restaurant and I loved them in there. I also used red pepper and not green only cause my friend hates green peppers. I love cumin and had put in extra..mmmm...good stuff. I had deep fried them and put the temp at 350 but next time I think I will put it a little lower than that because they browned quickly without the middle getting hot. They were just warm in the middle but that could just be because of the size I made them. But they were a perfect size for lunch, we each ate two and I just had some homemade beets and homemade chow chow with them. I had two leftover for my supper that night. Well let me say thanks again for sharing Manami...absolutely yummy food......

 

I love this receipe! I had been looking for a really good recipe for these for years and was really glad when I stumbled on this one. I use to get them all the time from a favorite restaurant called "Puerto Plata" whenever my family and I would go home for a visit. I used my home-made chorizo instead of the ground beef mixture and they still tasted great. The papas rellenas feel just like home because there are no Latin restaurants in Jacksonville, North Carolina, so this recipe is much appreciated. Thank you!

 

Amazing meal!Tried and True.I add a little 'Adobo seasoning' onto my picadillo for extra flavor,not cumin,and thats about the only difference.Being in West Virginia[FAR away from my Cuban-ized hometown Miami:P] made me miss great food like this and I was real happy to find a decent recipe for Papas rellenas on here.Thank you!!Also,If you would like to find Authentic Cuban Seasonings,Marinades,Food and the like I suggest www.cubanfoodmarket.com .Thanks again for this amazing recipe.