Meaty Macaroni and Cheese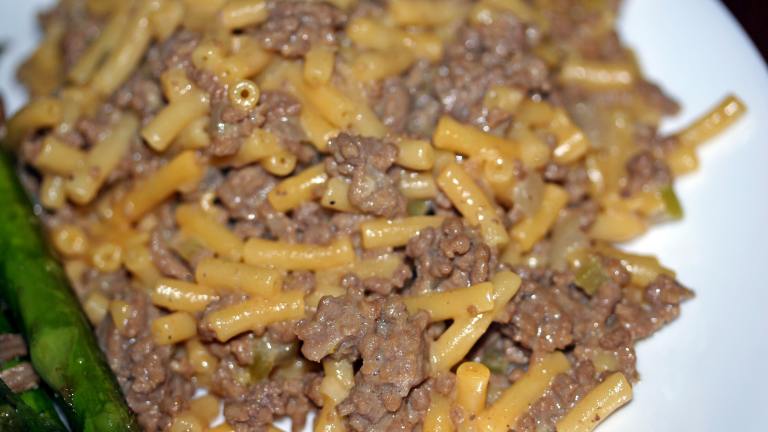 Quickie meal that is loved by kids (and Dad's) alike. This isn't gourmet or fancy- just good ol' fix it fast and fill their bellies food! Kind of a copycat Hamburger Helper- but so much better! This is a 'base' recipe for the start of a healthier and fast meal that is kid and family friendly, budget friendly and uses things that are probably in your kitchen already. Perfect for those times you find your house FULL of hungry teens! Will feed four very easily- or one or two hungry teenagers! lol Posting bc yesterday my dd said "Mama, can we have Macaroni and hamburger meat tonite?" and Mama said "No baby, I have to fix a recipe I tagged on Zaar." to which she replied "Mama, you need to post that recipe on Zaar and tell everyone that kids like it- and Dad said "AND DADS TOO!" so this is for my family! Hope your family enjoys it too! and that is saves you some stress on a busy night! PLUS, this is a great carrier for those dreaded veggies when you find your kids (dads too) seem to turn their noses up to otherwise. HIDE those veggies in the cheese! lol Think peas, carrots, zucchini, etc NOTE: Instead of the box mix you can use my homemade recipe for mac and cheese recipe #135662
Ready In:

20mins

Serves:

Units:
directions
Prepare mac and cheese according to box directions, using salted water.
Meanwhile, brown meat and drain grease.Rinse meat if desired to remove even more grease.
Season meat with onion and garlic- fresh and sauteed can be used instead- and add any additional seasonings that your family likes. SEE NOTE - skip if using left over meat- but do reheat the leftovers.
Add meat to prepared mac and cheese and season with additional salt and pepper if desired.
At this point you can add EXTRAS such as additional grated cheese, great opportunity to sneak in veggies - peas, carrots, broccoli, mushrooms, etc., Use what you like or try this to entice kids to eat things they normally wouldn't.
I have even added some spinach to the meat mixing it in well so it is not as noticeable! Sometimes you have to be sneaky! hehehe.
NOTE: This is even faster when you use left over taco meat, sloppy joes, crumbled meatloaf, etc -- Add what your family likes.
No this isn't the healthiest meal- but it IS so much healthier for them than a greasy burger grabbed on the run, and you can make it as healthy as you choose- I have even used leftover homemade mac and cheese- No preservatives at all that way!
You can 'fancy' it up by topping it with extra cheese or breadcrumbs and popping it under the broiler for a minute just to brown.
A real time saving tip that the kids love is to put the entire mixture in a lightly sprayed casserole pan and top with biscuit dough- you can even use the ones in the can, bake per can instructions until the biscuits are done.
Submit a Recipe Correction
RECIPE MADE WITH LOVE BY
"Quickie meal that is loved by kids (and Dad's) alike. This isn't gourmet or fancy- just good ol' fix it fast and fill their bellies food! Kind of a copycat Hamburger Helper- but so much better! This is a 'base' recipe for the start of a healthier and fast meal that is kid and family friendly, budget friendly and uses things that are probably in your kitchen already. Perfect for those times you find your house FULL of hungry teens! Will feed four very easily- or one or two hungry teenagers! lol Posting bc yesterday my dd said "Mama, can we have Macaroni and hamburger meat tonite?" and Mama said "No baby, I have to fix a recipe I tagged on Zaar." to which she replied "Mama, you need to post that recipe on Zaar and tell everyone that kids like it- and Dad said "AND DADS TOO!" so this is for my family! Hope your family enjoys it too! and that is saves you some stress on a busy night! PLUS, this is a great carrier for those dreaded veggies when you find your kids (dads too) seem to turn their noses up to otherwise. HIDE those veggies in the cheese! lol Think peas, carrots, zucchini, etc NOTE: Instead of the box mix you can use my homemade recipe for mac and cheese recipe #135662"
I doubled this for my family, mainly because of the meat amount. I used the green pepper and also added some leftover corn that was in the fridge. I had to add extra milk, which was probably the fault of the box mix. I also added some extra cheddar cheese. It was ok, but the celery was just too weird.

Poor Dugan. He is so tired of our little ole tour so I was thrilled to find this recipe. I used ground turkey to cut down on calories and then added shredded cheese to make up for the calories I just saved. I didn't find that it reheated very well but there wasn't enough left to matter much anyway.