Malaysian Laksa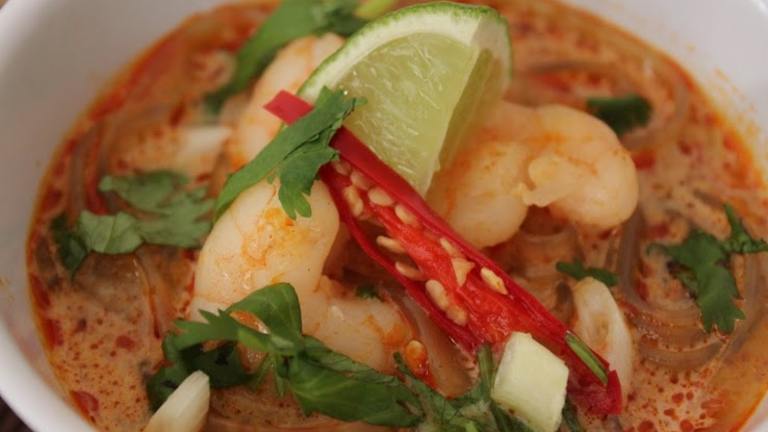 Laksa is a Malaysian soup made from laksa flavour spicy curry, coconut cream, noodles, prawns/shrimp, chicken and lots of fresh toppings. This recipe is considered to be a cheat version because it uses laksa paste, however the results are still very yummy. You can vary the ingredients in the soup to your own taste. I had trouble finding fish balls and fried tofu puffs in my region so I replace the balls with extra green prawns/shrimp and fried my own tofu (I cut them into 1 cm by 1 cm cubes). This recipe is from SBS's Food Safari and is made by Aryan Mansor
Ready In:

1hr

Serves:

Units:
ingredients
Spice Paste

4 -5

shallots, chopped

6 -7

garlic cloves, chopped

1

piece gingerroot, peeled and chopped (Thumb size)

1

red chile, fresh (more or less, depending to your taste)

1

tablespoon dried prawns or 1 tablespoon dried shrimp

1⁄2 cup water

Prawn or Shrimp Flavoured Oil

4

tablespoons vegetable oil

12

raw green prawns or 12 green shrimp, shelled and divined

Laksa Broth

180

ml laksa paste

1

liter chicken stock or 1 liter vegetable stock

400

ml coconut cream

320

g fish balls (optional)

320

g fried tofu, puffs halved (fried tofu puffs)

1

teaspoon sugar

3

tablespoons fish sauce
salt, to taste

Toppings

160

g rice vermicelli

350

g egg noodles

1

chicken breast, cooked and shredded (boiled-stock can be used for the broth!)
1⁄2 cup bean sprouts

1

spring onion, chopped

1

red chile, sliced

4

tablespoons coriander leaves

2

tablespoons deep fried shallots
fresh lime wedge
directions
Shell prawns/shrimp and reserve prawn/shrimp in one bowl and heads and shells in a separate bowl. Set aside for later use.
Using a food process make 'Spice Paste' add shallots, garlic, ginger, chillies, dried prawns and water. Then blend until it forms a smooth paste. Set aside.
In a large pot, add vegetable oil and heat. Once the oil is hot add prawns/shrimp shells and fry for about one minute or until they turn red. Remove from pan and discard. This will add prawn/shrimp flavour to the oil.
To make the 'Laksa Broth' add 'Spice Paste' to prawn/shrimp flavoured oil and fry for a minute. Add laksa paste and simmer for about two minutes. Pour in the chicken or vegetable stock and bring to boil,.
Then add coconut cream, fish balls, fried tofu, sugar, fish sauce, salt and freshly squeezed lime juice. Bring to boil.
Half fill a medium pot with water and bring to boil. Add rice vermicelli for a few minutes until they become soft then remove into separate serving bowls.
Add egg noodles in boiling water for five minutes or until soft and transfer into the same bowls as rice vermicelli.
In the same pot poach reserved prawn/shrimp meat until it's pink then transfer them into the same bowl as the rice vermicelli and egg noodles.
Pour 'Laksa Broth' into the serving bowls (same bowls as the prawns/shrimp and noodles).
Then top with shredded chicken, bean sprouts, spring onions, chilli, coriander, fried shallots and serve with lime wedge's.
Enjoy.
Submit a Recipe Correction
RECIPE MADE WITH LOVE BY
"Laksa is a Malaysian soup made from laksa flavour spicy curry, coconut cream, noodles, prawns/shrimp, chicken and lots of fresh toppings. This recipe is considered to be a cheat version because it uses laksa paste, however the results are still very yummy. You can vary the ingredients in the soup to your own taste. I had trouble finding fish balls and fried tofu puffs in my region so I replace the balls with extra green prawns/shrimp and fried my own tofu (I cut them into 1 cm by 1 cm cubes). This recipe is from SBS's Food Safari and is made by Aryan Mansor"
This recipe takes me back to Malaysia, TRUE!<br/>Agree with Leggy Peggy, is better than anything in a restaurant too!<br/>HIGHLY RECOMMEND this recipe!<br/>Thank you! A DEFINITE keeper for me!<br/>UPDATE made this again with a "slightly" adapted version...STILL the best Malaysian Laksa recipe!