Low and Slow Boston Butt Pork BBQ ( Oven Method )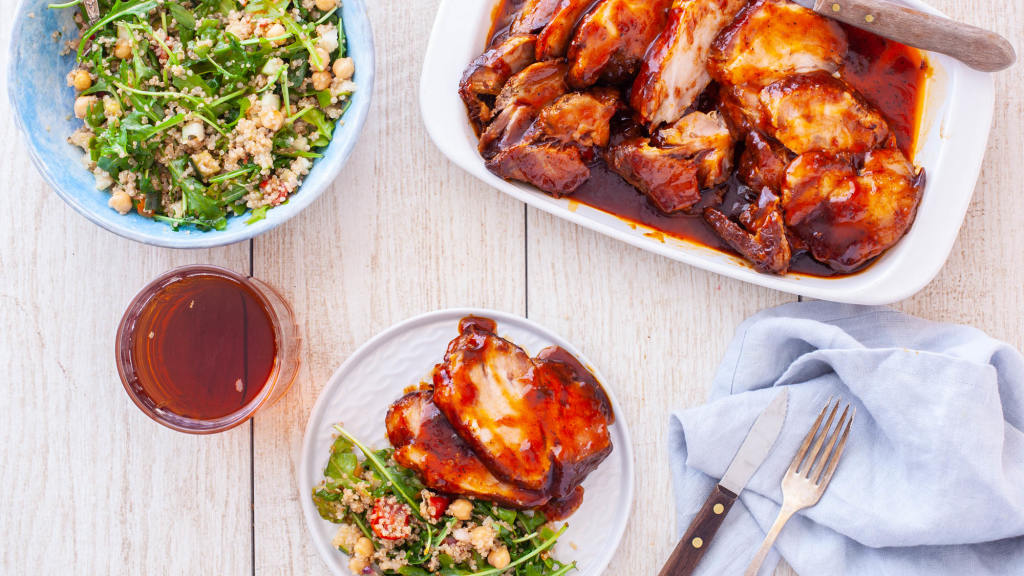 Ready In:

7hrs 15mins

Ingredients:

7
directions
Preheat oven to 250 degrees.
In a small bowl mix together all dry ingredients,( at this time, taste and see if seasonings need to be adjusted ) set aside.
Line a small roasting pan with foil ( makes clean up easier ).
Rub roast all over with brown sugar mixture, then place roast,onto another piece of foil, and wrap tightly.if needed use another piece of foil to make sure no liquids come out.
Bake for 4 or 5 hours, then remove foil from top of roast to drain excess liquid.
Turn temp up to 350 degrees.
Top with BBQ Sauce and bake for another 1 1/2 hours if roast is getting too dark cover with foil and continue baking.
Join The Conversation
I think this comes out excellent, moist and tasty. I have done it where I marinate all night with run or just do in morning. Comes out just as good either way. But I do let sit out for about an hour before putting in over to ket meet come to room temp so it cooks more evenly and center isn't so cold. I have never covered mine with a lid. I would think it would slow cook time too much. I also use a throw away aluminum pan. I get a big stack for like $6 at Costco. Then no major cleanup. Also I wrap tightly with aluminum foil and then use a second piece to make sure greases don't come out. When I go to open it for last phase i poke a hole in. Bottom part of foil and hold roast in foil over sink and drain the juice thru there. I dont save the juice. The Boston butt is so flavorful and marbled it has enough and i can always add barbecue sauce. But I don't like to use a lot after as I want the taste of pork. I don't see any problem with letting cook overnight at a lower temp like 200 degrees. I have thought of doing before. Then just bump it up later to get the good char and crispness of the top fat. I have made this several times and it is delicious. I use same recipe for ribs. I just cut time a little because the ribs are flatter and cook in leas time. I always fork the meat between first and last phase with the sauce. And i brush at least twice with sauce to allow caramelization. If meat seems fairly soft after 4 to to 5 hours then I bump it up. If not I let it go another hour or two. Also size of roast does matter. I am using something 3 to 4lbs. If you go bigger I Suggest cutting into 2 separate roasts and cook at same time but the smaller pieces will allow better cooking in time frame. I had read that and also let your meat stand out of fridge at least an hour before cooking to come to room temp. It allegedly cooks meat more evenly then going straight in cold. I don't slice it for sandwiches and you can use bone in or boneless. Just try to find a nice piece with the bottom fat and but bottom fat piece on top when cooking. I enjoy the chunkier pieces to eat with a side and/or it could make a nice wrap or quesadilla meat if you wish. I have made at least twice and am on 3rd time as I write this review. It is DELICIOUS
RECIPE SUBMITTED BY
Even though I haven't been here for a long time, MY recipes aren't up for adoption. :) And don't change any of them either. ;)
View Full Profile