Lemon Roasted Cauliflower With Dill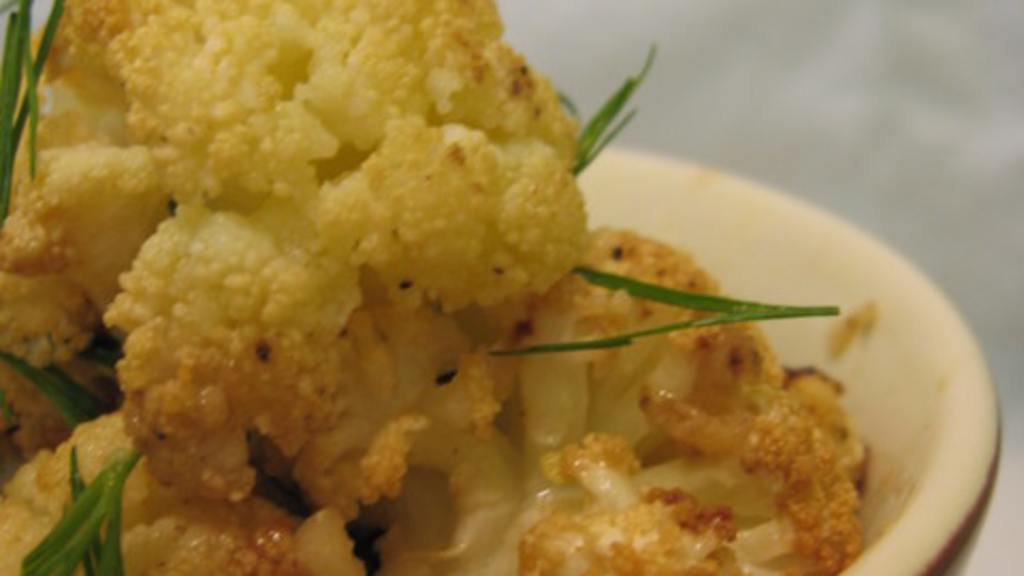 Ready In:

40mins

Ingredients:

8
directions
Preheat oven to 400°F Place cauliflower florets in a large bowl. In a smaller bowl, combine all other ingredients to make a sauce, whisking until blended. Include generous amounts of fresh ground black pepper.
Pour marinade over the cauliflower and toss until coated. Spread on baking sheet. Drizzle any remaining marinade over the cauliflower.
Bake for 30-45 minutes or until tender but not mushy. Toss once, if desired, halfway through cooking. The cauliflower should have some browning around the edges.
Join The Conversation
We loved all the lemon in this and did not think it was too much. We did add less mustard and salt for our tastes though. After 20 minutes the cauliflower was plenty soft for us. I am thinking we could get more browning (and thus flavor) out of this if we roasted it with just the oil and then added the lemon and dill afterward (I also used a ton of fresh dill, but it got a little lost in the cooking process). Roasting cauliflower is always a yummy way to prepare it.

I like the fact that this is so low-fat and low-carb. I'm generally not a fan of cauliflower, but I like this. I will make two changes in the future, however. We thought it was a bit to lemony for our tastes, so we'll use one lemon next time instead of two. Also, we didn't have any fresh dill, so we used 2 teaspoons of dried dill, which is the equivalent of 2 Tablespoons of fresh dill. It was too potent for us, so we'll use just 1 tablespoon of fresh dill next time. Thanks for posting this. Good diet food!

I also really liked this very different way of preparing cauliflower, much as we love cauliCheese!!! The children are not wild about mustard, but ate this fairly happily, my husband and I loved it. I had used frozen cauliflower and it did end up a little mushy, next time I'll try it with fresh. But it didnt affect the taste. I served it with pork Spare-Ribs and Baby Roasted Potatoes and Creamed Spinach.