Kefirkraut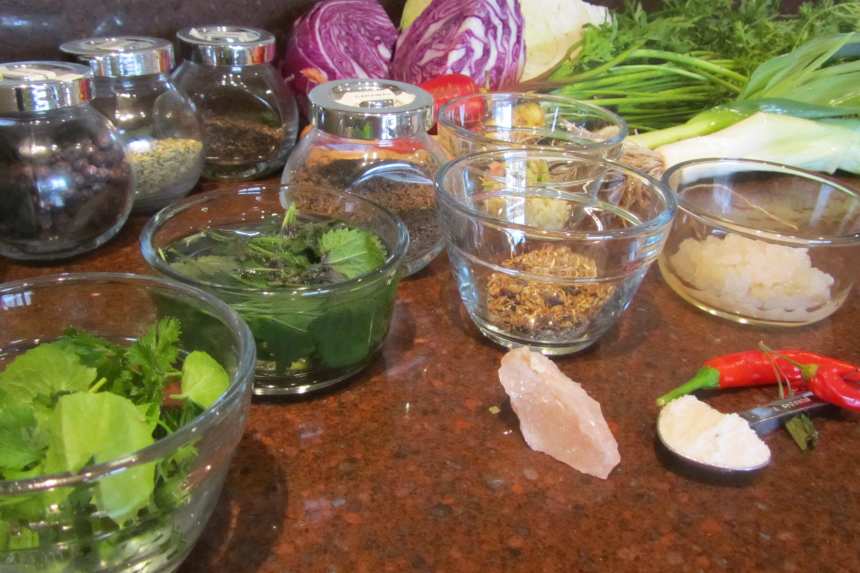 photo by Rita1652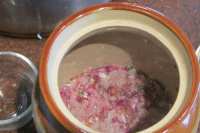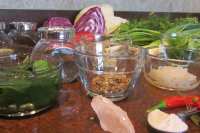 Ready In:

337hrs

Ingredients:

15
ingredients
2

lbs organic cabbage, cored and finely shredded (Red, green or a combination)

1

teaspoon sea salt
1⁄4 cup water, sugary kefir grains

Optional additions

caraway seed (1/2 teaspoon or 2 teaspoon of a combination of seeds)
celery seed (1/2 teaspoon or 2 teaspoon of a combination of seeds)

dill seed (1/2 teaspoon or 2 teaspoon of a combination of seeds)

fennel seed (1/2 teaspoon or 2 teaspoon of a combination of seeds)

10 -12

juniper berries

1 -3

garlic clove, minced

1

teaspoon minced gingerroot, I also add the ginger stem minded
1⁄3 cup fresh herb (stinging nettles, dandelion, parsley, gotu kola, chives....)
radish (optional)

1 -2

carrot (optional)

1

leek, sliced fine

1 -2

chili
directions
Pick the optional ingredients of choice and grind in a mortar and pestle of blender or food processor. Toss cabbage, and the optional ingredients and salt together in a large non reactive pot or bowl and begin to squeeze the cabbage and salt together with your hands, kneading it thoroughly to break up the cellular structure of the shredded cabbage.
When the cabbage has become limp and released its juice, transfer it to a crock or or a large glass vessel. Place 1/2 the grains on the bottom.
Pack the cabbage mixture into the crock as tightly as you can, eliminating air bubbles. Continue packing the cabbage into the container until it is completely submerged by liquid. Then evenly place the remaining kefir grains over the surface of the compressed ingredients. Placing a weight on it helps keep it submerged.
Be sure the ingredients are submerged by 1 inch of liquid be it organic apple, carrot, cabbage juice or filtered spring water. Cover loosely and allow it to sit at room temperature, undisturbed, for at least 4-5 days testing the Kefirkraut every few days until it is done to your liking up to 10-11 days. Transfer to the refrigerator or other cold storage where it should keep for at least six months.
On day 3, check the surface of the liquid for signs of scum seen as froth, foam or possibly kahm yeast and remove this by skimming with a spoon. However, in most cases kahm yeast should not form when Kefir grains are used as a starter-enhancer, for the expedient fermentation does not allow such yeasts to form.

Optional starter:

Kefir grains may be blended with water or fresh fruit/veggie juice and mixing the mash or emulsion with the pounded ingredients, then filling the brewing container with the fresh ingredients.
Or, a few kefir grains may be pounded together with amounts of fresh veggies, and filling the brewing vessel as you go. Any of these methods produce a superior kefirkraut in little time.

Fermentation Time:

As a general guide, kefirkraut with 1/2% salt is fermented for 7 to 11 days during winter and 7 days during summer and then the kefirkraut must be refrigerated to mature under cold storage. Although the young kefirkraut may be consumed right away, flavour of 1/2% kefirkraut improves after one week of cold storage. Do sample a small portion of immature kefirkraut before refrigeration. Dom and I prefers the flavour after 1 or 2 weeks. Yes, ripening under cold storage definitely improves flavour, similar to a well aged good wine or room temperature ripened kefir.
There is an increase in some of the B group of vitamins during cold storage. That`s a good thing. ;).
Questions & Replies

Got a question?
Share it with the community!
Reviews
Have any thoughts about this recipe?
Share it with the community!