Jamie Oliver's Rabbit Stew With Dumplings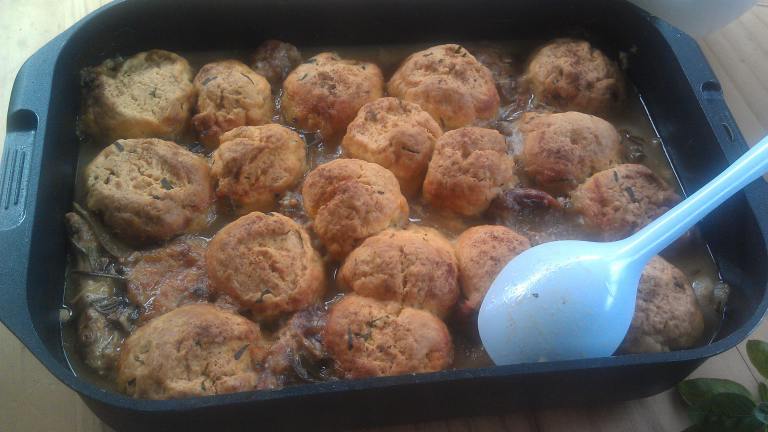 Taken from here - http://www.seriouseats.com/recipes/2008/02/cook-the-book-rabbit-stew-with-dumplings.html Highlighting one of Jamie Oliver's favorite recipes from Cook with Jamie. It's a dish he playfully calls Tender-as-You-Like Rabbit Stew with the Best Dumplings Ever. Though rabbit is not as common a meat as it once was, Oliver urges you to give it a shot. And if you find you don't like it, you can always sub in chicken instead. The dumplings, he says, make this recipe and can be used in any stew. *times are estimates*
Ready In:

1hr 45mins

Serves:

Units:
ingredients
Dumplings

3

cups self-rising flour

14

tablespoons butter

1

bunch fresh tarragon, finely chopped

sea salt & freshly ground black pepper

1⁄2 a nutmeg

Rabbit Stew

2

rabbit, jointed and cut into 10 pieces

1

couple tablespoons butter

sea salt & freshly ground black pepper

10

slices bacon, finely sliced

2

sprigs fresh rosemary

9

ounces mushrooms, cleaned and torn (field, shitake, or oyster)

1

large handful baby onion, peeled

24

ounces dark beer
1 1⁄2

pints chicken stock
directions
To make the dumplings, rub together the flour, butter, and tarragon with a dash of salt and pepper. Stir in enough milk to give you an unsticky, stiff dough. Knead together, then roll into a large snake. Cut into 18 equal sized pieces and roll into balls. Place on a sheet, and sprinkle nutmeg over the top. Move the tray to the fridge.
Heat a deep, ovenproof dish about a foot in diameter with a bit of olive oil and the knob of butter in the bottom, over medium-high heat. Coat the rabbit pieces in flour and shake off any excess. Put half the rabbit pieces in the pot and cook about 5 minutes until golden all over. Take those pieces out and cook the other pieces. Once they're all cooked, add the first pieces back, as well as a big pinch of salt and pepper and the bacon. Cook until the bacon has crisped. Add the rosemary, mushrooms and onions and fry another ten minutes.
Mix in a tablespoon of flour then pour in the chicken stock and beer. Cover and simmer for half an hour.
Preheat the oven to 375 degrees.
Place the dumplings on top of the stew, about half an inch apart. Drizzle them with olive oil and bake for 45 minutes.
Submit a Recipe Correction
RECIPE MADE WITH LOVE BY
"Taken from here - http://www.seriouseats.com/recipes/2008/02/cook-the-book-rabbit-stew-with-dumplings.html Highlighting one of Jamie Oliver's favorite recipes from Cook with Jamie. It's a dish he playfully calls Tender-as-You-Like Rabbit Stew with the Best Dumplings Ever. Though rabbit is not as common a meat as it once was, Oliver urges you to give it a shot. And if you find you don't like it, you can always sub in chicken instead. The dumplings, he says, make this recipe and can be used in any stew. *times are estimates*"
This is the fifth time I'm making it. I must admit I have made some adjustments, but just to the dumplings (they were a bit too heavy): - Just 2-4 spoons of the olive oil (or butter if I want it enriched) - Flat leaf parsley, instead of tarragon / rosemary - plain unbleached flour and yeast After the dough doubled, I have worked it out a bit and then, made dumplings and let them sit in cold place ready to be put on the stew when the stew is about to go to the oven. It takes 10 more minutes in the oven (55'). In this way, I could time the meal for the guests. It never fails and this is really very nice meal. Thank you for the recipe!

Taken from here - http://www.seriouseats.com/recipes/2008/02/cook-the-book-rabbit-stew-with-dumplings.html Highlighting one of Jamie Oliver's favorite recipes from Cook with Jamie. It's a dish he playfully calls Tender-as-You-Like Rabbit Stew with the Best Dumplings Ever. Though rabbit is not as common a meat as it once was, Oliver urges you to give it a shot. And if you find you don't like it, you can always sub in chicken instead. The dumplings, he says, make this recipe and can be used in any stew. *times are estimates*