Island Pork Tenderloin (Optional Salad)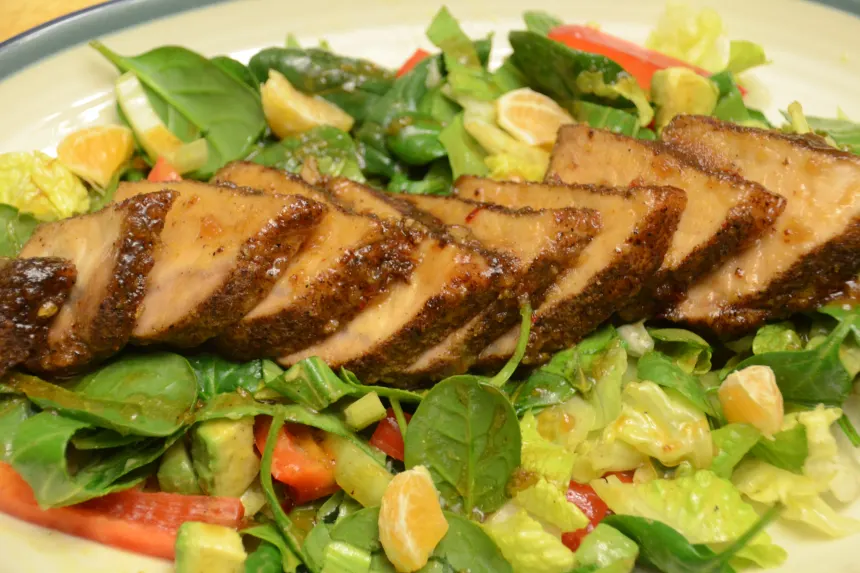 photo by J-Lynn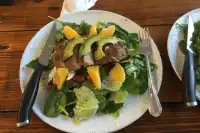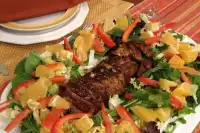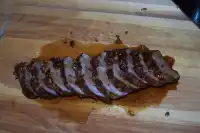 Ready In:

1hr 30mins

Ingredients:

23
directions
Pre-heat oven to 350 degrees.
Stir together salt, pepper, cumin, chili powder, and cinnamon, then coat pork with spice rub.
Heat oil in an ovenproof 12-inch heavy skillet over moderately high heat until just beginning to smoke, then brown pork, turning, about 4 minutes total. Leave pork in skillet.

Make glaze and roast pork:

Stir together brown sugar, garlic, and Tabasco and pat onto top of each tenderloin. Roast in middle of oven until thermometer inserted diagonally in center of each tenderloin registers 140°F, about 20 minutes. Let pork stand in skillet at room temperature 10 minutes. (Temperature will rise to about 155°F while standing.).

Make vinaigrette while pork roasts:

Whisk together juices, mustard, curry powder, salt, and pepper, then add oil in a stream, whisking until emulsified.

Prepare salad ingredients while pork stands:

Cut peel, including white pith, from oranges with a sharp knife, then cut oranges crosswise into 1/4-inch-thick slices. Toss spinach, cabbage, bell pepper, and raisins in a large bowl with about 1/4 cup vinaigrette. Halve, pit, and peel avocados, then cut diagonally into 1/4-inch-thick slices.

Assemble salad:

Cut pork at a 45-degree angle into 1/2-inch-thick slices. Line a large platter with dressed salad and arrange sliced pork, oranges, and avocados in rows on top. Drizzle some vinaigrette over avocados and oranges. Pour any juices from skillet over pork.
Questions & Replies

Got a question?
Share it with the community!
Reviews
Wow! This was FANTASTIC! I only made the tenderloin so I can't comment on the salad, but the pork was out of this world; what a nice blend of sweet and spicy, rub and glaze. I made a couple of small tweaks. I only used one tenderloin (about 1 1/4 lb?) but used all the rub/glaze. I browned the meat in a skillet for almost 10 minutes (flipping to brown all sides) and then transferred to a pan to bake. I'm afraid of undercooking pork, so I baked it for 40 minutes at 350. The end result was fantastic. I have so many other pork tenderloin recipes to try, but I may never move past this one!

 

This pork tenderloin was wonderful (I didn't make the salad). I also only had one tenderloin but made rub and glaze per recipe...and I will do that again so there's additional sauce in the pan. Turned out I didn't have tobasco but subbed in Red Chili garlic paste and really enjoyed the subtle heat with the sweet of the glaze as well as the rub. Baked in oven for 35 min and came out at the perfect temp. Let rest and served over sweet potatos with sauce drizzled on.

 

This is Company-Worthy. Uncork your favorite bottle of wine to go with this wonderful main course. We had buttered parsley new potatoes, fresh corn on the cob, and fresh steamed cauliflower to accompany. After browning the tenderloin in the skillet, I placed it in a throw away foil pan, put a little water in the skillet to get all the browned bits off the bottom and put in with the tenderloin before throwing it into the oven. My husband likes his meat well done, so I left it in the oven for 35 min. We had an out-of-town guest who said, "Wow, this is over the top" several times and my DH chimed in agreement. I just had to write in and say thank you for posting!!! It was an "over the top" meal!

 

This is by far one of the best meals I've made in awhile. The pork was excellent; very tender, sweet and mildly spicy. I made it with the salad because I like 'one stop shop' type meals where the meat and veggies are all rolled into one. I thought the dressing was a bit tangy so I added some honey- this was before I realized I'd be pouring the glaze over the whole dish so next time I'll leave the salad dressing as is. The other thing I like about making it with the salad is it looks beautiful when you slice the meat and lay it on the bed of salad- the spinach, red pepper, orange and avocado make it look as fantastic as it tastes.

 
Tweaks
I used a boneless pork roast in place of the tenderloin. I took the roast out of the string sack it came in and separated the 3 1/4 lb. roast in 2 pieces, .I increased spices 1/2 again. Also increased glaze ingredients 1/2 again... I cooked it for the entree rather than the salad.. It was full of flavor..The next day I sliced it very thin for sandwiches, WONDERFUL!!!.. I have this recipe laminated. Everyone loved it.. Another nice way of using pork roasts.... Thank U....