Goulash Triestino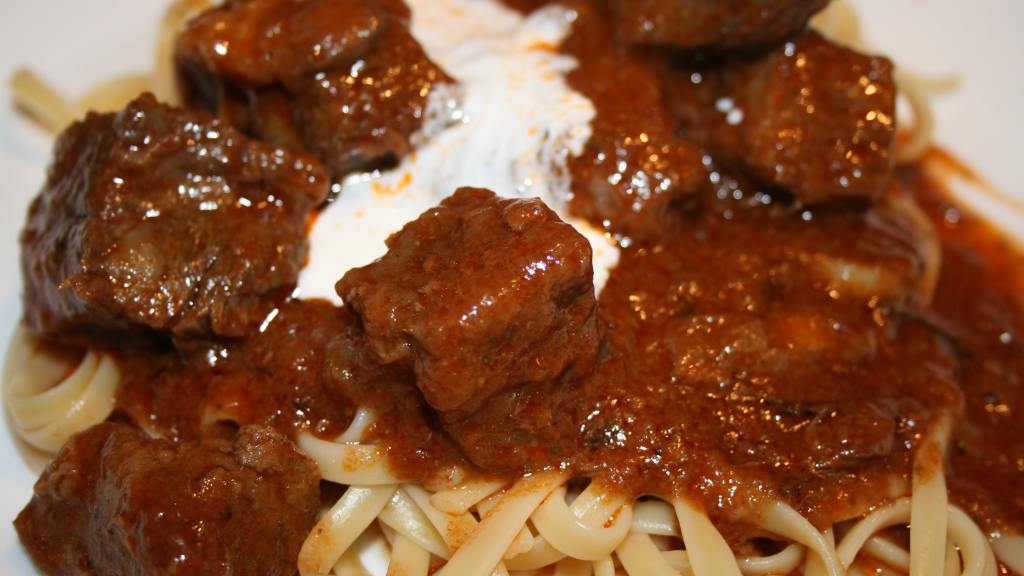 Ready In:

2hrs 10mins

Ingredients:

10
directions
Pour the olive oil into a small saucepan (about 6 cup capacity), set over medium-low heat, and drop in the onion wedges. Toss to coat in oil, season with 1/2 teaspoon salt and cook gently for 3-4 minutes until sizzling and softening.
Spread onions in the bottom of a heavy-bottomed 9 or 10-inch saucepan (such as an enameled cast-iron French oven with a tight-fitting cover) and drop the beef cubes on top of the onions, filling the pan in one layer. Sprinkle another 1/2 teaspoon of the salt, all the paprika, and the oregano over the meat and drop in the rosemary. Without stirring or turning the meat chunks, cover the pan tightly. Heat the meat, with the seasonings on top and the onions below, so it starts to release its juices and stew. Check once or twice to see that the pan liquid is bubbling and the onions are melting (not burning) but don't stir.
After 30 minutes or so, set the cover ajar a couple of inches and adjust the heat to keep the juices bubbling and slowly reducing. As they thicken, stir up the onions so they don't burn and tumble the meat in the pan.
Continue cooking, partially covered, for another 1/2 hour or so. When the juices are concentrated and thick in the pan bottom, prepare the goulash sauce:.
Pour 3 cups cold water in the small pan and whisk in the flour. Set over low heat and continue whisking until the flour is dispersed with no lumps, then whisk in the tomato paste. Heat gradually, whisking often, until the tomato-flour water just comes to a bubbling boil. Pour into the big saucepan and stir well, turning the meat chunks over--they should be nearly covered in sauce.
Bring the sauce to a gentle simmer, put on the cover slightly ajar, and cook 45 minutes to an hour, until the meat is quite tender and the sauce is somewhat reduced. Season with more salt to taste. Turn off the heat and let the goulash cool in the pan for several hours before serving or refrigerate overnight.
Reheat slowly, stirring now and then, until the meat is thoroughly heated. Thin the sauce with water if it has thickened too much. Serve hot. (Though not part of the original recipe, I like to garnish mine with a dollop of sour cream.).