Fat-free Vegetable Soup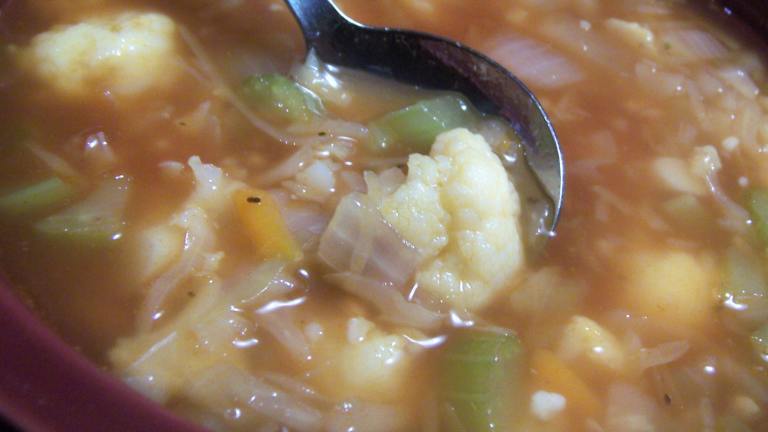 This soup is easy to make and uses no fat during any stage of prep or cooking.And as there is no meat,it is low carb too. The recipe came from my mum,she made one with different ingredients,so i decided to try my own. If you make too much,the rest can be frozen and re-heated
Ready In:

45mins

Serves:

Units:
directions
Into a large frying pan(12" or bigger) add the minced garlic and all the chopped veggies and dry-fry them until the have reduced to about half their original size.This will soften them up and allow flavour to come out.Don't use any oil to fry them,but you can use a small amount of the stock if you wish,to help them steam and reduce.
Add 1 teaspoon each of salt and black pepper.You can also add any other herbs and spices you like to the mixture.
Then transfer the mixture to a large deep pan,and add all the vegetable broth/stock(If you wish,you can add chicken stock,or beef stock instead,and you can add meat to the soup if you dont want it all veggie!.And if you cant find the tinned stock,you can make up the amount using stock cubes dissolved in hot water).
Now add the 2 tablespoons of tomato puree/paste,and stir in,along with some salt and pepper,Worcester sauce,and hot sauce if you like a kick to it.These are down to personal preference,just add what you want until you get the flavour you like.
Bring to a boil,then add the water,and bring back to the boil.Turn down heat and allow to simmer for 20 minutes,stirring occasionally.
Turn off heat and stir.Allow soup to stand (with lid on)for 10 minutes before serving.
Serve with crusty bread (butter optional!).
Submit a Recipe Correction
RECIPE MADE WITH LOVE BY
"This soup is easy to make and uses no fat during any stage of prep or cooking.And as there is no meat,it is low carb too. The recipe came from my mum,she made one with different ingredients,so i decided to try my own. If you make too much,the rest can be frozen and re-heated"
This was a hit for me...I LOVE cabbage...and have it everyday (really I drink it every morning :) ) I used red cabbage for this because I had a vision of how it would look with the white cauliflower and bits of other veggies dancing around it...or swimming with it (lol) ...:)...I just used all my own veggie broth- 6 cups because I got a headache from thinking all ounces and pints / some stock some water and what-not and my attention span was not all there at the time...really just eyeballed it to accommodate the veggies...I added onion ( for the cupa-plus) and for extra "meatiness" chunky baby bella mushrooms and sun-dried tomatoes...my personal preferences run HOT & SPICEY so I added a couple of teaspoons of Worcestershire and hot sauce as suggested and I tossed some basil in too(...because the plant was right in front of me...) :) made for a great soup...wonderfully versatile; which is just what I think a soup should be - Thanks!!

This soup stars two of my favorite veggies, so I knew I'd like it! For the 1 cup of veggies (listed first), I used a combo of onions, celery and a little carrot......it was a more than 1 cup. Even with the extra veggies, I think the amount of liquid(s) is too much. I halved the amount of water and it was perfect for me. I used about 2 tsp of Worcestershire and a few dashes of hot sauce....loved that extra flavor. I will make this again; thanx!