Enchiladas Fantastico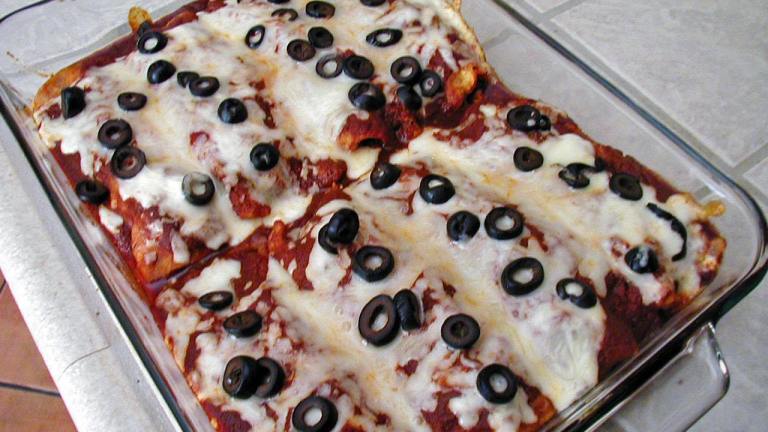 Delicious and authentic Mexican comfort food. A fantastic introduction to cooking Mexican food.
Ready In:

45mins

Serves:

Units:
Nutrition Information
directions
Let us begin by shredding the entire brick of cheese. If you are as crazy about cheese as I am, you might even shred a few cups more.
In a large bowl combine the shredded pork, half the cheese, Black Beans, and one can of the olives. Add a little pepper, maybe some salt and chili powder to taste.
In another large bowl put two cans of Tomato sauce, and add a generous amount of Chili Powder. (No kidding that's all real enchilada sauce is).
In a deep sided pan place the corn oil and bring to a high enough heat to deep fry.
A rookie mistake is failing to cook the tortillas prior to use. This is why the tortillas break apart when you try to roll them. All tortillas require cooking prior to use, they come only partially cooked normally. One by one take your corn tortillas and place then in the oil. when the tortillas are still limp, but on the verge of becoming stiff, lift them out and drop them in the bowl of enchilada sauce to cool.
Here comes the messy part. Take the tortilla dripping with enchilada sauce and place it on a cutting board. Scoop up the shredded pork and cheese mixture and add it in a thick line across the tortilla. Roll the tortilla into a tube and place in a square/rectangular baking dish or pan.
Repeat.
When the pan is full of lovely enchiladas, poor the sauce from the bowl over the whole affair, but don't drown it.
Add the rest of the cheese and olives on top.
Bake in oven at 350°F for approx 15-20 minutes.
Use a spatula to remove the enchiladas two at a time to a plate. Garnish with sour cream if desired.
Recommended side dish: Refried Beans and Spanish style rice of course!
Submit a Recipe Correction