Eclectic Electric Eastern Steamer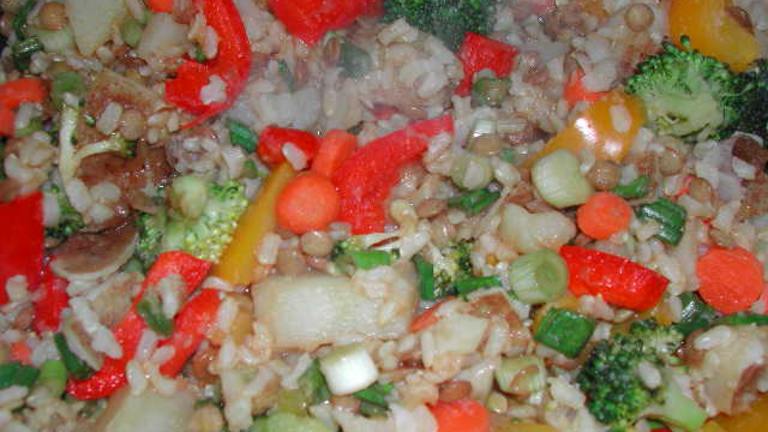 Lentils! Bell peppers! Soy sauce! Potatoes! Rice! Broccoli! What do these all have in common? They're most important east of Moscow, they're bloody well healthy, and they all needed to be gotten out of my fridge. Thus resulted this healthy, quick, and eclectic and zingy pan-Asian fried rice dish. (Originated as I was going out of town for a few days, need to clean out things that would otherwise go bad, and knew I want to eat something quite healthy....as my destination held culinary sins galore.)
Ready In:

35mins

Serves:

Units:
directions
Bring the vegetable stock to a boil, stir in the lentils, and set aside.
Boil the potato until almost done, while conveniently using the steam from the boiling potatoes to steam the bell peppers, broccoli florets, and carrots. Sprinkle them with 1/2 of the ginger, 1/2 the scallions, and all the lemongrass.
When the potatoes are almost done, pour out the water or fish them out and toss them with the steamed vegetables. Then return to steaming the whole bunch.
When the lentils are done, once again pour them over the steaming vegetables and toss to combine.
Toss rice over the whole deal, continue steaming while you --.
Mix the ginger, honey, sherry, vinegar, 4 tbs of soy sauce, and what remains of the scallions.
Pour the steaming mixture into a sprayed nonstick skillet and stir fry with the mixed sauce for 5-10 minutes. Add further water, soy sauce, or stock to keep the mixture from getting too dry.
Submit a Recipe Correction
RECIPE MADE WITH LOVE BY
"Lentils! Bell peppers! Soy sauce! Potatoes! Rice! Broccoli! What do these all have in common? They're most important east of Moscow, they're bloody well healthy, and they all needed to be gotten out of my fridge. Thus resulted this healthy, quick, and eclectic and zingy pan-Asian fried rice dish. (Originated as I was going out of town for a few days, need to clean out things that would otherwise go bad, and knew I want to eat something quite healthy....as my destination held culinary sins galore.)"
Easy, delicious, healthy dinner for two with no added fat. My only problem was that the recipe did not specify cooking times! So I gave the lentils 30 minutes, the potatoes 15 minutes and steamed the veggies for 5 minutes. I liked the convenience of steaming the vegetables while the potatoes cooked. Everything came out perfect! Instead of half a potato I added a whole (so I wouldn't have any leftovers) and I added a teaspoon of sesame oil for taste (as I didn't have any lemongrass). It was amazingly good for a recipe that seemed to be thrown together last minute! You might also add tofu or chicken strips (vegetarian or otherwise) to make this a bit more substantial, which is what I might do next time. Thanks for the great recipe!

Lentils! Bell peppers! Soy sauce! Potatoes! Rice! Broccoli! What do these all have in common? They're most important east of Moscow, they're bloody well healthy, and they all needed to be gotten out of my fridge. Thus resulted this healthy, quick, and eclectic and zingy pan-Asian fried rice dish. (Originated as I was going out of town for a few days, need to clean out things that would otherwise go bad, and knew I want to eat something quite healthy....as my destination held culinary sins galore.)