Easy Homemade Almond Paste (Marzipan)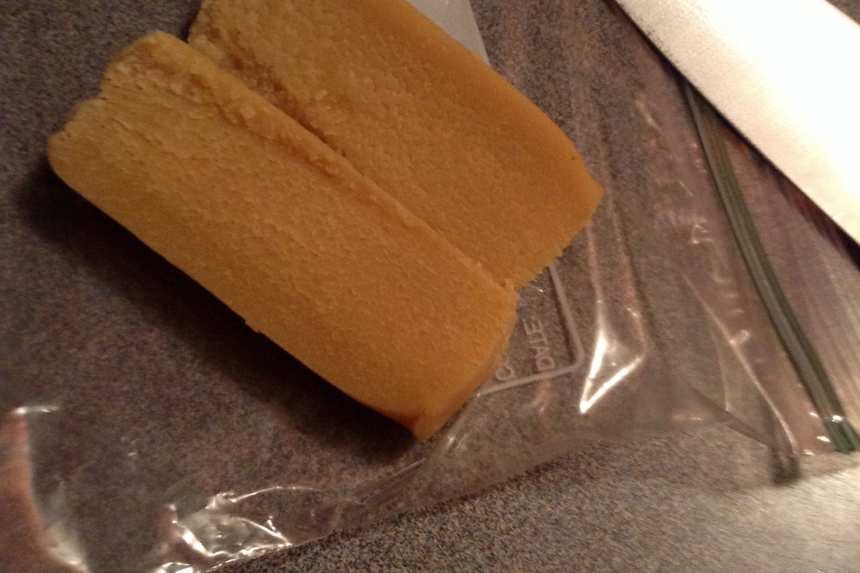 photo by pattysnider

Ready In:

1hr

Ingredients:

4
ingredients
1 1⁄2

cups whole blanched almonds

1 2⁄3 cups confectioners' sugar
1⁄8

cup egg white

1⁄2 teaspoon vanilla (or almond extract) (optional)
directions
Using a food processor grind the almonds into a fine powder (this should take about 2 minutes).
Add in the confectioners sugar and blend well.
Transfer the mixture to a bowl.
Using a wooden spoon blend in the egg whites and vanilla (if using) until smooth.
On a flat surface lightly dusted with confectioners sugar, roll out the almond paste into a 14" x 1-2" log.
Wrap in parchment paper and chill for a minimum of 1 hour.
When rested, cut the log in two pieces.
Wrap in wax paper and chill.
Questions & Replies

Got a question?
Share it with the community!
Reviews
There is a fine line between almond paste and marzipan. Because there is no one who sells almond paste within 15 miles I tried this recipe. It was to be a base for pignoli cookies. It was obvious 3/4 of the way through the cookie making process that this recipe was to "loose". All worked out in the end, just much bigger cookies than expected. To be closer to almond paste increase almonds to 2 C and eliminate egg. Also look at using regular sugar with corn syrup to equal all of the powdered sugar.

 

Be careful! I'm surprised no one ever mentioned this before but that recipe is for Marzipan. Almond paste and Marzipan are not, repeat not the same thing!. Almond paste has less sugar and does not contain egg whites. Almond paste is a baking ingredient. Marzipan is more of a decorating or candy making item as in edible fruit shaped items, as it is meant to be molded like clay.<br/>as you can see in the picture below one is in the red box, the other in blue as they are not interchangeable.<br/><br/>http://www.cookingclub.com/Magazine/Magazine-Articles/articleType/ArticleView/articleId/3822/Almond-Paste-vs-Marzipan--Question-of-the-Week-12-3-07

 

This is just to correct Steve P. 's comment. "Almond paste and Marzipan are not, repeat not the same thing!. Almond paste has less sugar and does not contain egg whites. " The wording insinuates that marzipan DOES have egg in it. Actually the difference between the two are the ratios of sugar. You can find recipes for both using egg whites; and both without egg whites. Depending on its intended purpose though you should choose between one that will be used for modeling, typically marzipan, or baking, typically almond paste. The confusion is typical in baking/cooking, methods transcend culture and language barriers, so each language comes up with its own, but then borrows from others. Try finding the difference between gelato and ice cream as a good example.

 

This recipe was such a life saver! I planned to make a pecan tart for today's dessert and hadn't read the recipe very well when I made my grocery list earlier in the week and needless to say I didn't have the almond paste that I needed to make the crust for my tart. This recipe saved me. The only thing that I had an issue with was not grinding the almonds quite fine enough, but it didn't make a difference the the tart crust. I portioned out the rest of it and froze it in 1/4 cup portions. I've never bought almond paste and now that I've found this recipe, it highly unlikely that I will ever buy it. Thanks for posting this Kitten and for saving my recipe!