Dave's Rib Rub and Pit Barbecue Ribs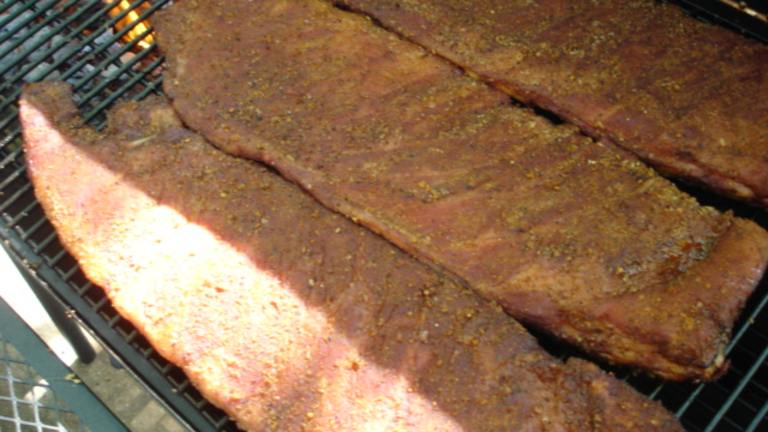 Posted for a request....this is from Famous Dave's Backroads and Sidestreets Barbecue Cookbook.
Ready In:

6hrs 45mins

Serves:

Units:
directions
Mix rib rub ingredients (first 14 ingredients) and store in an airtight container.
The night before cooking, trim the ribs of all excess fat and place them in a large plastic bag; pour in Italian dressing to coat; seal bag well, refrigerate for 4 hours, turning occasionally; remove and wipe dressing off then sprinkle each rib with pepper then 1/4 cup of the brown sugar and 1/2 cup of the onion flakes.
Wrap each rib in plastic and refrigerate overnight.
Next day: remove from wrap and wipe sludge off ribs; generously coat front and back of ribs with rib rub and, using your hands, rub seasoning into meat and set aside.
Smoking takes 6 hours.
Prepare about 15 briquettes until they're red hot; place coals on one end of grill and place 1 pound of green hickory around coals (use water-soaked hickory chunks if you can't find freshly cut hickory).
Keep internal temperature of the grill at 200-225°F and add more charcoal and hickory chunks every hour as needed.
Place ribs bone side down but not directly over hot coals; after 3 hours, remove ribs from grill and wrap in foil; hold in covered grill at 180-200°F for 1 1/2 to 2 hours or until fork tender.
Build a really hot bed of coals over the entire bottom of the grill.
This goes fast- place ribs back on grill to add char flavor; when meat becomes bubbly it's done.
Slather with barbecue sauce and let the heat caramelize the sauce.
According to Dave, this caramelizing with the charring and slow smoking is the secret to tender, smoky ribs the way it's in the deep south.
Take your time, visit with friends and drink some beer while slow cooking these ribs.
Submit a Recipe Correction
RECIPE MADE WITH LOVE BY
"Posted for a request....this is from Famous Dave's Backroads and Sidestreets Barbecue Cookbook."
I really liked Famous Dave's rub about 75% more than this one. I rubbed it good and thick and wrapped it in foil over night the next day I let them sit at room temperature for 3 hours. With the oven preheated at 225 they cooked slow for two and a half hours, then I let them rest for about 45 minutes I opened the foil and drained the fat with the grill going good and hot and the rack set as high as I could get it I slathered them with the Dave's BBQ Hot and Sweet, put them on the grill until the glaze looks right and let me tell you the meat about fell off the bone and melted in my mouth. Now everyone wants me to come BBQ for them!

This is by far the worst barbecue ribs I ever had. The amount of salt used in this recipe has got to be a joke. After six hours of grilling the only flavor that comes through is salt.<br/>Save your money and do not waste your time on this one By the way the ribs at Famous Daves were great, but this cannot be the recipe.<br/>By mike & flo