Corner Espresso Shop Chocolate Cake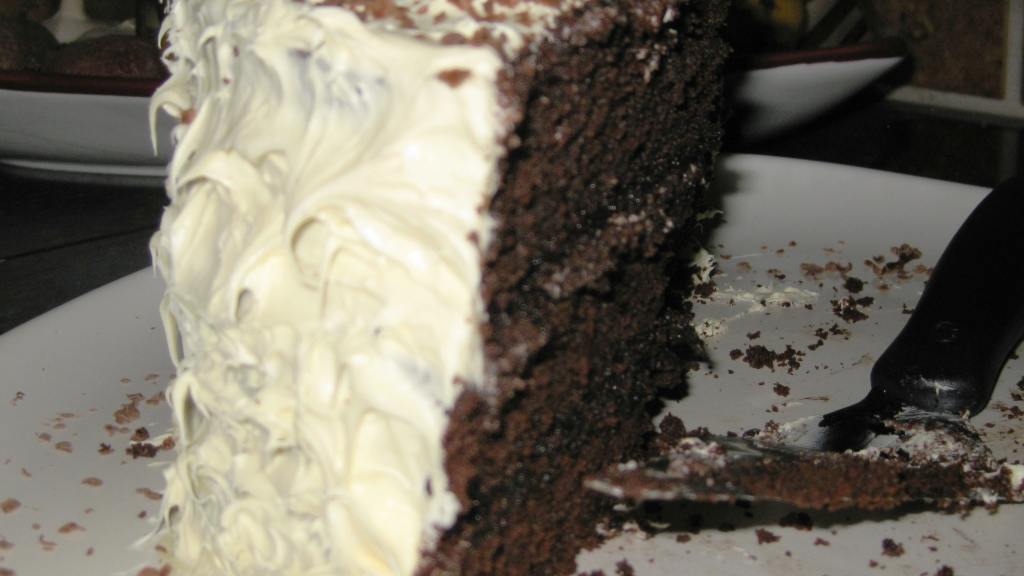 Ready In:

1hr 10mins

Ingredients:

15
ingredients
2

cups all-purpose flour
1 3⁄4 cups sugar

2

tablespoons espresso powder (I use the stuff from King Arthur's Flour)

1

teaspoon baking soda

1

teaspoon salt
1⁄2 teaspoon baking powder
3⁄4

cup baking cocoa (I use plain old Hersey's)

1

cup brewed espresso (I stop in at Starbucks and buy 8 shots in a to-go cup if I am feeling lazy or am in town, Or you ca)

2

teaspoons vanilla extract
1⁄2

teaspoon almond extract

1⁄3 cup buttermilk
1⁄3 mayonnaise

2

eggs, beaten just till foamy
1⁄4

cup vegetable oil

3⁄4 cup softened butter
directions
Preheat oven to 350°F.
Butter and flour 13x9-inch baking dish.
Mix first 6 ingredients together in a medium bowl.
Reheat your espresso if you had to buy it at a coffee shop and mix in the baking cocoa powder.
Add the vanilla and almond flavorings to the coffee/chocolate mixture.
In a large mixing bowl, whisk buttermilk, mayonnaise, egg yolks, and vegetable oil.
Stir in that great smelling coffee mixture.
Don't lick the spoon!
Toss in the softened butter and 1/2 cup of the buttermilk mixture and mix well.
Don't lick the spoon!
Add all of the flour mixture.
Beat for 1 to 2 minutes.
Add the rest of the buttermilk mixture.
Don't lick the spoon!
Beat 1 to 2 minutes longer, scrapping sides of bowl occasionally.
Don't lick the spoon yet!
Spoon cake batter into prepared baking dish.
Bake 35 to 40 minutes or until wooden toothpick inserted in the middle comes out clean.
Cool in the pan.
While cake is baking, lick the spoon and the bowl if you can no longer resist.
When cake is room temperature frost with either Chocolate or White Buttercream Frosting- purchased or homemade.
Join The Conversation
What a yummy cake! I increased the recipe to 1 1/2 and cooked it in 3 round cake pans to make a triple layer cake. I used what I had on hand, which was instant coffee crystals (instead of instant espresso) and strong brewed coffee (instead of espresso). It was still delicious, especially the batter, which was VERY hard to resist! I frosted the outside with white buttercream and the inside layers with dark chocolate. Sprinkled grated chocolate on top. It was as delicious as it was beautiful. It would have looked even nicer with white buttercream between the layers. This was a moist & tasty cake. Quite a hit!
RECIPE SUBMITTED BY
COVID found us on the east coast so our travels came to a halt. We are now planted in Watervliet, NY. Kind of enjoying it. Back to cooking in an updated kitchen and having all my toys. Good times!
View Full Profile