Curried White Fish With Peas and Onions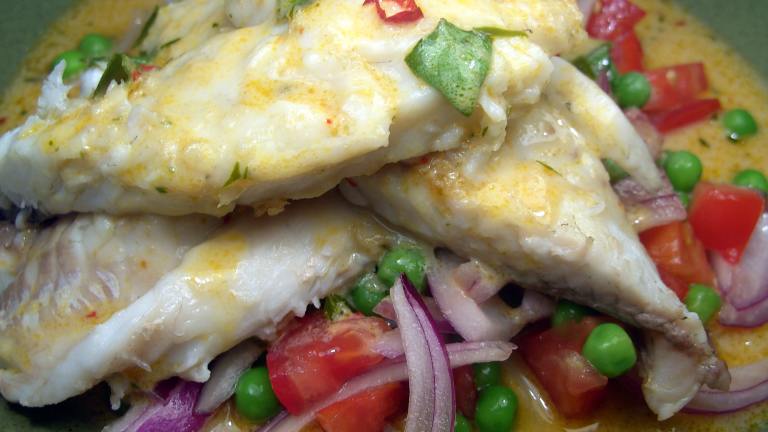 This recipe could be adjusted to suit a family or the people you are cooking this meal. For hubby I served this with the curry in a small sauce bowl so he could dip the fish to his liking. For Little Miss (Darling 6 year old daughter) had no curry with her meal. For myself who loves heat, I smothered the sauce onto of the fish with heaps of Thai red curry sauce. I haven't used dressing on the salad as the Thai Red Curry flavour will cover them. If you choose not to use the Red Curry Sauce then drizzle olive oil when serving. I have used a few type of white fish Base, Nile Perch and Dory, I find the firm flesh is better, however use your favourite white flesh fish. (Revised Recipe)
Ready In:

30mins

Serves:

Units:
directions
To make the salad: Combine pea, tomato and red onion, into a small bowl and set aside until later use. If you are using frozen peas, in a small pot boil water, add peas and cook until they are no longer frozen (about 4 minutes). Drain out the hot water and add cold water into the pot. Drain water when peas are no longer hot and add to the salad, once all the water has been drained.
To make the sauce: Add a medium saucepan on the stove at high heat. Once the pan is hot add oil, then add Thai red curry paste, stir paste to combine well with oil and saute until fragrant. Add coconut milk and mix well to combine. Bring sauce to boil, then reduce heat. Add fish sauce and palm sugar, mix well to combine. Added kaffir lime leaves and basil, stir to combine and remove from heat.
To make the fish: Rinse you fillets with cool water and then dry them, spray a reasonable amount of oil onto your large skillet and heat pan. Once pan is hot carefully place fish onto the skillet and cook the fillets between 2 to 4 minutes (depending the thickness of the fish). Shake the pan to make the fish move then turn them over and cook another 2-4 minutes. If fish is ready to your liking then they are ready to use.
To serve salad, place mixture equally into the centre of the serving plate. Arrange fish on top of salad, top fish with equal amounts of Thai red curry sauce Or you could put curry into small sauce bowls and serve with the fish and salad. Garnish with fresh red chilli slices.
Enjoy.
Submit a Recipe Correction
RECIPE MADE WITH LOVE BY
"This recipe could be adjusted to suit a family or the people you are cooking this meal. For hubby I served this with the curry in a small sauce bowl so he could dip the fish to his liking. For Little Miss (Darling 6 year old daughter) had no curry with her meal. For myself who loves heat, I smothered the sauce onto of the fish with heaps of Thai red curry sauce. I haven't used dressing on the salad as the Thai Red Curry flavour will cover them. If you choose not to use the Red Curry Sauce then drizzle olive oil when serving. I have used a few type of white fish Base, Nile Perch and Dory, I find the firm flesh is better, however use your favourite white flesh fish. (Revised Recipe)"
This was sensational thanks Chef floWer. We really, really enjoyed it. I loved the salad-it added something bright and fresh to the whole dish. I think the sauce tasted quite authentically Thai and we both agreed we'd like to eat the whole dish again really soon. I used bream and found it cooked super quick and broke up a little-perhaps more delicate fillets would be better microwaved, steamed or cooked in the oven. Not your fault-just the type of fish I chose to use.

This recipe could be adjusted to suit a family or the people you are cooking this meal. For hubby I served this with the curry in a small sauce bowl so he could dip the fish to his liking. For Little Miss (Darling 6 year old daughter) had no curry with her meal. For myself who loves heat, I smothered the sauce onto of the fish with heaps of Thai red curry sauce. I haven't used dressing on the salad as the Thai Red Curry flavour will cover them. If you choose not to use the Red Curry Sauce then drizzle olive oil when serving. I have used a few type of white fish Base, Nile Perch and Dory, I find the firm flesh is better, however use your favourite white flesh fish. (Revised Recipe)