Coconut Cream Pie from Heaven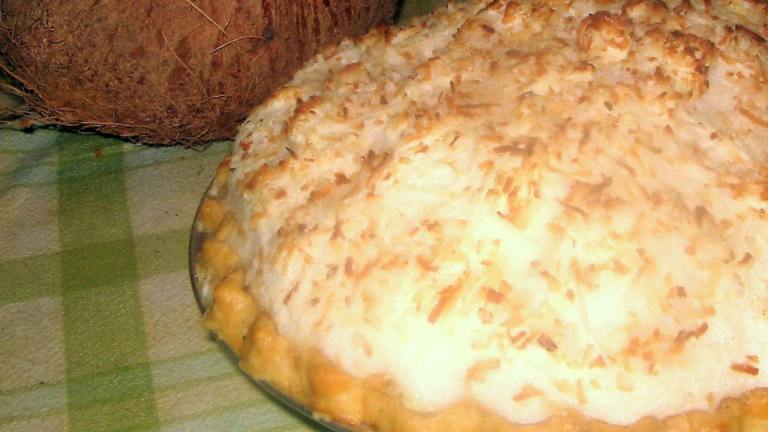 Got all day? Great! Try recipe for fresh coconut cream pie. My pie in the feature photo has a meringue topping, though I usually prefer a whipped cream topping.
Ready In:

1hr 31mins

Serves:

Units:
Nutrition Information
directions
NOTE: FILLING IS ENOUGH FOR ONE 10 INCH PIE OR TWO 9 INCH PIES (IF PREPARING TWO 9-INCH PIES DOUBLE THE CRUST RECIPE GIVEN HERE). SELECT FRESH COCONUT (S) THAT ARE LARGE WITH SOFT EYES JUST SLIGHTLY DARKER THAN THE HUSK. SHAKE COCONUT AND SELECT THE ONE(S) WITH THE MOST WATER. (STEP 1): PREHEAT oven to 375°F with racks in upper and lower thirds; PUNCTURE soft eyes at end of coconut(s) with screwdriver using a hammer; SHAKE out coconut water into medium bowl until all is obtained (you'll need about 2 cups); PLACE coconut on low rack in oven and bake for 15 minutes; REMOVE coconut using oven mitts; REDUCE oven temperature to 350°F; FILTER reserved coconut water through mesh sieve into a medium saucepan; SET aside.
WRAP coconut in towel and place on hard surface; HIT hard with a hammer; PRY out meat in large pieces with table knife or wide blade screwdriver; REMOVE brown skin with vegetable peeler; RINSE coconut pieces.
BAKE coconut pieces in glass baking dish on top oven rack for 40 minutes at 350°F; TURN pieces over using tongs and bake for an additional 40 minutes. REMOVE from oven; TURN oven off.
INTO a small saucepan add the strained coconut water (with additional water if necessary to make 2 cups liquid); ADD 1 cup sugar, 4 tablespoons coconut rum, 1 teaspoon pure vanilla extract, 1 teaspoon white vinegar and 1 pinch kosher salt; ADD coconut pieces and bring to a boil; COVER and reduce heat to medium; SET timer for 40 minutes; BEGIN preparing Flaky Butter Crust (following step). CHECK coconut syrup and from heat when it has turned golden color and has reduced (about 45 minutes); REMOVE coconut pieces with tongs, shaking off syrup; MEASURE syrup, adding water if necessary to make 3/4 cup; RETURN syrup to saucepan; RINSE coconut pieces in a strainer with warm water; SET coconut aside until ready to grate.
PREPARE THE CRUST: Measure 1 cup flour, 1/2 tablespoon confectioners' sugar and 1 pinch kosher salt into bowl of food processor. Process on high for 5 seconds. Grate 1 stick chilled salted butter into small strips and add to flour. Process for 5 seconds. Mix 3/4 teaspoon natural coconut rum and 1/4 teaspoon pure vanilla extract with 2 tablespoons ice water and pour evenly over mixture. Process on high for 5 seconds. Add remaining 1/3 cup flour. Process high for 5 seconds. Place mixture on flat surface covered with waxed paper. Roughly mold into disc shape. Cover dough with waxed paper and roll just until dough is an evenly thick circle, about 1/8-inch thick or less. Remove top half of waxed paper. Turn dough-side down into 10-inch deep dish pie plate. Peel away remaining waxed paper. Fit dough evenly into pan without pressing too hard in any area.Trim pastry slightly larger than the pan and flute edges using forefinger and thumbs (if dough becomes too soft, temper in the freezer for 2 minutes and continue until finished). Lightly move a rolling pin over top surface of finished fluted edge to give a uniform appearance; Pierce dough with fork every 2-3 inches over pie plate surface and place into freezer for 10 minutes. Preheat oven to 375°F Remove shell from freezer. Place small, light butter plate over middle of frozen dough. Bake shell for 15 minutes. Remove small plate from center of crust with tongs. Baste with melted butter if desired and conitinue baking until crust is light golden-brown, about 5-10 additional minutes. Remove shell. Leave oven on at 375°F Cool shell on cooling rack. Cover lightly and refrigerate until needed.
SELECT a grate for fine-shred on hand-held or food processor blade grater, that will create coconut flakes about the size of commercial flaked coconut. GRATE 1 cup fresh coconut; DIVIDE and set aside.
POUR 3 cups milk into cooled COCONUT SYRUP in medium saucepan; WHISK in 5 tablespoons cornstarch then add 3 egg yolks until well blended and consistent; ADD 1/2 cup coconut flakes, 4 tablespoons butter, 1 1/2 tablespoons coconut rum, 1 teaspoon pure vanilla extract, 1 teaspoon white vinegar and 1 small pinch kosher salt if needed (optional); BRING to a boil, whisking bottom of saucepan constantly to avoid lumping as mixture thickens, boiling 1 minute until mixture is smooth and stays on a spoon (about the consistency of a creamy pudding or fondue); POUR slightly cooled mixture into chilled pie shell; COVER loosely and refrigerate for at least 2 hours.
PREHEAT oven to 250°F; TOSS remaining 1/2 cup coconut flakes with 2 teaspoons confectioners sugar and a pinch of salt; TOAST coconut in a baking dish on top oven rack, for 15-20 minutes, turning occasionally to avoid scorching (coconut should be an even light golden-brown color when done, do not over-toast coconut); TOSS coconut with 1 teaspoon granulated sugar.
WHIP 1 1/2 cups heavy cream using an electric mixer on high speed, while gradually adding 3 tablespoons confectioners' sugar, until cream begins to thicken; ADD 3/4 teaspoon coconut rum and 1/4 teaspoon pure vanilla extract; CONTINUE whipping until cream is thick, light and fluffy but not overbeaten (you want whipped cream, not butter!). CAREFULLY spread whipped cream on cooled pie using a frosting spatula, leaving crust untouched, decorating in swirls; SPRINKLE cooled coconut over whipped cream on pie to garnish.
GET READY for a little slice of heaven!
Submit a Recipe Correction
RECIPE MADE WITH LOVE BY
"Got all day? Great! Try recipe for fresh coconut cream pie. My pie in the feature photo has a meringue topping, though I usually prefer a whipped cream topping."
Join The Conversation
I used Coconut Cream anywhere it says Coconut Rum and added a whole fresh chopped pineapple because I only had one coconut. If I didn't have the coconut cream, I would use coconut milk or coconut extract. Sub coco cream or milk at a 1:1 ratio or extract at a 1:4 ratio. If I make this again, I personally would chop/mince the coconut first, because trying to grate already small pieces is annoying. Watch that coconut carefully in the oven though! Just finishing it up and waiting for it to cool, but it smells amazing! This is actually a stovetop pie recipe except for the crust and cooking of the coconut, the latter which could theoretically be done in a skillet. Does take a few hours though.

I made my mother this pie for her birthday and she said that it was the best pie she had ever eaten in her entire life. (She LITERALLY means this and is still talking about this pie in a dreamy voice about every other day.) I made the full amount of this recipe, and it made one 9 inch pie. Also, I used my own pie crust recipe and omitted the Coconut Garnish. I substituted canned coconut water and 3/4 cup unsweetened coconut flakes for the fresh coconut, dark brown sugar for the white sugar, and lime juice for the white vinegar. Also, I used 2 mini (50 ML) bottles of Malibu Caribbean Rum with Coconut Liqueur, and it is worth spending the extra money to buy the Malibu brand instead of cheaper brands of rum. In the Cream Filling, I increased the coconut to 3/4 cup unsweetened coconut flakes and reduced the butter from 4 tablespoons to 2 tablespoons. I doubled the Coconut Whipped Topping and prepared it exactly as written. My mom worshiped the Coconut Whipped Topping and never wants any other kind of whipped cream ever (even for desserts that are not coconut flavored). This pie is manna. Bless you, Spice Guru, and thank you.