Cinnamon Babka(Cook's Country)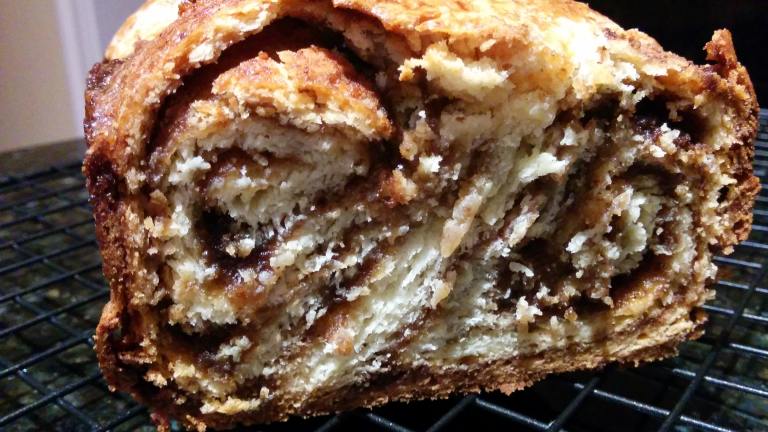 Ready In:

4hrs 15mins

Serves:

Yields:

Units:
directions
FOR THE FILLING: Combine all ingredients in medium bowl. Set aside 1 tablespoon filling.
FOR THE DOUGH: Adjust oven rack to middle position and heat oven to 200 degrees. When oven reaches 200 degrees, turn it off. Grease large bowl. Whisk milk, egg yolks, and vanilla together in 1-cup liquid measuring cup.
Using stand mixer fitted with dough hook, mix flour, sugar, yeast, and salt on low speed until combined. Slowly add milk mixture and mix until dough comes together, about 3 minutes. Increase speed to medium-low and add butter, 1 piece at a time, until incorporated, about 1 minute. Continue to mix until dough is smooth and comes away from sides of bowl, 10 to 12 minutes. Transfer dough to prepared bowl, cover with plastic wrap, and place in turned-off oven until dough has risen slightly, about 1 hour. Place in refrigerator until dough is firm and has doubled in size, at least 1 hour.
Line 8½ by 4½-inch loaf pan with parchment paper, allowing excess to hang over edges. Punch down dough on lightly floured counter. Roll out dough to 20 by 14-inch rectangle. Spread all but 1 tablespoon reserved filling over dough, leaving ½-inch border around edges. Working from short side, roll dough into cylinder and pinch along seam to seal. Position cylinder seam side up and roll back and forth until stretched to 18-inch length. Spread reserved filling over top of cylinder. Fold cylinder on top of itself and pinch ends to seal. Gently twist double cylinder twice to form double figure eight. Place shaped dough seam side down in prepared pan, cover loosely with plastic, and let rise in turned-off oven until doubled in size, about 1 hour.
Lightly beat whole egg in bowl. Remove loaf from oven and discard plastic. Heat oven to 350 degrees. Brush loaf with beaten egg. Bake until deep golden brown and loaf registers 190 degrees, about 45 minutes. Let cool in pan on wire rack for 20 minutes. Remove loaf from pan and cool completely, about 2 hours. Serve.
TO MAKE AHEAD: Instead of letting dough rise in step 4, cover shaped loaf with plastic wrap and refrigerate for up to 24 hours. Let dough sit at room temperature for 1 hour before baking.
**Once you've added the butter in step 3, if the dough is still sticking to the sides of the bowl after five minutes of mixing, add 2 to 4 tablespoons of extra flour. The test kitchen's favorite loaf pan measures 8½ by 4½ inches; if you use a standard 9 by 5-inch loaf pan, start checking the babka for doneness after 40 minutes.
Submit a Recipe Correction
Using this recipe was my first time making babka, and it was delicious! I've made it several times since. I can't for the life of me figure out how to shape it using the recipe, but I just swirl it around a tin and it comes out fine. The filling on top makes the most delicious crust. For those of us without stand mixers, some kneading has to be done. All in all this is a deliciously soft and sweet loaf, and not too tricky to make either!

I plan to make this as I bought a babka in Manhattan and it was so good! The direction are very detailed for the dough, baking, rising, rolling, etc. Regarding filling it only says to spread reserved filling...reserved from what? What do I mix exactly for the filling? Cinnamon obviously but what else?