Champurrado (Chocolate Atole)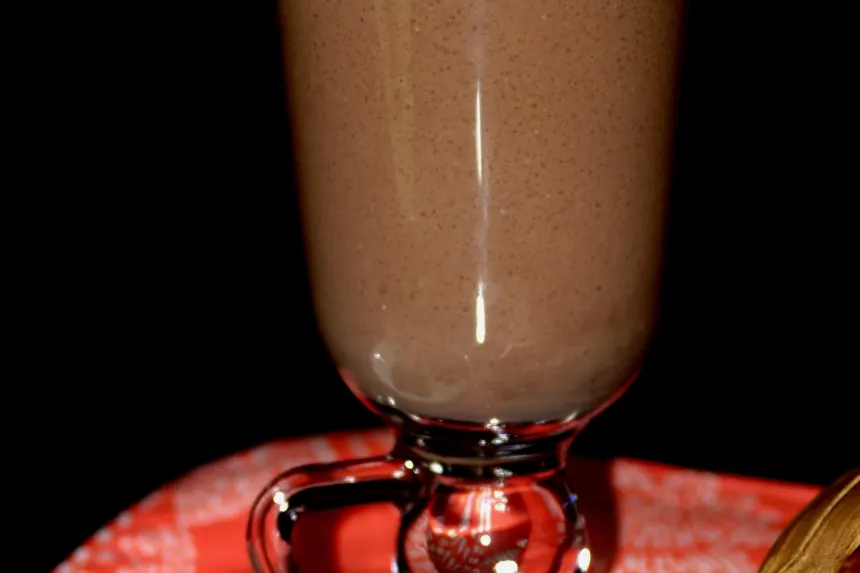 photo by Jostlori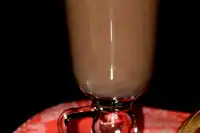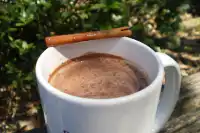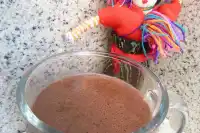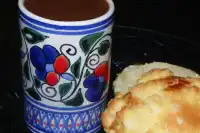 Ready In:

20mins

Ingredients:

6
directions
Heat the milk and chocolate in a saucepan, stirring to dissolve the chocolate.
When chocolate is completely dissolved, remove from the heat and set aside to keep warm.
Mix the masa harina with the water in another saucepan; place over low heat, add the cinnamon stick, and cook until the mixture has thickened and the masa becomes translucent.
Add the chocolate milk and sugar. Stir to dissolve the sugar and simmer for a few minutes.
Remove the cinnamon stick and serve the champurrado hot in cups or mugs.
Questions & Replies

Got a question?
Share it with the community!
Reviews
Technically masa harina and corn flour are not the same thing. Masa harina (literally dough flour) is made from lime-treated corn and used to make tortillas and tamales. Corn flour is harina de maíz in Spanish and is raw corn flour. But both can be used, but the flavor is different. I like blue corn flour best for this. And you can use cocoa, or Mexican chocolate (which may already have cinnamon or other spices and almonds, etc. in it) too. You can make corn flour in a coffee or spice grinder from corn meal (or non-instant corn grits, polenta) or dried corn kernels (if your grinder is sturdy). Just grind it really fine. If you use corn flour - I mix it with cold water - enough to make it pour and then add it to the hot liquid - no lumps. Lastly the liquid to dry rate in this recipe is rather low - you might have to thin it when using some types of corn flour. I cook it longer - so it's silky, and these measurements will be really thick - like porridge for me.

 

I live 5 minutes away from Mexico and so I have high expectations for champurrado. I like this, but couldn't give 5 stars. I changed things up a bit here, so it might be my fault that it wasn't superb. First of all, I used4.5 c nonfat milk and 1.5 c. half and half. I upped the masa and water accordingly and I used 2.3 tablets of abuelita chocolate. I upped the brown sugar after tasting, but later regretted it b/c it was too sweet (next time I will put the indicated amount!) I didn't know what translucent masa is supposed to look like so when I thought it was thick enough I added it to the milk. It was super lumpy after lots of stirring so I blended the lumps in the blender and it is nice and smooth now. I really do like it, it's just too sweet

 

I have been looking for the right recipe to make this and this one looks the best I would be making it know if I had the masa or corn flour but I don't so I have to wait but about the Mexican chocolate Ibarra why not use abuelita it is exactly the same and I love it they have it in a boox just like Ibarra or you can get it in a bag already course or even in a syrup and it already has the cinnamon and sugar so it may help lessen ingredients but I am just going to follow this and add in my abuelita and I may buy the brown sugar cones and use those since that's what most use!! thanks for posting this I crave it all the time im 3 months pregnant and this is my sweet, hot, filling drink!!

 
Tweaks
I scaled this down to one serving and somehow did this in the microwave, and it turned out quite nice. Instead of the cinnamon stick a added a pinch of cinnamon, and I used maybe 1/8 tsp cornstarch in place of the corn flour. Its nice and thick :D However, its very dark. I like it this way, but milk chocolate lovers beware. This is not the drink for you(: Thanks Elmotoo!