Braised Pork Shoulder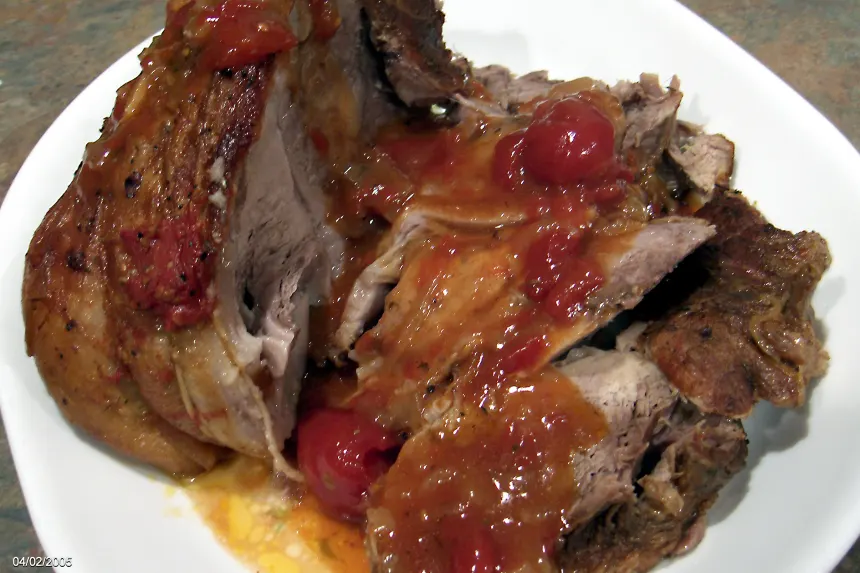 photo by Derf2440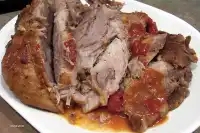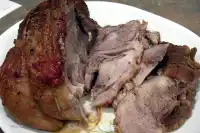 Ready In:

5hrs

Ingredients:

12
directions
Generously salt and pepper the pork shoulder and let meat come to room temperature (about 2 hours) Preheat oven to 325°F.
Add olive oil to a large, deep pan, Over medium-high heat, sear pork until brown on all sides; set aside.
Dump excess oil from pan, leaving a coating of oil.
Add onions to pan and sweat over low heat until translucent.
Return pork to pan and add remaining ingredients.
Cover and place in oven, and cook for 2 to 3 hours (internal temperature should be about 140-150°F) or cook on stove top for 2 to 3 hours over low heat.
Remove pork from pan and let rest 10-15 minutes before slicing.
Serve with a starch and vegetables.
Questions & Replies

Got a question?
Share it with the community!
Reviews
This was my first time cooking pork shoulder and I'm glad I chose this recipe! It was juicy, saucy and spicy, just what I wanted to cook. The only changes I made was that I added canned chipotle in adobo sauce because I couldn't find dried chipotle. I added 3 peppers and it gave the sauce a spicy kick. I also added a can of diced tomatoes with the liquid. The roast turned out tender and almost fell apart. It was delicious. I served it with the sauce and plated it with tortillas, beans and rice. Thanks for the great recipe!

 

Wonderfull pork!! Tender and moist and delicious. I also simmered down the sauce, loved the taste, served the sauce over mashed potatoes with slices of the roast and a side of broccoli and carrots. We really loved the spice mix with the chipoltie and we will make this one again, thanks for sharing. Going to use the leftover with slices of pork in a bun with the sauce over it, mmm my mouth is watering thinking of it. A real keeper of a recipe!!

 

This was really, really, REALLY good! We pureed the braising liquid (after picking out the whole spices) and it made a wonderful sauce for the meat. We had it with some brown rice to soak up the sauce and a salad with grapes and avocado, dressed with Recipe #26507. Looking forward to making tacos tomorrow with some of the leftover meat and Mexican cole slaw.

 

I tried this recipe for the first time the other day after searching the web for this particular cut of meat and the results were pleasing. I don't normally follow a recipe to the letter but I did in this instance especially when I saw the words "savory and spicy" and the fact it called for "dried chipotle peppers." This would lead one to believe there would be a little heat or spicy taste to the end product. I used a nicely trimmed primal cut for the recipe that had minimal fat and weighed more than the six pounds indicated. I appreciate those who prepare meat in such a way that it is tender, flavorful and not dry. Trying to duplicate a recipe you had at your favorite restaurant is a labor of love. Barb Gertz's rendition is a nice choice. When you follow a recipe that someone else has created you are at the mercy of that cook. You make it as directed and serve it to your guests and if you have a lot of leftovers you know the recipe was not as good as it seemed. This is where I come in. I read the recipe and chose it for the ingredients and the fact it was touted as being, "savory and spicy." I made it and found it was savory however the spicy was missing. The broth had a light smoky pork taste due to the peppers but I was looking for more of a Southwestern style kick due to the "dried chipotle peppers." As you know, these are Jalapeno peppers that have ripened and become red. They are then smoked in a smoker to give them a really nice flavor. Because they are smoked whole, not removing the seeds or ribs they are supposed to retain all of the heat and flavor. I think I may have gotten some that were extremely mild. I think I will add a few more peppers and may even chop them to release more flavor. All in all the sauce had a really nice taste but no kick. Chipotle peppers bring a nice taste to the party. Due to several variances in the cooking, I recommend being mindful of the cooking time and temperature recommendations. Using the oven temperature guidelines for the recipe I found that my roast needed more time even though I used a thermometer with a probe set to 145º. This doesn't mean your roast will be undercooked. Due to the large bone in cut, the recommended temperature was good but after investigating various sections of the roast after completion I did notice temperature variances. I only call this to your attention due to the fact cooking times and temperature will vary due to the weight of the roast and its temperature before cooking. Internal temperature will determine the doneness of the product. The recommended cooking time and temperature is a guideline. I could go on but there are those that will cremate whatever they cook and call it good. Pork is good slightly pink folks. All in all this is a recipe I will keep and modify. The changes I might make are, using a 28oz can of diced Italian tomatoes with juice and adding more oregano. I will probably chop the peppers or use more. Using the peppers whole didn't give the dish more taste. The quantity called for gave the final product a slight hint of smoke flavor. Play with this angle if you will. The end result will vary. However, if you want to infuse a nice southwestern taste to the pork, I would give some thought to using a dry rub after browning it. I found the taste of the pork to be similar to that of a whole roasted pig. In my humble opinion, this is a recipe that will be pleasing to those with discriminating taste. It is a product that can be pushed to the limit and become pulled pork. Roast it until the meat falls off the bone and add BBQ sauce or something and serve it on buns or tortillas. Thank you Barb for providing a wonderful recipe.