Apple Juice Roast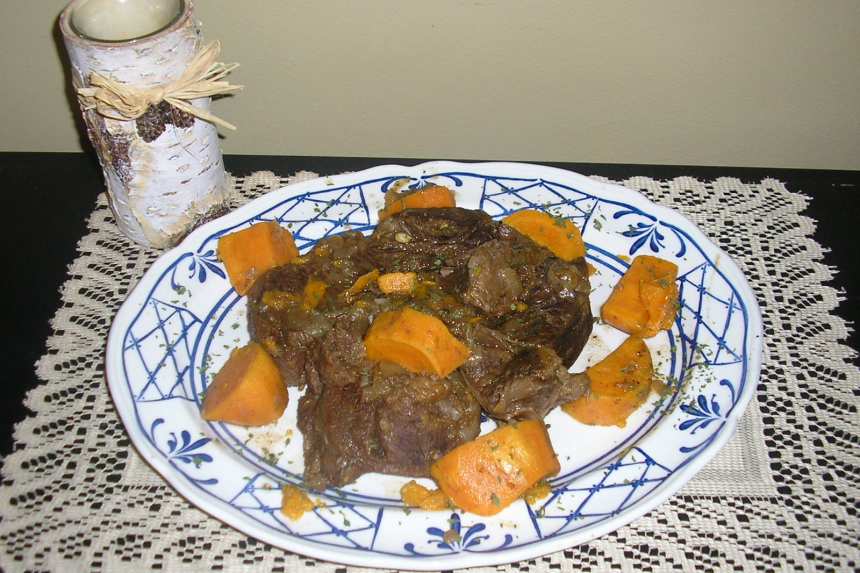 photo by Suzie

directions
Cook onions in 1 Tbsp butter or shortening in Dutch oven until tender-crisp; set aside. Brown roast in remaining butter or shortening in Dutch oven over medium heat 15 to 20 minutes or until browned on both sides.
Pierce entire surface of meat with fork.
Combine apple juice, catsup, salt, pepper, thyme, mustard and basil; add to meat. Top meat with reserved cooked onions; cover and cook slowly 2 1/2 hours or until almost tender.
Brush sweet potatoes with lemon juice for bright color; add to meat. Continue cooking, covere d, 30 to 40 minutes or until meat and potatoes are tender.
Place meat and potatoes on warm platter.
Sprinkle potatoes with chopped parsley or garnish with apple rings and parsley, if desired.
Serve gravy over sliced meat. NOTE: After apple juice mixture is added to browned meat, it may be marinated in the refrigerator until 3 to 4 hours before serving time; turn meat several times.
If Dutch oven is cast iron, transfer to a glass dish.
GRAVY: Skim excess fat from cooking liquid; add water if needed to make 1 1/2 cups.
Mix 1/2 cup water and 2 Tbsp Unbleached Flour; stir gradually into cooking liquid.
Heat to boiling; cook, stirring 3 to 5 minutes.
Season with salt and pepper, if desired.
Gravy may be served in Large Apple that has been scooped out, if desired.
Questions & Replies

Got a question?
Share it with the community!
Reviews
Made for Summer '09 Comfort Cafe and it made my house smell like November. I kid you not. This was absolutely the most delicious chuck roast I have ever had, and that includes my mother's!! I will NEVER cook a chuck/pot roast again without using this recipe. OUTSTANDING. I did use apple cider, although that was the only change. Thank you for this wonderful recipe Dancer!!

 

Never thought this would work with beef, pork well yes,but beef? It DOES and is quite different. Followed the recipe with a 3lb chuck roast, used purple sweet onions as that is all I had, used apple cider which I bet is better than the apple juice, and all the rest the same as recipe. Beef with a sweet tang it was great. Hope I can make it happen just the same way again and there will be an again! Thanks for this one and others Dancer!