Apple-Cranberry Pie (Cook's Illustrated)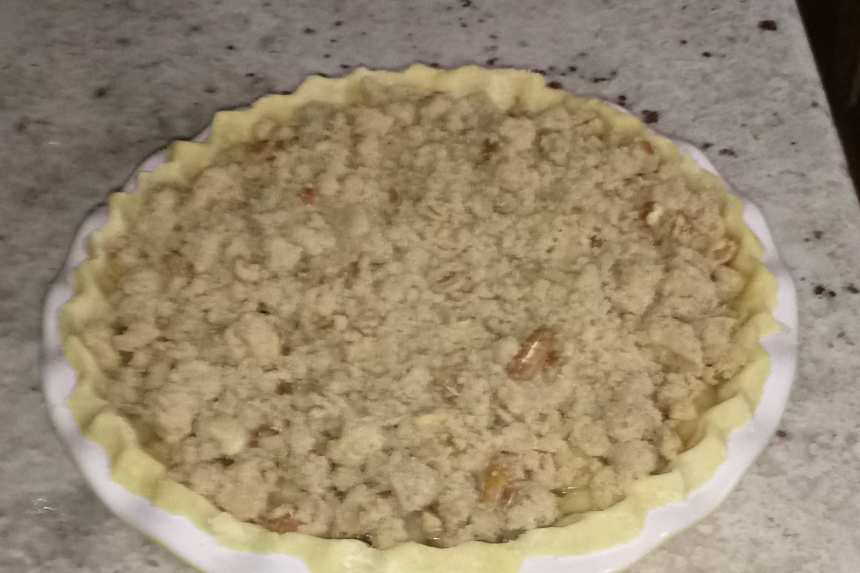 photo by Jonathan S.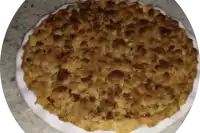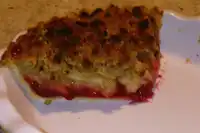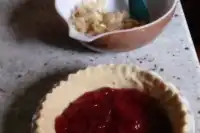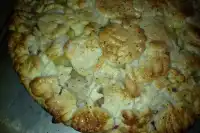 Ready In:

25mins

Ingredients:

10

Serves:

8-12
ingredients
2

cups cranberries, fresh or frozen
1⁄4

cup orange juice

1

cup sugar, divided, plus 1 tablespoon for top of pie
1⁄2 teaspoon ground cinnamon
1⁄2 teaspoon table salt
1⁄4 cup water

1

tablespoon cornstarch
3 1⁄2 lbs sweet apples, peeled, cored, and cut into 1/4-inch-thick slices (6 to 7 medium)

pastry for double-crust pie

1

egg white, beaten lightly
directions
Bring cranberries, juice, 1/2 cup sugar, 1/4 teaspoon cinnamon, and 1/4 teaspoon salt to boil in medium saucepan over medium-high heat. Cook, stirring occasionally and pressing berries against side of pot, until berries have completely broken down and juices have thickened to jamlike consistency (wooden spoon scraped across bottom should leave clear trail that doesn't fill in), 10 to 12 minutes. Remove from heat, stir in water, and cool to room temperature, about 30 minutes.
Meanwhile, mix 1/2 cup sugar, remaining 1/4 teaspoon cinnamon, remaining 1/4 teaspoon salt, and cornstarch in large microwave-safe bowl; add apples and toss to combine. Microwave on high power, stirring with rubber spatula every 3 minutes, until apples are just starting to turn translucent around edges and liquid is thick and glossy, 10 to 14 minutes. Cool to room temperature, about 30 minutes.
While fillings cool, adjust oven rack to lowest position, place rimmed baking sheet on oven rack, and heat oven to 425 degrees. Remove 1 disk of dough from refrigerator and roll out on generously floured (up to 1/4 cup) work surface to 12-inch circle about 1/8 inch thick. Roll dough loosely around rolling pin and unroll into pie plate, leaving at least 1-inch overhang. Ease dough into plate by gently lifting edge of dough with one hand while pressing into plate bottom with other hand. Leave dough that overhangs plate in place; refrigerate until dough is firm, about 30 minutes.
Transfer cooled cranberry mixture to dough-lined pie plate and spread
into even layer. Place apple mixture on top of cranberries, mounding slightly in center; push down any sharp apple edges.
Roll second disk of dough on generously floured work surface (up to 1/4 cup) to 12-inch circle about 1/8 inch thick. Roll dough loosely around rolling pin and unroll over pie, leaving at least 1-inch overhang on each side.
Using kitchen shears, cut evenly through both layers of overhanging dough, leaving 1/2-inch overhang. Fold dough under itself so that edge of fold is flush with outer rim of pie plate. Flute edges using thumb and forefinger or press with tines of fork to seal. Brush top and edges of pie with egg white and sprinkle with remaining tablespoon sugar. Using sharp paring knife, cut four 1 1/2-inch slits in top of dough in cross pattern.
Place pie on preheated baking sheet and bake until top is light golden brown, 20 to 25 minutes. Reduce oven temperature to 375 degrees, rotate baking sheet, and continue to bake until crust is deep golden brown, 25 to 30 minutes longer. Transfer pie to wire rack to cool at least 2 hours. Cut into wedges and serve.
Questions & Replies

Got a question?
Share it with the community!
Reviews
This was good! I made this for TG. I was looking for a pie that was in season, but was not the normal pecan or pumpkin filling everyone else was making. It was a nice change. The cranberries tasted best the first day. Not too sweet and a little tart. The tartness mellowed each day. Mine apples might not have been as sweet as they should have since I covered the apples while cooking, and then had too much juice. So the sweetness was not as strong. Don't make this mistake. I should have then reduced the liquid down, but did not relize what I had done until after. I made this with the ATK's fool proof crust. My B/F thought the apples where too thick, but he is not that into fruit pies. I thought it was great, it was nice the have a good size piece of apple to chew. I do like fruit pies, and love chunky jam.