Coconut Cream Pie from Cooks Illustrated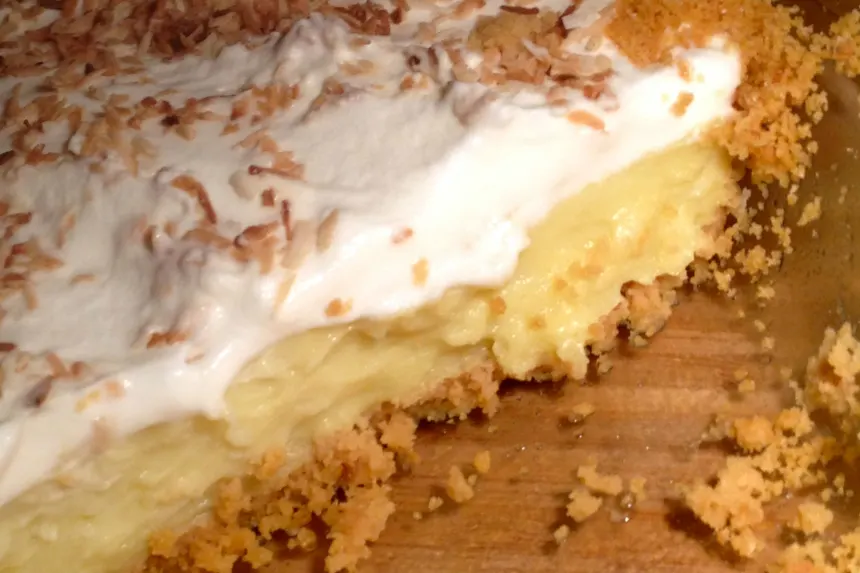 photo by ninjette

Ready In:

4hrs 30mins

Ingredients:

18

Serves:

8-10
directions
Crust:

Adjust oven rack to lower-middle position and heat oven to 325 degrees. In food processor, pulse animal crackers, coconut, and 2 tablespoons of sugar to fine crumbs, eighteen to twenty 1 second pulses; then process until powdery, about 5 seconds. Transfer crumbs to medium bowl and add butter; stir to combine until crumbs are evenly moistened.
Empty crumbs into 9" glass pie plate; using bottom of ramekin or 1/2 cup dry measuring cup, press crumbs evenly into bottom and up sides of pie plate. Bake until fragrant and medium brown, about 15 minutes, rotating pie shell halfway through baking time. Set on wire rack and cool to room temperature.
Bring coconut milk, whole milk, 1/2 cup shredded coconut, 1/2 cup sugar, and salt to simmer over medium-high heat, stirring occasionally to ensure sugar dissolves.
Whisk yolks, cornstarch and 1 tablespoons sugar in medium bowl until thoroughly combined. Whisking constantly, gradually ladle about 1 cup hot milk mixture over egg yolk mixture; whisk well to combine. Whisking constantly, gradually add remaining milk mixture to yolk mixture in 3-4 additions; whisk well to combine.
Return mixture to saucepan and cook until thickened and mixture reaches boil, whisking constantly, about 1 minute; filling must boil in order to fully thicken. (Large bubbles should quickly burst on surface when you stop whisking.).
Off heat, whisk in butter and 1 teaspoons of vanilla until butter in fully incorporated. Pour hot filling into cooled pie shell and smooth surface with rubber spatula; press plastic wrap directly against surface of filling and refrigerate until firm, at least 3 hours and up to 12 hours.
Just before serving, beat cream 2 tablespoons sugar and 1/2 tsp vanilla with electric mixer until soft peaks form, 1 1/2-2 minutes. Top pie with whipped cream and then sprinkle with coconut. Cut pie into wedges and serve.

Variation:

Banana-Caramel Coconut Cream Pie:

Follow above recipe through crust making. While crust cools, bring 1/2 cup sugar and 3 tbsp water to boil over high heat in small heavy bottomed saucepan. Cook until dark amber, 5-8 minutes, occasionally swirling pan once sugar begins to color.
Off heat, add 3 tablespoons heavy cream (caramel will bubble vigorously) and a pinch of salt; whisk to combine. Whisk in 2 tbsp unsalted butter. Pour caramel into pie shell, tilting pie plate to coat evenly; set aside to cool.
When caramel is cool, peel 2 slightly underripe, medium bananas (5-6 oz. each); slice each crosswise into 3/8" rounds. Arrange slices in single layer on top of caramel; set aside.
Continue with remainder of original recipe, adding 2 teaspoons of dark rum to filling along with butter and vanilla.
Questions & Replies

Got a question?
Share it with the community!
Reviews
I LOVE this recipe! It is indescribably delicious when you take the time to crack and grate fresh coconut. Absolutely go to the effort of finding unsweetened coconut (health food store, organic grocer, bulk foods). I think the kicker's for me is the animal cracker crust (subtle, doesn't compete with the flavor of the custard) and the canned coconut milk (found in the Asian section of your grocery.) The first couple of time you make this, it will be quite time consuming...but after you have made a ton of them (and you will) it becomes as easy as any other pie.