Algerian Chicken & Preserved Lemon Bourek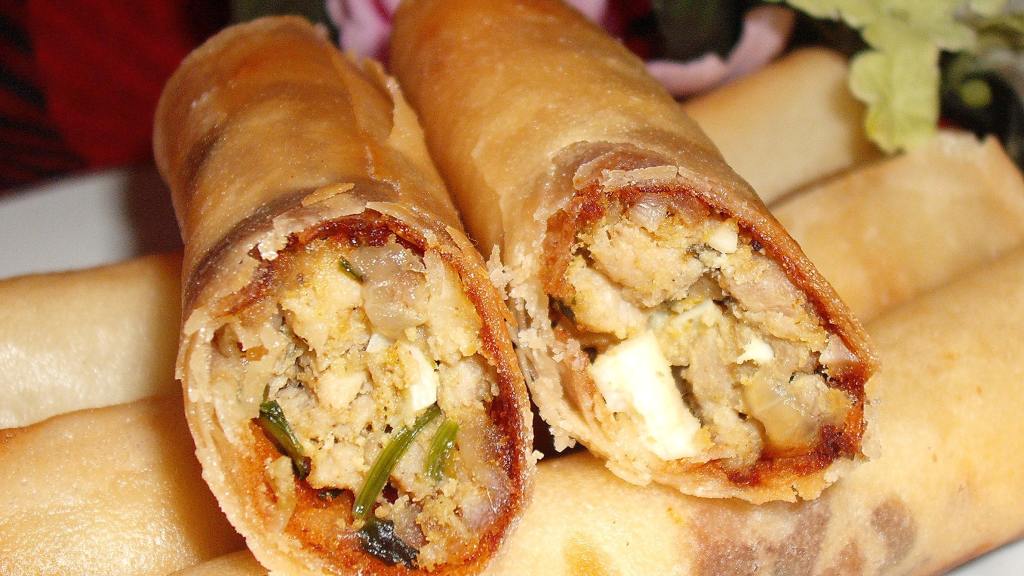 Ready In:

2hrs 10mins

Yields:

Units:
Nutrition Information
directions
In a medium sized casserole, heat the olive oil & gently fry the onion until pale golden. Add the chicken & fry for 15-20 minutes on a medium heat.
Add your ras el hanout & the Season All, mix well & cook for a few minutes.
Wash the preserved lemon really well (make sure to discard the flesh), then chop it very finely & add to the casserole. Cook for a few more minutes.
Remove the casserole from the heat, add the coriander (cilantro) & allow to cool. Mix in the chopped eggs & re-season if required.
Once the filling is cooled completely, you are ready to assemble the bourek.
Make your flour paste by putting the flour in a bowl & gradually adding the water until you have a very runny paste - a bit like crepe batter.
Lay 1 spring roll sheet on your work surface & place 2 generous teaspoonfulls of the filling onto the sheet. You need to place it in a line approx 1" up from the bottom of the sheet & the line of filling should have a fraction over 1" of spring roll sheet visable on both the left & right side.
Next bring the left side of the sheet over the filling - it will overlap the filling by about an inch. Do the same with the right side.
Take the bottom of the sheet in both hands & pull it up so that it covers the line of filling.
With a pastry brush or the back of a teaspoon, brush a small amount of the flour paste along the edges of the sheet.
Now start to roll the bourek, be careful to keep it tight & even. When you have rolled it up securely, you can brush a tiny amount of the paste along the seam so that the bourek stays closed whilst it is being fried.
Repeat these steps with the remaining 35 spring roll sheets.
Now you can either freeze the bourek or fry them in hot oil (I like to deep fry at approx 165-170c) in batches, until a deep golden colour & very crispy!
Submit a Recipe Correction
Join The Conversation
I loved this recipe because it made me want to put chicken in my bourek. DH loves preserved lemons so I knew he would like it. I only find the spring roll wrappers here the same brand with the red coloring but I didn't like the thickness when I tried before but thankfully the little store by my house sells Turkish bourek pastry sheets. Made this very easy. I wasn't sure about the part that said not to use the flesh of the PL. We usually just eat the whole thing so I just minced it and mixed it in. They were fabulous. I left out the egg just for preference. The flour paste tip was nice. It worked great just frying them in a little oil. Thanks Rezika. Made for Ramadan Tag 09.

The fillings for bourek really are endless, I love the traditional ground lamb & parsley, the prawn & bechemel, potato & cheese........the list goes on. Here I combined ground chicken with fresh coriander & a little preserved lemon for a delicious fried snack. You can freeze these bourek easily & when you come to cook them, allow to 1/2 thaw before deep frying. You can also shallow fry them in a frying pan about 1" deep in sunflower or vegetable oil. Bourek are wonderful whenever, but really they are a Ramadan essential in any Algerian household. (If you are new to making bourek & rolls, here is a step by step -in photos- demo for you: http://radiancerecipes.com/chinese-springrolls/)